The Powerhouse Museum Essay Sample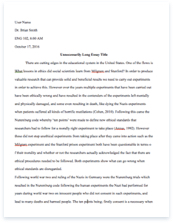 Pages: 8
Word count: 2,174
Rewriting Possibility: 99%

(excellent)

Category: museum
Get Full Essay
Get access to this section to get all help you need with your essay and educational issues.
Get Access
Introduction of TOPIC
The Powerhouse Museum is situated in Darling Harbour of Sydney. This museum is one of Australia's most enjoyable places of interest. Visited by tourists in the millions, the museum offers them an astonishing variety of exhibits. In this museum's collection, there are objects which attract the attention of tourists year after year. It boasts of many modern and old objects, therefore in the Powerhouse unique collection, everybody can find something to his taste. There are glass cases and vases in the collection as well as other art objects, which attract the attention of people interested in all kinds of arts. For those who are interested in science, there are also many objects to view in the collection. Such people will not be able to take their eyes off all kinds of robots, equipment used for printing and audio-visual technologies. There are also all kinds of objects in the collection which include sciences, Koori history and culture.
The variety of exhibitions provided by the Powerhouse Museum is very large. "A visit to the Powerhouse Museum can include touch screen computers, audio phones, science experiments, virtual reality 3D theatres, extraordinary performances, films, highlight tours, fascinating lectures and public programs. The Museum has a range of education services and a member's organization." (About us. Retrieved on April 4th from source: http://www.powerhousemuseum.com/ about/aboutFacts.asp). On the whole, the Powerhouse Museum offers a large number of objects. Its "unique and diverse collection of 385,000 objects spans history, science, technology, design, industry, decorative arts, music, transport and space exploration" (Retrieved on April 4th from source: http://www.powerhousemuseum.com/ about/aboutFacts.asp).
In this collection, the modern rubs shoulders with the old, the present is always conscious of the past and the large and the small live side by side in mutual respect. Every visit to Powerhouse Museum is an event in the life of the tourist or the native because most of the objects in its collection tell a great deal about Australia's history.
The museum opened to visits of people in 1988. It was built on the base of a power station. However, there are many exhibits in the museum which are much older than the time when the museum opened its doors to the public. Australia's history is very long; therefore many objects in the museum were created starting with 1880. For example, there are many exhibits in the Powerhouse Museum which were gathered by The Technological Museum. "It collected objects both familiar and exotic. Chinese musical instruments, Australian decorative arts, Japanese swords, model locomotives, reproductions of the 'treasures' of Europe, the latest in technology – these were the drawcards that kept visitors flowing in." (About Us. Retrieved on April 4th from source: http://www.powerhousemuseum.com/about/aboutFacts.asp).
The Powerhouse Museum has a very unique mission and vision. "The Powerhouse Museum will further its reputation as a museum that celebrates human creativity and innovation in ways that engage, inform and inspire diverse audiences. The Museum believes in engaging its diverse audiences, promoting scholarship and presenting its collections and programs in ways that captivate the intellect and challenge the human spirit to excel. We place high value on nurturing the abilities of staff and volunteers, and fostering community partnerships. (The Powerhouse Museum. Retrieved on April 4th from source: http://www.powerhousemuseum.com/ about/index.asp).
The collection which the museum boasts of is very wide. Once the visitors come into the museum, they are able to get involved into the atmosphere of arts and science. They are able to start their journey from any part of the collection they want. Even though some people might not be able to attend the Powerhouse Museum in real life, they are able to make a journey in it through the internet website. The website offers very unique impressions as well. Even though people are unable to experience all the beauty and grandeurs of all the exhibits in the collection, they are able to pick out those which are of a particular interest for them. When they get a chance to see the collection in reality, they will be able to see their favorite objects. The tours which the website suggests are very similar to the journeys which people take in real life. One can get immersed in the world of all the exhibits which the museum offers. They are divided in different categories so that people can find what appeals to their interest. It is also possible to make a tour around different exhibitions which the museum suggests and learn about all the objects presented in them. The journey through the museum is very interesting no matter how you make it- in real life or through the websi
te. The only difference is that after visiting the website, you get very motivated to see the museum
for real for the first time. If you visit it, you want to come back there again in the future.
There are many categories of exhibits in the Powerhouse Museum. "The collection of some 400,000 objects is managed in three major collecting areas, each necessarily broad, and each overlapping with and informing the others. The three major collecting areas are science and technology; decorative arts and design; Australian history and society." (The Powerhouse Museum. Retrieved on April 4th from source: http://www.powerhousemuseum.com/ about/index.asp). Every field which is covered in the collection is also divided into a number of categories. It is necessary for visitors to make investigations of the collection before starting the journey. The thing is that with some exhibits, it is easy to find them because they belong only to one category. For example, a penicillin mould belongs to the field of medicine and can thus be found in the part of the collection dealing with science. However, such exhibits as coins or stamps can belong to different categories. In order not to miss them, it is necessary for the visitors to make a detailed plan of all the exhibits they would like to see.
For maximum convenience for visitors, the collection is divided into the following parts:
"Decorative arts and design – fashion, ceramics, furniture, musical instruments, coins;
Australian history and society – domestic life, leisure, migration, popular culture;
Engineering and design – agricultural, biological, manufacturing, power technologies;
Information and communications technology – computers, VR, counting devices;
Sciences – physical sciences, astronomy, timekeeping, navigation, health and medicine;
Koori history and culture – oral histories, contemporary design, musical instruments;
Transport – planes, trains, automobiles, space technology, bicycles, ship models". (Retrieved on April 4th from source: Collection and Research. http://www.powerhousemuseum.com /about/index.asp)
The visitors are able to make their journey to the Powerhouse Museum particularly interesting by attending all kinds of exhibitions. The museum can constantly boast of all kinds of unique exhibitions which can be interesting for any type of visitor. For example, visitors are currently able to see Tyrrell Collection "which consists of 7903 glass plate negatives from the studios of Charles Kerry (1857-1928) and Henry King (1855-1923) who had two of Sydney's principal photographic studios in the late 1800s and early 1900s" (Tyrrell Collection. Retrieved on April 4th from source: http://projects.powerhousemuseum.com/tyrrell/tyrrell_collection.htm).
Another exhibition open to the visitors is "Come behind the scenes". In this collection visitors are able to see important exhibits from the Powerhouse Museum's collection of more than 400,000 objects.  The exhibit devoted to menstruation is also very popular among visitors due to its uniqueness. Since this process is not widely discussed in the public, there are many visitors coming to the Powerhouse Museum to view this very collection. "In the collection of the Powerhouse Museum there is a small group of sanitary towels and tampons, pharmaceuticals to relieve the discomforts of the monthly 'period', and guidance booklets about puberty for adolescents and their parents." (Menstruation. Retrieved on April 4th from source: http://www.powerhousemuseum.com/rags).
One of the most interesting objects in the collection which appeals to the interests of many visitors is "Gold Fields of Australia" board game. It attracts attention due to its connection with Australian history. It serves as a peculiar symbol of a certain epoch which occurred in Australia's life. God was first found in Australia in 1851. After this remarkable discovery, many people started coming to the goldfields in search of gold. People came from all over the world in search of gold- some of them came from America, China, and Europe. Like in other countries, there were some lucky people who actually found gold in Australian goldfields, but there were many of those who never found any. The success depended not only on the hard work of people, but also on luck.
There were some pieces of art created to reflect that peculiar period of Australian history. "Gold Fields of Australia" board game is one of the most important of them. It was built in 1853-1856. The board of "Gold Fields of Australia" board game "is enclosed in a red linen-backed cover which folds out to reveal a series of twenty five hand-colored illustrations showing the experiences of gold prospectors in a strange but exciting country. The illustrations detail the progress of the newly arrived immigrants to the colony, their journey across the Blue Mountains, their adventures on the way to the diggings and life on the gold fields." ("Gold Fields of Australia" board game. Retrieved on April 4th from source: http://www.powerhousemuseum.com/opac/A7997.asp). This board game is a very unique piece of art. It is quite difficult to store, therefore some special care is being given to it by museum attendants. They need to make sure the conditions of storage of this masterpiece are not violated.
This masterpiece attracts attention due to the interesting rules of the time which do not have any similarities with rules of present board games. "Unfortunately we do not have the game's rule sheet, but clearly it combines the spectacle of daily life on the goldfields with the element of luck to produce a game in which the player or 'miner' can make a fortune. This theme would have greatly appealed to British children whose relatives had journeyed to the goldfields to try their luck. The appeal of 'hidden treasure' was enhanced by the newness of Australia as a settlement and its peculiar flora and fauna." ("Gold Fields of Australia" Board Game. Retrieved on April 4th from source: http://www.powerhousemuseum.com/opac/A7997.asp).
The board game "Gold Fields of Australia" is particularly enjoyed by the visitors because it tells them about the time when people were looking for gold in Australia. Everybody has dreamt at least once in their lives about finding gold and becoming rich. Even though these dreams might never come true, people still dream about that. Every time they take a look at the "Gold Fields of Australia" board game, they feel like they have almost participated in gold-mining at that time.
The Powerhouse Museum offers a very unique collection which is in many ways connected with Australian history. There are not too many improvements which could be suggested to the museum. The only development which the management of the museum could exercise is connected with the categories of objects. Since there are so many different objects in the collection and sometimes people fail to find those exhibits which are the most interesting to them, it would be very helpful to provide detailed catalogues of all the objects which are available in the collection. On the website, it is also quite difficult to look for exhibits which you would like to find because you do not know exactly to which category they belong. Besides, it is very important to emphasize which objects in the collection are originally Australian and which ones come from other countries. Despite the need for some insignificant improvements, the Powerhouse Museum is very convenient for visitors. It offers a very wide collection of objects or art and science. All the visitors have only the best impressions after attending it.
Bibliography.
http://www.phm.gov.au.