The premium value of products to the market Essay Sample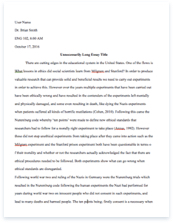 The whole doc is available only for registered users
OPEN DOC
Download Essay
A limited time offer!
Get a custom sample essay written according to your requirements urgent 3h delivery guaranteed
Order Now
The premium value of products to the market Essay Sample
This is the pursuant of providing the premium value of products to the market. A product which lacks preservative or genetical modifications which may affect the organic characteristics. In essence, this refers to lower quantities of processed items that are naturally well-preserved. The Whole Foods Market's emphasis is to gradually govern the local economy and thereafter, the international arena. Whole Foods Market objective is based on two aspects: That of Whole Food; to obtain premium quality with little processing while maintaining maximum flavorful and naturalness.
That of the Whole People; where the people are our company. The individuals are zealous about healthy diets and a planet that is in good health. I am in agreement that the values depicted in this case are extremely essential to Whole Foods Market. There is a focus on better quality goods with emphasis on producing significant quantities of organic food items including gourmet foodstuffs. There is great affection for quality and standards in their delivery to customers. Whole Foods enforces great attention on the product quality, particularly its organic state with no preservative.
Furthermore, wild caught and aquaculture fish are also products offered that do little to no damage to the environment. The prior is a total indication that have me believing that their motives are true towards their core values. The core values are true and enforces the strategic vision of the establishment. Such includes delivering goods of best natural quality and diverse organic products resulting in contented customers while elevating wealth with good healthy eating.
Fulfilling these values ensures the company? s accomplishments are tangible resulting in achievement of goals. In a financial view, Whole Food is a viable company depicting steady growth regardless of the final year. The company's performance diminished in 2007 as compared to 2006. Through the liquidity of Whole Foods from 1224 to 0. 85 depicts the company's capability to handle short term responsibilities likewise for return on sales, a 5. 6 percent to a 4. 5 percent, the same applies to their assets.
Furthermore, Whole Foods is now capable of turning over inventory between 20 to 26 days. I am in agreement that the values displayed in the case are essential to Whole Foods. Their focus in on delivering premium items including gourmet and organic foods that are free of preservatives and environmentally friendly. With the information gathered, I can conclude that Whole Foods are sincere to their core values which results in the business profitability. In accordance to the strategic perspectives, Whole Foods is excelling in the industry.
Their motto and core values are achieved with every action, decision and customer that they serve. The company is constructive on utilizing the correct strategy and implementing the most effective policy. Strategies were implemented for key sections of the establishment such as a strategy for growth and expansion and such strategies are flexible enough that it can be manipulated when necessary as seen in 2002. Additional strategies were developed for the various locations, stores, product quality, customer service, marketing and even the store design.
The company operates a reward and imbursement to employees with management operating as a team. An additional strategy includes that for ease of buying and distributing goods. Such strategies are in keeping with the company's policy in being competitive, sustainable and to achieve all goals and mission. In keeping with a trend that is expanding each year, Whole Foods remains profitable in the food industry. With a reasonable advantage over Trader Joe's who shared the same region but Whole Foods had diverse strategies.
Furthermore, Trader Joe's operates as a private entity while Whole Foods operates as that of a public entity. Whole Foods is significantly viable as compared to Fresh Market which failed to be successful in the United States due to poor strategies. Likewise, Whole Foods out performs Wild Oats which eventually merged with Whole Foods in an effort to survive and expand. After much evaluation, I can conclude that the company needs to emphasize its values while also maintaining the customers' values which constitutes the company's foundation.
To elevate financial feasibility, Whole Foods can assist customers with budgetary proposals. In light of this, it is a known fact that organic products are essential for healthy leaving but the prices are not always conducive to purchasing by customers. Although Whole Foods comprise of premium organic products, it is essential that the selling price and profit margins don't exceed the spectrum at which customers can pay. Furthermore, centralizing the strategies would greater assist in realizing cultivating their aim of ten billion dollars yearly.