The Presentational Devices of at Least Two Television News Programmes Essay Sample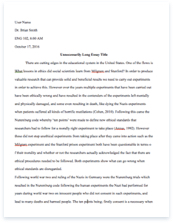 The whole doc is available only for registered users
OPEN DOC
Download Essay
A limited time offer!
Get a custom sample essay written according to your requirements urgent 3h delivery guaranteed
Order Now
The Presentational Devices of at Least Two Television News Programmes Essay Sample
Each television programme has its own selection of content, style and set target audience, all of which are chosen for specific reasons. The similarities and differences between news programmes may not be immediately apparent but are there. The two programmes I have chosen to compare and contrast are 'Newsround' and 'Channel Four News'.
On Newsround the presenters clothing is very modern, for example shirt and jeans. The main presenter is male, aged mid-twenties and talks in a relaxed and informal manner. He talks to the camera as if he's just talking to the viewers as individuals, using a quite chatty tone of voice. The presenter tries to catch the attention of the viewer by saying comments such as "Freaky or what?" He says this comment to try to connect with the set target audience which is children. When compared with Channel Four News the presenter's dress code is totally different. On this programme the clothing is much more formal with the presenter wearing a jacket shirt and tie. This makes the viewers assume the programme is to betaken more seriously than Newsround.
On Channel Four News they don't abbreviate their names like they do on Newsround for instance on Newsround, the presenters name is Matt, however on Channel Four News the presenter would be addressed as Matthew. On Newsround the presenters don't use graphic language as they do on Channel Four News such as "Boy brutally killed in a North London park" whereas on Newsround the tone would be strong and would probably be "Boy found dead in London Park". On Channel Four News there is mixed races of presenters while on Newsround the race of presenters seems to be dominated by white newscasters.
The language used by both programmes is totally different. On Newsround sometimes hear really simple non-standard English while on Channel Four News you can have very complex Standard English aimed at adults. Newsround uses simple language so that the target audience, children, can relate easily to what is being said. Newsround uses language techniques, such as alliteration as in "So Solid spell trouble". I think they use these kinds of techniques to try to make children think that the news can be fun. Newsround like to keep words short and simple so as not to bore the viewers. The tone of the presenter's voice is very soft so as not to sound too authoritative and not to put off the viewers. On Newsround they try to make the viewers aware of problems throughout the world, but in a way to be more informative rather than dwell in depth on the scary and sensationalist. On Newsround they spend more air time on non important issues such as a story on sharks rather than the big train disaster in Egypt. Newsround always tries to achieve a balance rather than telling the most important stories of the day whether bad or good.
The sets that both programmes use are again totally different. The Newsround set is very bright and colourful to catch the eye of the viewer. The Channel Four News set is very dull and boring in comparison. The set on Channel Four News makes the viewer think that the show is very serious and not to be taken lightly. When channel Four News starts playing the introductory music to create a really serious atmosphere whereas the Newsround jingle is very catchy and will grab the attention of children. However Newsround show their logo in a very large size in exactly the same way that Channel Four news does. Both news programmes do this so that the viewer doesn't miss it, and will remember, to look for the logo when switching channels as the presenters will often change.
The style in which Newsround present their new is actually very clever. When the show starts on Newsround the presenter will be leaning on a desk but when something serious e.g. the Egyptian train disaster, the presenter will go in to a standing position. However on the Channel Four News the presenter is always standing up. I think this is because on Channel Four News the presenter rarely says anything which is light hearted. The only example of a story which wasn't about something to do with death was a story on the skeleton bobsleighing at the winter Olympics. Newsround meanwhile seem to show one serious story then two stories which are really an important and more interesting to younger viewers, such as a story about a shark which was moving home.
The stories that Newsround and Channel Four News picked are slightly different in terms of being serious or not. Newsround featured the Brits music awards which Channel Four News didn't this is because the target audience which The Channel Four News is trying to reach out to are adults and the Brits is a more of a teenage venue. Channel Four News choose to show the story on the child found dead in a north London park when Newsround failed to show that story, this is because Newsround do not want to alarm the children who watch Newsround. Both News programmes, Newsround and Channel Four News select there featured stories very carefully so not to decide on one which is wrong for their set target audience.
Are Newsround consciously setting out to educate young people to watch the news in order that they should then take an increasing interest in world events and move on to watching more serious news programmes such as Channel Four News?