The Principles for Speaking Well in Rudolph Giuliani's Leadership Book Essay Sample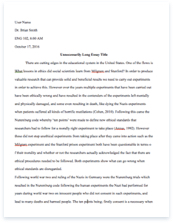 The whole doc is available only for registered users
OPEN DOC
Download Essay
A limited time offer!
Get a custom sample essay written according to your requirements urgent 3h delivery guaranteed
Order Now
The Principles for Speaking Well in Rudolph Giuliani's Leadership Book Essay Sample
After becoming the first Republican elected Mayor of the City of New York in 1993, Rudolph Giuliani's term was put into test when the United Stated suffered the worst terrorist attack on September 11, 2001. Fortunately for the people of New York City, their mayor has been working on his leadership management even before the tragedy which enabled him to led the city to its recovery.  Giuliani's efforts, as presented in his number one best-seller book Leadership, were credited. The former New York Hizzoner is one of the inspirational leaders who knows and acts on what he believes in. He is a leader with firm views and who stick to his leadership principles which included his thoughts on speech preparation, speaking without notes, and communicating ones convictions. His leadership practice of speaking and communicating well made him sharp, personable, and articulate.
            Giuliani's book depicted the principles and beliefs that the former mayor utilized in making his decisions; it described the people and happenings in his life that have influenced and braced him to face, understand, and defeat obstacles in his career and personal life.
            Among the ideas presented in Chapter 8 of the book, titled Develop and Communicate Strong Beliefs, was  Giuliani's thoughts on speech preparation. In formulating his speech, Giuliani's aim and vision is to present optimism which he stressed is a good trait that a leader must possess. In a commencement address at Middlebury College, Giuliani said that if a leader's speech starts with pessimistic thoughts then it will eventually happen. "Suppose I had begun my speech like this: Things are bad. It's raining. It's going to continue to rain. Things are terrible. They're only going to get worse, and there's no hope." This should not be the speech planning of a leader as Giuliani said that people, when presented with good start, will follow such positive thought as the "rest of the country in the world follow hopes and the  fulfillment of dreams." Giuliani further said that people follow leaders who offer solutions to their problems. A speech formation should not manifest that when a leader faces a problem,  there is no hope and nothing can be done from it. Giuliani instead said that a leader's words and actions should reflect hope, dreams, and solutions. Presenting positive thoughts when you prepare a speech is what optimism means.
            Communication and speech Coach Gallo presented a manifestation of Giuliani's speaking without note when the mayor was working on a complicated paper for his first budget presentation after election.  Giuliani worked tirelessly on what to say about work – rules concessions, productivity gains, budget cuts, and revenue projections and even began the preparation in October for a speech in February so he could present it from the heart, without notes. "I gave the whole presentation without a script," Giuliani wrote in his book.
From then on, Giuliani was able to do the city's budget sans the prepared text and eventually gave his State of the City address the same way – without notes. Giuliani grasped the idea that presenting a speech without a prepared notes is associating eye contact with the audience and in a way exemplifying honesty, trustworthiness, sincerity and confidence – all the traits needed to become a good leader and a great  communicator. An audience prefers a speaker who directly looks in the eye. Looking down during speaking engagement and relying on a prepared notes can be attributed to poor performance (Gallo, 2005).
            On the September 11 attack, Walsh said that one leader has risen to that awful occasion – and it was not the US President but Giuliani. The New York City Mayor has been all over broadcast and print news. Although tired, sad and drawn, Giuliani appeared many times on television in a reassuring manner and updated the country on the rescue efforts at the World Trade Center. News Editor Walsh noted that Giuliani, in all those interviews and press conferences, spoke without notes or teleprompter. "It was hard to know how to count his appearances — he was everywhere, all day long, answering every question — but that seemed right: In a crisis like this, a leader has to be visible, accessible, sharing our grief but reassuring us we'll come through the tragedy, together. He was back at it early Wednesday morning, reporting the latest rescue news and urging his fellow citizens to pick up their lives, recover their sense of normalcy." During those times, Giuliani exuded supreme confidence and authority, speaking without notes in a relaxed and conversational tone (Walsh, 2001).
            On the book's same chapter, Giuliani also presented his thought of communicating one's conviction. Although New York City is a place where problems tend to be too big to solve, Giuliani used his self-styled personal approach and leadership principles to solve the problems and make the city recover. In his review of the book, Brogden said that Giuliani "saw his role as one which co-ordinated communication between his departments and the citizens of New York. This personal approach ensured that people knew there was a man behind the government decision-making, not just a hollow PR machine (Brogden, 2003).
            The New York Times related Giuliani's no-nonsense style of the prosecutor he once was to the manifestation of his good communication management. Being a trial lawyer, Giuliani wrote about the importance of "being able to communicate, being able to explain, being able to simplify." Kakutani reported the former city chief's notation of his basic campaign style which is "to wear down my opponent," and about honing his "ability to compartmentalize" and acknowledges that his "organizational style was to be on top of as much as possible." Chapter 8 of Giuliani's book presented his communication and writing styles in a prescriptive and proscriptive manner (Kakutani, 2007).
            Giuliani's thought of communicating one's conviction is to have leaders possess crystal clear compelling visions and convictions and for them to be able to communicate them repeatedly. In Giuliani's book, leadership and management trainer Wright stated that the first principle Giuliani shared was his insistence on his routine morning meeting. "I consider it the cornerstone to efficient functioning within any system…We accomplish a great deal during that first hour, in large part because the lines of communication were so clear" (cited in Wright, 2001).
            Another proof of Giuliani's expertise in communicating a conviction is when he shows one of the greatest sources of leadership power: belief. He reasoned out that most people do not develop and unable to relay the message of strong beliefs during their working life. When forced with daily realities of leadership management, such as office politics, pragmatism and fear, people do things "because that's the way they're done," not because that is the way they should be done. Giuliani further asserted that "those who look to you for answers … have a right to know how you see the world."  He believed that it is important to have strong convictions. His goal as a leader is to apply these convictions to the real world and to the day-today events.
Giuliani also emphasized the criticality of communicating convictions. As he said in the book, a leader "must bring people aboard, excite them about his vision, and earn their support. They in turn will inspire those around them, and soon everyone will be focusing on the same goal; the effort will come from within, which always results in more forceful advocacy than if someone is just going through the motions to please their boss."
The same thought further manifested that good management entails that a leader needs to communicate a conviction and be able to persuade the people to believe such belief. Suffice to say that to lead, you need to believe in something, and have the capacity to make others see the value of your position.
            Giuliani's thought of developing and communicating strong beliefs is a depiction of a great leader who leads by ideas. Developing a strong belief in your core values and being able to show in action and words that you live by these beliefs will create an atmosphere that encourages your followers to follow their leader. Summing up, this thought simply states that living and communicating your convictions and beliefs to your followers, particularly verbally teaching these beliefs to your people, demonstrated how Giuliani made this as a contribution to New York's City's triumph over the tragedy.
                                                               References
Giuliani, R. with Ken Kurson (2002). Leadership. New York: Miramax Books.
Gallo, C. (2005 October 21). When speaking in public, it's all in the eyes. BusinessWeek.            Retrieved January 9, 2008 from http://www.msnbc.msn.com/id/9763281/
Kakutani, M. (2007 April 22). The Politics of Prose. The New York Times. Retrieved January     9, 2008 from http://www.nytimes.com/2007/04/22/books/22kaku.html?pagewanted=1
Walsh, J. (2001 September 12). Giuliani's moment. Salon News. Retrieved January 9, 2008        from http://www.salon.com/index.html
Wright, J. (2001). The 5Cs of Management. The Leadership Institute. Retrieved January 9,             2008 from http://www.leadersinstitute.com/high-impact          leaders/articles/5csofmanagement.html