The Process Theories of Motivation Essay Sample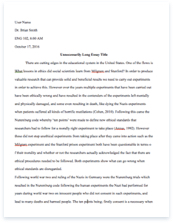 The whole doc is available only for registered users
OPEN DOC
Download Essay
A limited time offer!
Get a custom sample essay written according to your requirements urgent 3h delivery guaranteed
Order Now
The Process Theories of Motivation Essay Sample
Q1 Explain a content theory of motivation and a process theory of motivation and illustrate how they can explain actions of individuals in the case of study. "The content theory of motivation try to explain specific what are the keys to motivate people at work" (Mullins, L pg 252 Ed tenth) The main theories of content theories are Maslow and Helzberg. A.Maslow theory was known as the hierarchy of needs, theorised that humans need can be grouped into 5 main levels. "A.Maslow hypothesis is that the people are wanting beings, they always want more and what they want depends of what already have." (Mullins, L pg252 Ed tenth)
The hierarchy is classified in 5 levels: Physiological in relation with basic things, at the beginning of Joy of Chocolate Suzy's main goal is to survive with her business. "Safety was related with a safe working conditions and job security." When Suzy hired Leon and Hafiz, knew that they could run the business without problems and she was able to go away from the business to visit customers ensuring that their individual needs were being met, and to meet new suppliers to deal future needs of manufacturing. (Mullins, L pg255Ed tenth)
"Social was linked to professional association, friendly supervision." When Suzy invested in new the equipment for Joy of Chocolate she gained a good reputation for excellence with restaurants and hotels, she ensured that the customers received the orders on time. (Mullins, L pg255Ed tenth) "Esteem was linked to job importance, high status job, social recognition."Suzy supported the Ethical Trading Initiative with the aim of creating a good positive culture in all the aspect of the business. (Mullins, L pg255Ed tenth)
"Self-actualisation that was associated to challenging job, opportunities for creativity." Suzy ambition was to create a premium chocolate related with local connections. (Mullins, L pg255Ed tenth) Helzberg two factor theory are aspect at work that when they are missing are regarded as demotivating, however when present have no effect. The process theory of motivation tries to illustrate how the development works and approve itself over a cycle, such as circumstances that admit the quantity of effort. (sielearning.tafensw.edu.au, The process of motivation) The main process theory of motivation is the Goal theory by Edwin Locke, " this theory is based mainly on the work of E. Locke. The basic premise of goal theory is that people goals or intentions play an important part in determining behaviour." (Mullins, L pg268 Ed tenth)
Suzy was the manager of Joy of Chocolate, Suzy's dream was to create her own business creating gourmets of chocolates. She worked very hard spending her free time achieving professional qualifications in the business related to the chocolate. After all her work experience that she got making contacts and working with different suppliers, she decided to create the business called Joy of chocolate , she wanted that her business to become known for excellence and innovative products.
Q2 Explain the methods used by managers to improve job performance within the workplace and justify their suitability. The method that Lucy, Leon and Hafiz used to improve the job performance in the workplace were: -The 1st method is the interest from the managers to the employers making them feeling important, trusting them and not checking them very often, because the employers knew clear what to do. Hafiz hire to Mary Taylor as an assistant she was working in the company for 7 years and she was promoted through the team working system in the company, Mary was helping to Suzy to on her visits to local suppliers to discuss the production.
-The 2nd method is a claim, giving opportunities to the employers to progress in their jobs careers and contributing taking important decisions. When Joy of Chocolate merged with CG Chocolates, Hafiz suggested Suzy that Mary Taylor was ready for another promotion running the factory in Newcastle.
-The 3rd method was the observation and criticism, the managers are honest saying good or bad comments to the employers to help them to improve in their job career. Hafiz point of view was that the employers grow into a jobs and should and should be allow ed to make mistakes a part of the learning process and by promoting a team mentality mistakes were more easily to picked up.
Q3 Explain precisely the importance of team working and state how it operates in the case study.
Belvin's theory supports that the good collaboration in teams depends more than people than being passionated, one way to work out what where is the problem in the team is understanding
the Belvin's theory, Belvin showed that individuals in a team tend to behave in one of nine way, each fulfilling a different role. He divided these roles into 3 types:
Action Oriented: People Oriented and through oriented roles. https://www.mindtools.com/pages/article/newLDR_83.htm
"The importance of team working involves a reorganisation on the way to work is carried out. Teamwork can increase competitiveness by : Improving productivity Improving quality and encouraging innovation, Taking advantages of the opportunities provided by technological advances. Improving employee motivation and commitment".
(Mullins, L pg325 Ed tenth)
Hafiz had meeting with the team leaders very often to discuss any problems, he believed in trusting his team and he establish that all employees attempt a job development review every period of time. Hafiz knew that he was inspiring the people rotating the employers to build their knowledge. That system allow the team to continue the standards and inspire a positive culture of staff progress. The result of this system made the team being motivated through work instead that just for money.
Q4 Identify and analyse 3 factors that affect team cohesiveness and performance. Examine the influence of the 3 factors in the case study. The 3 factors that influence team cohesiveness and performance in the Joy of Chocolate are: -Membership: The size of the group: As long as a group grow, is harder to manage it and require a higher level of control to manage it. When Joy of Chocolate grow, Suzy needed to hire 2 people to help her to manage the business, Suzy hired at Leon and Hafiz, Leon was in charge of head of chocolate development and Hafiz was in charge of the chocolate production and factory manager. (Mullins, L pg309 Ed tenth)
Permanence of group members: The cohesiveness in the groups take time to develop, it could be a very slow process when the team members are together for a reasonable period of time. (Mullins, L pg309 Ed tenth)
-Work environment :  Communication: The most efficiently the employers concern with each other, the greater they will com-penetrate with each other for the same goal. In Joy of Chocolate Hafiz has Chocolate production manager, in 2008 he had 2 assistants to help in some task of his job, Adrian Buchanan and Mary Taylor, Mary was promoted through the team working system in the company after 7 years, Adrian Buchanan was ideally suited to the level of attention required to controlling the company's waste and maintaining the quality of the products always accepting the decisions that Hafiz suggested him. (Mullins, L pg310 Ed tenth)
Nature of the task: The nature of the task can help to approach the people when is crucial for them to communicate and connect often for the development of the duties. (Mullins, L pg310 Ed tenth)
Organisational:
HR polices and procedures: "Harmony and cohesiveness within the group are more likely to be achieved if HR polices and procedures are well developed and perceived to be equally with fair treatment for all the members." In Joy of Chocolate Charlie believed that the only reason how he could motivate the people was by a rewards and punishment system, any mistakes made by the employers would lead Charlie opposing the culprit and threatening them till arriving to the point of sacking them from the work. (Mullins, L pg312 Ed tenth)
Success: "The most successful the group, more cohesive it is likely to be, and cohesive groups are more likely to be successful." (Mullins, L pg312 Ed tenth)