The Production Department Essay Sample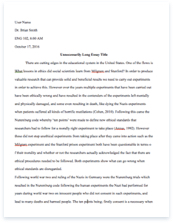 The whole doc is available only for registered users
OPEN DOC
Pages:
Word count: 1069
Category: patient
Get Full Essay
Get access to this section to get all help you need with your essay and educational issues.
Get Access
The Production Department Essay Sample
Importance of Production Department in Business
Production Department involves managing the transformation to create products or services. This is important as it keeps the business fresh and allows for new products and services to be created.
The operations manager is responsible for ensuring that the business remains effective by creating new products and services that will meet the customers' needs. Cost, quality and delivery are all needs that the customer will be interested in. The operations manager will have some responsibility in deciding what processes should be used to produce the product. Choices they may face include technology, process flow and job design. The quality of the product or service is important and should be continuously improved.
The scheduling of tasks and jobs to ensure that the needed capacity is achieved is another responsibility the operations manager will need to take on. They will also manage the inventory by deciding what to order, when to order it and how much to order. The movement of the products will also be important in this role.
Product management is also important because those in question will be aware of what is needed, by whom it is needed and how to market the product. They will also know what market the items should be focused on. Workers need a plan to make them aware what is needed, and when it is needed, and this is another role of the production management team. Although a product manager must oversee the entire lifecycle of a particular product, they must also recognize that their main focus should be on driving forward new product development.
The Different Areas of Obligation in Production Department
1. PLANNING DEPARTMENT/ADCOM
This Department shall consist of the President, COO, Vice-President for Financial Affairs, Vice-President for Medical Affairs, Vice-President for Nursing Affairs, Director of Medical Education, Quality Assurance Director, HRM, Director of Patient's Business, and Selected Department Heads. This committee is responsible for the governance of the hospital. It shall meet once a week. Its recommends to the board all matters necessary for the smooth running of the hospital. Business Planning conduct to ensure that the planned budget are realistic and implemented as guide for the years' financial operation. This procedure starts with scheduling of the annual business planning and ends with the department maintaining their own records for ongoing reference.
2. PURCHASING DEPARTMENT
Most major companies and even some government organizations have a purchasing or procurement department as part of everyday operations. These departments provide a service that is the backbone of many manufacturing, retail, industrial organizations and hospital. Many individuals, even some who work for these companies, are unaware of what the purchasing department does, why it exists or what purposes it serves. To understand better what the role of the purchasing department is consider some functions it performs. One role of the purchasing department is to procure all necessary materials needed for production or daily operation of the company or hospital like Manila Adventist Medical Center. For a medical company, this might include medical supplies such as medicine and drugs, disposable medical supplies, Oxygen tanks, general supplies, but it also might include equipment, machinery, ambulance or even the office supplies needed for the secretaries and sales team.
The purchasing department makes sure there is always sufficient product on the shelves or in the warehouses to keep the hospital continuous operation and keep the store well-stocked. To ensure that all supplies procurements are being checked controlled monitored and maintain per MAMC requirement. This procedure starts from the preparation of requisition form to purchase order up to releasing of requested item & updating of records. It includes purchases of general supplies except those items of pharmacy, laboratory, dental and dietary. Purchasing Department have a right to select and evaluate the suppliers, to ensure that there are abilities in meeting the companies specified requirements, this procedures starts from the review of compilation of suppliers up to delisting or retaining them depending on their performance.
3. CENTRAL SERVICE DEPARTMENT
They will be responsible for stocking of all necessary supplies, and medical equipment's. Where sourcing is unreliable, buffer stocks will need to be kept and the use of computerized stock control systems helps keep stocks at a minimal but necessary level for the continued operation of the hospital. They are also in charge in autoclaving all necessary equipment and tools in using to the operation of patients. A well-organized CSSD becomes the hub of an effective Hospital Infection Control Team without the sterile supplies the whole focus of the HICT is likely to be erroneous.
* To provide supplies of sterile instruments, linen packs, dressing and other sterile items used in patient care. * To maintain a record of the effectiveness of the procedures used in cleaning, disinfection and sterilization. * To monitor and enforce controls necessary to prevent nosocomial infection according to infection control policies. * To provide a safe hospital environment for the patients and staff, in terms of handling patient care equipment.
4. NURSING SERVICE DEPARTMENT
MEDIAL 1, MEDICAL 2, SURGICAL, CCU, MSU, PEDIATRICS, OBSTETRICS
* 1. Give daily bath and hair shampoo every other day.
* 2. Daily change of gown and linen.
* 3. Conduct prayer and singing bands.
* 4. Give right medication on time.
* 5. Explain the action of medications.
* 6. Give instructions regarding preparation before the procedure ( e.g. NPO)
* 7. Positive attitude of the nurses.
* 8. Personnel should be of good physical, mental health, and well groomed.
* 9. Personnel should demonstrate high level of clinical competence in giving care.
* 10. Assist the patient in his/her daily needs (e.g. eating, brushing )
* 11. Daily change of dressing ( for post-op patients )
* 12. Maintain environmental sanitation/ cleanliness.
* 13. Facilitate medical certificate/ discharge summary promptly.
* 14. Equipment is maintained in good condition.
* 15. Give health teaching.
* 16. Orient patient/relatives/watchers upon admission.
* 17. Give discharge instructions properly.
* 18. Wear a smile all the time.
* 19. Provide environment that will give comfort to the patient/family.
* 20. Anticipate possible medical problems/needs and respond to it immediately.
* 21. Make patient records as frequent as possible.
* 22. Personnel should be knowledgeable regarding health principles and its application.
* 23. Assist newly delivered mother in breastfeeding.
* 24. Provide patients safety.
* 25. Respond to the all the needs of the patients promptly.
* 26. Comments/suggestions/complaints are properly addressed and solved promptly.