The Pros and Cons of Technology Education Essay Sample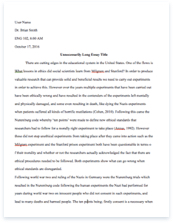 Pages: 5
Word count: 1,120
Rewriting Possibility: 99%

(excellent)

Category: technology
Get Full Essay
Get access to this section to get all help you need with your essay and educational issues.
Get Access
Introduction of TOPIC
The changeling state of education is in exigent need of solutions to age-old questions about teaching and learning by reason of this century's boundless technology and its societal impact. More than any period in recorded history, today's exceeding heterogeneity of emerging technology has transformed daily life, particularly the lives of the many fascinated by it. Many educators await the promise of technology's power to guide them and to lead improvements in the educational system. Any reasonable success, however, should bring forth change. Undoubtedly, technology's offerings increased dramatically in recent years. Technology education advances introduced new educational nomenclature: "virtual education", "diploma mills", "virtual universities", "electronic universities", "virtual", and "cyberspace institutions". As every process technology education has it's pros and cons. Pros are: no ineffective time and no extra costs, creativity and flexibility in instruction.  Cons are: lack of face to face interaction, technology expenses and  effectiveness of assessments.
No ineffective time and no extra costs.  Technology education reduces travel costs and makes time formerly spent traveling available for more productive purposes. It also gives an ability to add students and instructors as needed without incurring significant additional expenses.Working students may take courses at hours that suit their schedules. You can learn when you need it. Programs may be less expensive than those in traditional classrooms, owing to smaller facilities and instructor costs. Moreover, technology education can lower costs for both learning providers and organizations that need training. In many ways, technology education is the globalization of education. A student can have classmates and instructors from all over the world. This in it self is a wonderful educational opportunity.
Creativity and flexibility in instruction. Learning theories, learning methods, and research in learning domains are substantial elements in building a solid, grounded educational foundation that substantially influences instruction, education, and decision-making. Human creativity has much to benefit from technologies in education. For example, the Internet rejuvenates old forms of global communication; e-mail becomes a supersonic, first-class postal service without the inconvenience of a long waiting line. Interactive TV video conferencing hurdles cultural boundaries, geographic environments, and global time zones.
Today, educators can lecture anywhere and at any time, from distant reaches of this planet to students at other terrestrial locations. Cyberspace offers educators intriguing technological capabilities acting as virtual research assistants (voice, video, data, images, animation, g
raphics, etc.), which might not otherwise be affordable if performed by a human being.The "virtual
world" grows stronger and, hopefully, smarter and wiser as educators, engineers, computer scientists, and researchers of diverse disciplines attempt to locate better, more powerful ways to synthesize artificial intelligence on the Net in order to increase productivity and efficiency in meeting future demands. Our society discovers needs for new technologies, just as past societies pioneered needs for technologies like the printing press, pencil, gas engine, automobile, and cellular phone. Similarly, as time passes, today's traditional institutions will be forced to exploit new technologies by the needs of the global information market.[1]
Lack of face to face interaction. Students extensive time spent at the computer may be depriving them of worldly contact. The structure of online/televised courses may not allow for student-to-student socialization. Technology education does not provide many social aspects of a true campus or traditional classroom. It may isolate students physically, which can have negative effects on team building and sociability. Students with an aptitude for verbal expression may suffer in the virtual classroom. Not every student possesses the discipline needed to complete a distance course without instructor prodding them along. Unfortunately, classes with little instructor interaction have high dropout rates, sometimes as high as sixty percent. Students who get frustrated with the technology may lose faith. Employees having to learn on their own time can add to the workload of an already overstressed person.
Technology expenses and effectiveness of assessments. Technology expenses such as teacher training, technical support and hardware/software/modem purchases may outweigh any perceived facilities/staff hour savings. Other disadvantages have to do with technology.  Technology education students become very dependent on their computers. One simple mistake can lead to the loss of important information. Sometimes students may not able to connect to the Internet; if they can, sometimes they face long network interruptions. Sometimes students encountered difficulty when a particular server is down. Unfortunately, this happen during the busiest hours of the evening when most students are using the computer to do their projects. Perhaps one of the biggest challenges is in dealing with large class sizes: a possible solution for this is to have more than one teacher/professors or to have teacher assistance in order to achieve proper balance in student-teacher interaction. In order to determine whether the students are successful in distance learning, they need to know their learning styles.[2]
Despite of all pros and cons of technology education one can make a conclusion that technologies are the driving force of the world's education. It opens great opportunities. Today, nearly every student in the world cannot imagine his/her education process without new technologies. Technologies facilitate execution of different tasks. Students from all over the world have unlimited access to information. They can communicate with each other without any problems. In turn, such access always helps students to keep up on domestic and international affairs. Today, various computing technologies provide much assistance in achieving various goals via the use of distance learning, CAI, CBT, Internet searches, and the linking of other available technologies. Technologies can be effective tools in finding creative ways that encourage us to self-test, self-question, and self-regulate learning in helping us to create solutions to complex problems.
References:
"DL Pros and Cons." Distance Learning 10 July 2004 <http://mason.gmu.edu/~bellis1/dl.htm>
Hamza, Mohammad Khalid. "Technology and Education: Between Chaos and Order." Fist – Monday: A Peer – Reviewed Journal on the Internet 10 July 2004 <http://www.firstmonday.dk/issues/issue4_3/hamza/index.html>
[1] "DL Pros and Cons." Distance Learning 2001. 10 July 2004 <http://mason.gmu.edu/~bellis1/dl.htm>
[2] Hamza, Mohammad Khalid. "Technology and Education: Between Chaos and Order." Fist – Monday: A Peer – Reviewed Journal on the Internet 10 July 2004 <http://www.firstmonday.dk/issues/issue4_3/hamza/index.html>