The Psychological Impact of Child Abuse Essay Sample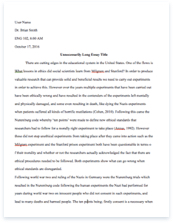 Pages: 6
Word count: 1,621
Rewriting Possibility: 99%

(excellent)

Category: child
Get Full Essay
Get access to this section to get all help you need with your essay and educational issues.
Get Access
Introduction of TOPIC
How do the psychological dynamics of child abuse influence the victim's construction of self when the abuser is a parent? Psychological dynamics of child abuse influence the victim's construction of self when the abuser is a parent. Children during their young age depend on parents for safety and security when they are in danger or distressed. The special qualities of parents also evolve through the experiences they had during their childhood. A child who has undergone abuses from his parent can never become a good parent for his/her children also (Winton, 2000). It parents fail to give protective responses to their children when they need it (during the times of emotional distress or danger) children would be conquered by those problems and they would suffer from various psychological problems (Winton, 2000). Children would suffer the most if the abuser is their parent. Parents are supposed to soothe their children when they are scared or anxious (Winton, 2000). If they themselves harm their children how much bad would be the plight of the children. Consolation by parents would help children to acquire a sense of control, safety and emotional balance. If children undergo abuse from their parents they would suffer different types of emotional, interpersonal and behavioral problems throughout their life (Cahn, 1996).
Children are supposed to acquire good characters from their parents. Children during their early ages observe their parents alone. The family is the world for young children. Parent-child relationship must be based on love, understanding and care. This relationship only constructs the self or character of child. Children tend to imitate the behavior of their parents. They also learn from their parents. Children, who are brought up in good family environment in the care of loving parents, develop admirable self and excellent characters. Similarly who are brought up in chaotic background under abusing parents is vulnerable to various bad behavior and worst self development. Child abuse by parent includes various psychological aspects as the parent-child relationship involves numerous psychological factors. Children who are abused by parents are liable to defective self development. Abuse negatively influences the victim's construction of self. Children who had undergone abuse are susceptible to various things. They are short tempered and are vulnerable to bad habits like drugs and early sex. Moreover the children who are abused by their parents may repeat the same behavior with their children. Abused children would also feel themselves very odd in the society and develop wrong perspectives. It would be fine to conclude that children who are abuse by their parents are the most unfortunate children of this world.
How does emotional and psychological abuse fracture individual and family identities? Winton, 2000 illustrates the current issues in the child abuse and neglect field. The book examines the major theories of child abuse and neglect. It get into the details of how emotional and psychological abuse fracture individual and family identities. The book explains the definitions of maltreatment, abuse, and neglect and cultural diversity issues. Emotional and psychological abuse fracture individual and family identities. Abuse will destroy the children's trust on their parents. For example, think of a depressed small girl comes to her mother expecting consolation. If her mother tells her not to bother her how sad the little girl would be. The child would think that her mother cannot bring solace to her and can never make her feel better (Winton, 2000). If a teenage girl is beaten by her alcoholic father and hears bad four-letter names, she would be psychologically affected and would think that she is seldom w
orthy of her father's love (Winton, 2000). Children who suffer
abuse from parents would loose the confidence in their parents. Experiences of child abuse as a child affect not just the personality of the adult but his relationship with his parents as well. For obvious reasons, when parents abuse their children, they strain their relationship with the children. One cannot expect an adult, who was abused by his parent as a child, to maintain a close relationship with them. All these would collapse the family relationships thereby destroying the security, love and free (Cahn, 1996). These consequences and effects of child abuse do not only affect the individual's life but also the typical family identity that is maintained in their family. The abuse causes the child to distance himself from the parent. Later on, as he grows up, this often translates to difficulty in forming attachments with other adults and his peers (Cahn, 1996). The child's insecurity and lack of self-esteem can extend to his adult life. Thus, when the child becomes an adult, he does not feel secured and more importantly, he lives a restrained life (Cahn, 1996).
How does such abuse challenge American ideals of family, security and freedom? These consequences challenge the very ideals upon which the American way of life is built upon. Americans believe that they have the right to have a family who enjoys security and freedom. However, the mere fact that the children are abused within the confines of their very own homes and within their own families, the idea of being secure is greatly eroded. Moreover, the abuse hinders the freedom of the child. As the child grows up, he does so with such American ideals left in ruins. In a way, the abuse he experienced as a child may reflect on how he treats his own children as he forms a family of his own.
Child abuse challenges American ideals of family, security and freedom. Abuse would collapse the whole family environment. Cahn 1996 explore the social and psychological factors related to abuse, describes prevention and policy issues, treatment issues, and also look into the major professional roles. The effects of parental child abuse of any kind exhibit themselves as the child becomes an adult (Winton, 2000). It is an experience that the individual bears with him long after the acts were committed. Not only does the abuse mold his personality, it affects his ideals in life as well. His ideals on family, society, and relationships are changed and may transfer to his own family. Such transfer may become chain reaction which will be to the detriment of society in general (Cahn, 1996). Abuse would destroy the security, love, trust and care in a family and thus would challenge the American ideals of family, security and freedom.
What is the relationship between emotional and physical abuse? There is good relationship between emotional and physical abuse. Children who undergo abuse resort to various malicious activities at early age itself. They drink most, smoke most and have sex at very early age. They hate schools, neglect their health, and are least satisfied in their life. They never eat meals with their parents and are always out of their house (Winton, 2000). They lack good company and guidance. The research brought out the result that adolescent drug misuse is directly related to parental conflict in US. The study confirmed that family problems are the real reason behind the drug misuse among adolescents of lower ethnic groups (Winton, 2000). Many children said that the kinds of relationship they maintain with their parents are too poor. They had experienced physical as well as mental assault or torture in their early childhood life. All these bring various psychological problems in children (Winton, 2000).
References
Brooks, L. (2006) The Story of Childhood, Bloomsbury Publishing PLC.
Chalk, R., Gibbons, A., & Scarupa, H. J. (2002). The multiple dimensions of child abuse and neglect: New insights into an old problem. Washington, DC: Child Trends. Retrieved April 27, 2006, from www.childtrends.org/Files/ChildAbuseRB.pdf (PDF – 82 KB)
Conway, E. E. (1998). Nonaccidental head injury in infants: The shaken baby syndrome revisited. Pediatric Annals, 27(10), 677-690.
Dudley D. Cahn (1996) Family Violence from a Communication Perspective. Sage Publications Inc. 1996
Dallam, S. J. (2001). The long-term medical consequences of childhood maltreatment. In K. Franey, R. Geffner, & R. Falconer (Eds.), The cost of child maltreatment: Who pays? We all do. San Diego, CA: Family Violence & Sexual Assault Institute.
Felitti, V. J., Anda, R. F., Nordenberg, D., Williamson, D. F., Spitz, A. M., Edwards, V., et al. (1998). Relationship of childhood abuse and household dysfunction to many of the leading causes of death in adults: The adverse childhood experiences (ACE) study. American Journal of Preventive Medicine 14(4), 245-258.
Hillis, S. D., Anda, R. F., Felitti, V. J., Nordenberg, D., & Marchbanks, P. A. (2000). Adverse childhood experiences and sexually transmitted diseases in men and women: A retrospective study. Pediatrics, 106(1).
Mark A. Winton and Barbara A. Mara (2000) Child Abuse and Neglect: Multidisciplinary Approaches, Allyn & Bacon.
Archard, D. (1993) Children, Rights and Childhood, London: Routledge.
Franklin, B. (1995) (ed) Handbook of Children's Rights: Comparative Policy and Practice, London: Routledge.
Freeman, M. (1996) (ed) Children's Rights: A Comparative Perspective, Dartmouth.
Vittachi, A. (1989) Stolen Childhood: In Search of the Rights of the Child, Cambridge: Polity.
"Protecting the Welfare of Minors — The California Juvenile Court," The Lectric Law Library. http://www.lectlaw.com.