The Purpose of Youth Sports Offered Essay Sample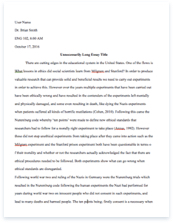 The whole doc is available only for registered users
OPEN DOC
Download Essay
A limited time offer!
Get a custom sample essay written according to your requirements urgent 3h delivery guaranteed
Order Now
The Purpose of Youth Sports Offered Essay Sample
Most recreational leagues are designed to teach the fundamentals. Focusing on the skills needed and the rules of the game, preparing both boys and girls for team play. Some kids' athletics have gotten too competitive. Youth sports may not be about winning or losing, but it is about learning to compete as best as you can in everything you do. Some parents believe that we are seeing 'professionalization' of youth sports. The "everyone wins" concept has been seen as not enough acknowledgement of achievement. There are so many different things that contribute to character development. Youth sports can be a significant opportunity for young people to grow and mature. Recreational agencies have programs that can easily implement comprehensive motor skills.
This program helps children develop the coordination skills essential for everyday living and playing sports. Having fun is the most important aspect of youth sports at recreational facilities. Without having fun there is no sport. Recreational agencies emphasize skill development in a supportive, non-pressured, non-competitive environment to help enhance a child's self-esteem. Sports-based youth development programs provide the positive supports and opportunities youth need to be healthy contributing citizens now and as adults. A sports-based youth development experience is one in which youth learn sports along with life and leadership skills in a safe, fun, supportive, and challenging environment.
There are usually two extremes in youth sports: there is a belief that winning is unimportant in youth sports; at the other extreme is the belief that winning is the only thing. The actual beliefs should be in-between those two. The essence of sport is striving to win; without trying to win the activity becomes something else. Winning builds confidence especially when that winning represents a true accomplishment. Winning increases in importance as kids get older. Prior to the age of twelve years, research shows that seventy-five percent of children would prefer to play for a losing team than sit on the bench of a winning team. Coaches should realize that athletes of different ages react different to winning and losing. Winning increases motivation, sometimes winning can be quite de-motivating. If the probability of success is very high the contest often lacks the excitement and vigor of a more closely contested match. Winning in youth sports is relative to whom you play. The winning often depends on scheduling than the performance level of the athletes. Their accomplishments may become devalued if their competition is inferior.
Kids' sports have become more competitive. Kids with strong internal drive may thrive on the competition; but pressure can be too much for others. Kids are learning that although you are competing with other players but with yourself also. You can always give your best effort whether you win or lost. There are some pros and cons for "everyone wins" in recreational youth sports. Some pros are that kids feel valued, kids might have more fun, and it could help build self esteem. Some cons are that kids don't appreciate the value of working hard for a win and actually earning it. Kids will think that life will always give them "wins." Kids may not learn how to handle defeat in sports and in life. Playing fairly when one has no concern about the outcome of the game is not the same level of ethics as playing fairly when one wants strongly to win. Youth will learn that they cannot win every game. They must learn to pick themselves up and keep moving forward. Guthrie's (2012) blog:
An alternative to participation trophies is to follow the NAYS guidelines of tying in any sort of recognition with how the child contributed to the team during the season. I coached Little League baseball with one of my mentors and he simply printed out certificates on his computer. They recognized each child as Best Teammate, Best Hitter, Best Defensive Player, etc. The presentation each season was made in a variety of locations – get togethers at a local pizza place and one time, on a bus headed to a minor league baseball game. The most important thing was that he took the time to say something special about each player in front of the team. No big shiny trophies and no big dollars that had to be raised. The kids loved it because their coach had taken the time to make each kid feel special in public with his words. And those words meant more than any trophy. That's how to recognize the kids.
In youth sports it's really "How you win" and not "how to win," or if "you win." Winning within the rules and ethics of sportsmanship can be great, and not take away the basic values of winning. True sportsmanship cannot exist unless there is an honest desire to win. Winners sometimes handle failure better. They were successful or are successful so they have and can cope with difficulties, or losses better than their opponents.
Lake's (2012) blog:
As the director of a character-building, goal-setting youth running program, the fire in my heart is burning even hotter than usual. Running encourages kids to come as they are, no special skills required. But it also challenges them to set goals and push themselves and, in doing that, encouraging other runners seems to come naturally. Not always, of course. But when done correctly, it's a beautiful thing and quite unique to the sport. In the words of Meghan Vogel, "I knew any girl on that field would do that for me so I was going to do that for Arden." She just knew. When youth play on organized sports team, they play to have fun, and get exercise. Their character comes with developing work ethic, teamwork and adversity. They idea of having to go to practice and participate is one of the biggest. They learn for themselves the value of hard work. This will help them want to perform better in games. Relative skill level is a crucial factor in sports at all levels. Winning becomes a more appropriate goal if the definitions of winning are broadened. Winning can be self-improvement or goal attainment. Especially if they are improving on their previous performance or reaching previously set goals.
Recreational agencies emphasize skill development in a supportive, non-pressured, non-competitive environment to help enhance a child's self-esteem. Each fundamental skill is composed of a series of stages of development that all children go through at different rates. By preschool age, most children have acquired some of these skills but it is not until they reach the age of six years that sufficient combinations of fundamental skills are attained to allow them to begin participating in organized sports. Pressure and competition must take a back seat to the development of fundamental skills and fun! An example from basketball would be; scrimmages provide a setting that helps enable your players to connect a skill with a situational game opportunity.
Certain competitive drills can simulate a game situation, and may be a steppingstone to learning how to perform and apply a skill. Having fun playing youth sports plays in huge part in whether kids will continue the sport when they are older. Having fun is the most important thing to kids when they play youth sports. All kids want to do is play the sport, learn the sport, and have fun while playing. If they don't have fun or get to try all the positions, how will they ever know if they like the sport, or that position? That's what community recreation agencies are for; they should give youth the chance to try all aspects of the game. A good environment is the most important thing in a youth sports program. Youth notice things that go on within practices, games, and interactions between coaches & parents, and are likely to quit if they see bad things.
Sports are a critical arena for kids to have positive experiences and want to be physically active. The focus should be on every child's effort, cooperation with one another, and to support one another. Competition, everyone wins, character development, skill development and fun are the most important factors of youth sports. Without these there are no sports. Each child learns these things differently, and with the help from recreation professionals at an early age they will hopefully learn the right way.
References
Davis, S. (2011). What are the benefits of competitive sports for youth? Livestrong.com. Retrieved from: http://www.livestrong.com/article/134568-what-are-benefits-competitive-sports-youth/ Feigley, D. The role of winning in youth sports. Retrieved from: http://youthsports.rutgers.edu/resources/general-interest/the-role-of-winning-in-youth-sports Guthrie, D. (2012). Trophies for everyone. National Alliance for Youth Sports. Retrieved from: http://www.nays.org/article/10684-Trophies-for-EVERYONE Lake, K. (2012). Youth running: come as you are. National Alliance for Youth Sports. Retrieved from: http://www.nays.org/article/10690-Youth-running:-Come-as-you-are Rhoads, J.