The Rise and Fall of Labor Unions Essay Sample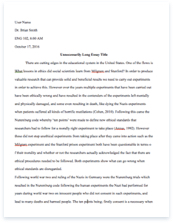 Pages: 12
Word count: 3,086
Rewriting Possibility: 99%

(excellent)

Category: organization
Get Full Essay
Get access to this section to get all help you need with your essay and educational issues.
Get Access
Introduction of TOPIC
Introduction
The challenges and laws shaping the business sector drawing in corporate social responsibility and good corporate citizenship have shifted as political and social climates have changed in New York, the United States, and around the world. One legal issue, which has been borne since the advent of industrialization era, is unionization.
Particularly, the management and labor attitudes denote what may be the most critical factor in industry's drive for competitiveness. For a long time, supervisors thought of the hourly employees as coming to work with hands and forgetting they had a brain. Came the labor unions in the scene.
History: The Rise of Unionism
Labor unions have been in existence for at least one hundred years before the United States developed from the thirteen original colonies. Cordwainers, printers, and tailors, formed isolated unions to improve work hours and increase pay. Early unions were all made up of employees in skilled trades.
They did, however, have several characteristics still true of union organizations today. Perhaps, most important, they were made up of employees who believed that collectively they could deal with management more effectively that they could as individuals. They had as their primary goals better wages, hours, and conditions of work. Like their modern counterparts, the early unions wanted guarantees from management that agreements would be honored (Kelly and Willman, 2004).
The United States work force numbers about 110 million people, some of whom are unemployed but still eligible for work. Of these, slightly more than 20 million belong to labor unions. Simple arithmetic reveals that for each person in the workforce who is a union member, five employees are not. Although they are clearly a minority of all workers, unions exert a powerful influence on the national economy, on the way organizations are run, and on local, regional, and national politics.
Whether admired or detested, unions are a reality of life that affects everyone. In some instances, the only way employees believe they can influence management is through the collective power of unionism. By joining together, they are able to obtain concessions from management that would be much more difficult to achieve as individuals. At the core of all union activities is the concept that unified groups of employees have greater influence that individuals dealing with management (Kelly and Willman, 2004).
The Fall of Unionism
In retrospect, the 1980s have not been good years for unionism in the United States. Declines in overall membership that started in the early 1970s have continued. Proposed union-sponsored legislation has failed at both the federal and state levels (Kelly and Willman, 2004).
Indeed, upholding a union-free office is a mark of respect in the modern era of coerced constancy and cracked trust. Labor unions tend to restrict productivity gains by forcing management to accept rigid work rules. Many companies have taken increasingly stronger tactics against traditional union actions that have usually been effective. It is too early, however, to count unionism out as a powerful force in many organizations.
Twenty million people with a common identity, that of being union members, constitutes the single largest group in the United States exclusive of major political parties. Causes of the decline in union influence are many and complex. Traditional manufacturing industries, especially steel and automobiles, which have been a major mainstay of large unions, have declined in number of employees. Both mining and construction, also traditionally unionized industries, have increasingly become nonunionized.
A mixture of public perceptions, changing employment patterns, more capable management, somewhat dated political stances in some unions, have all had an impact on union growth and effectiveness. Regardless of their difficulties, union leaders are promising a strong comeback as a major part of organizational life in the United States. Although proving their statements either correct or incorrect may take several years, unions are still an important component of organizational life and will probably remain so for the foreseeable future (Kelly and Willman, 2004).
Pre-Future Developments
Douglas Fraser, past president of the United Automobile Workers International Union, has been, like many other progressive union officials, as leader in defining the future course of union-management relations. He views the future as one that must include greater job security, improved productivity based on technological advances, greater worker participation, in corporate decision-making, and rededication to quality. Many managers are restating Fraser's views in their own words. Significantly, there is some indication that union-management relations are cautiously moving toward a more cooperative stance (Blackard, 2000).
Present-Day
A look at today's organizations indicates a number of ways in which unionization and accompanying human relations principles are highly influential. First, the influence of unionization can be clearly seen in the general attitude of management toward employees. It would be difficult indeed to find a manager today who would characterize his or her subordinates as interchangeable cogs. Rather, managers today do not question the fact that the employees in their organization have needs and desires that must be considered in organizational functioning. This is not to suggest that these human needs always take precedence in decision-making. International market forces sometimes lead organizational leaders to put human needs second, but these human needs tend to be an integral part of decision-making in today's organizations (Levine, 1995).
Today, these needs are even protected by legal means. Many governments now seek to ameliorate the often-devastating effects of long-term unemployment through Unemployment Insurance and Social-Welfare programs. For instance, Title VII of the Civil Rights Act of 1964, also known as Equal Employment Opportunity (EEO) mandates, prohibits employers with 15 or more employees from discriminating against applicants and employees in all aspects of employment, including recruiting, hiring, pay, promotion, training and termination, on the basis of race, color, national origin, religion or gender (Blake, 1991).
People Side
In a mechanistic organization, the principle of division of labor often leads to jobs that are highly specialized, highly routinized, and often highly boring, as well. In many of today's unionized workplaces, an effort if made to enrich jobs. The goal of job enrichment is to design tasks that will help satisfy some of the higher-order needs of workers (that is, needs for self-esteem and self-actualization) through the provision of motivational job factors. According to Frederick Herzberg, included in the category of motivators are responsibility, achievement, recognition, challenging work, and advancement in the organization (Kleinbeck, et al., 1990).
Sociologists find that individuals in occupations that combine high economic, occupational, and educational prestige typically show the greatest satisfaction with their work and the strongest job attachment (Blauner, 1969). However, the prestige factor partly subsumes a number of other elements, including the amount of control and responsibility that goes with
an occupation. The opportunity to exercise discretion, accept challenges, and make decisions has an
important bearing on how people feel about their work (Gruenberg, 1980).
In turn, the employees' morale is boosted to levels unlikely in mechanistic offices. An enriched job will have high levels of skill variety, task identity, task significance, autonomy, and feedback from the job (Cameron and Pierce, 2002).
The attitudes of managers toward their people are of primary importance. Employees should be able to trust the motives and integrity of their supervisors. The managers in a unionized labor force are forced and driven to be cautiously appreciative of their people's contribution that flows from high performance. They are expected to recognize that rewards must be psychological as well as financial, and strive for an atmosphere where each of their people can share the adventure and excitement of working at the company. It is the responsibility of management to create a productive environment where the unionized organization's values flourish (Blauner, 1969).
The people side of organizations by means of consenting to unionization came into its own in the 1930s, predominately as a result of the Hawthorne studies. These studies led to a new emphasis on the human factor in organizations and increased paternalism by management. In the late 1950s, managers' attention was caught by the ideas of people like Abraham Maslow and Douglas McGregor, who proposed that organization structures and management practices had to be altered so as to bring out the full productive potential of the employees. Motivation and leadership theories offered by David McClelland, Fred Fiedler, Frederick Herzberg and other behavioral scientists during the 1960s and 1970s provided managers with still greater insights into employee behavior (Blauner, 1969).
The principles of human relations in unionized workforce are certainly intuitively appealing. We would like to believe that by assuming goods things about employees, by treating them well with enriched and challenging jobs, and by fulfilling their needs for esteem and self-actualization, we could generate a climate in which worker satisfaction and productivity will flourish (Gruenberg, 1980).
When the attitudes, assumptions, and subtle behaviors are perceived by some members of the organization or the union itself as threatening and potentially punishing, especially to an individual member's sense of self-respect, then the climate will be defensive (Gruenberg, 1980). Out of climate of continuous defensiveness evolve hostile attitudes and ways of reacting between the union and the management. When threats are posed to such an extent that hostility and destructive drives are excited, workers become rather motivated to uphold industrial action than production (Levine, 1995).
One principle of behavior related to the functioning of unionized workforce is that productivity is highest when the group is cohesive. Teamwork, group morale, and team spirit are other terms that refer to feelings of cohesiveness. Although cohesiveness tends to produce higher levels of organizational accomplishments, it also places demands on members of the organization. When participation in the union-management relations is attractive and important to the parties involved, the norms, provisos, or expected and acceptable behaviors exert a strong influence on the concerned. The stronger the influence of these conditional factors on behavior, the greater is the likelihood of the organizational citizens conforming to qualified expectations (Blauner, 1969).
However, feelings of cohesiveness may be undermined by conflicts, divisive attitudes, emotional reactions, hostilities and defensiveness. When these feelings, attitudes, reactions,. And hostilities are held privately by some union members and serve as the motivation that influences how employees function in the organization, they may turn into hidden agenda. That is, any desires, aspirations, feelings, and motives of the members of either parties in the union-management relationship that cannot be brought out into the open and recognized directly operate in the organization as hidden objectives (Carbonneau, 2004).
In a highly cohesive company, members may feel free to express their feelings rather than to suppress that they emerge as hidden agenda. In an uncohesive organization, much of the time and energy of the employees and even managers may be devoted to items in a hidden agenda that distracts considerably from solving problems and doing the job. Nevertheless, highly cohesive companies tend to experience fewer hidden agendas (Carbonneau, 2004).
Worker Participation: The Reemergence of Unionism
In the 1980s, managers were encouraged to get their employees to participate in work-related decisions. Employees in a unionized labor force were motivated by the desire to work in a system that meets their needs for fairness, equity, opportunity, and responsive management. As robots replace many traditional manufacturing jobs and electronic changes the nature of the office, employee relations in both unionized and nonunionized environments become crucial (Zack, 2000).
Today, managers are going considerably further by employees full control of their work. Self-managed teams, in which workers operate largely without bosses, have become the rage of the 1990s. International managers' new labels nowadays are coaches, advisers, sponsors, or facilitators. In many unionized organizations, employees have become associates or teammates. And there's a blurring between the roles of managers and workers. Decision-making is being pushed down to the operating level, where workers are being given the freedom to make choices about schedules, procedures, and solving work-related problems (Levine, 1995).
Today's manager indeed needs to create an ethically healthy climate for his or her employees, where they can do their work productively and confront a minimal degree of ambiguity regarding what constitutes right and wrong behavior. In such an ethic, transactional and task processes support and encourage authentic, inclusive, sharing negotiation of ideas and perspectives. A dialogic ethic produces a climate in which union and nonunion members alike and the management assume mutual respect and caring between or among individuals as well as for the processes and outcomes of productive operations (Carbonneau, 2004).
What's going on in this kind of unionized workplace is that managers are empowering employees. They are putting employees in charge of what they do. And in so doing, managers are having to learn how to give up control and employees are having to learn how to take responsibility for their work and make appropriate decisions (Gilley and Maycunich, 2000).
Thus, managers and supervisors at the global scale are advised to replace authoritarian management with a participatory style. Many international labor unions refuse to accept the work-rule concessions needed to make employee involvement more than a slogan. International management that pushes its power over labor will not improve productivity. American workers and management should have the shared vision of their Japanese counterparts. As a supervisor's word, considerable job security for workers will be guaranteed (Kelly and Willman, 2004).
Morale is expected to improve when group participation in the decision is affirmed. Occasionally, a decision would disrupt morale if it were forced on the labor force without consulting them. In these situations, the supervisor may create and use a committee to bring the labor force into the decision-making process (Gleason, 1997).
Conclusion
The key to the future in the global village depends greatly on whether there can be a broader move toward shared responsibility between labor unions and multinational corporations, which is a shared responsibility that involves greater decision-making power and job security for workers. Those of us who want to see a high-morale, highly motivated employees, in addition to see more economic and social justice in the global workplace, must be willing to take risks and try new approaches. As we attempt to develop a more progressive international labor-management relations, we shall not forget that those who insist on making cooperation impossible make confrontation inevitable.
The problem of managing unions in organizations is not new. What is new is the concern for the individual, especially his or her needs and personal psychology as they affect organizational needs of production and efficiency.
The unionized workplace becomes consultative organization in order to formulate the most effective motivators so as to boost the unionized workforce's morale. Managers may have substantial, but not complete, trust and confidence in their employees. Subordinates feel fairly to discuss job matters with their superiors and there is quite a bit of interaction between managers and union members. Communication flows both up and down within the system. Downward communication is often accepted by employees, but they may view it with some suspicion.
In any case, unionization has changed the way companies operate, greater employee initiative in the workplace has been found to cut costs. But much depends on a firm's profitability. When a company becomes profitable, differences tend to get smoothed over quickly. But when a firm continues to lose money, dissatisfaction mounts and difficulties deepen.
All things considered, the key to improving the organization's prosperity is to improve the prosperity of the worker. Therefore, the workers see themselves as doers and their managers as organizers if they were rewarded well enough. Although this approach to management and motivation of employees seems naïve to us now, many major industrial employers of the nineteenth and early twentieth century, accepted it.
Bibliography
Blackard, Kirk. (2000). Managing Change in a Unionized Workplace: Countervailing Collaboration. Quorum Books.
Blake, S. (1991). "Managing Cultural Diversity: Implications for Organizational Effectiveness." Academy of Management Executive. New York: Bantam Books.
Blauner, Robert. (1969). "Worker Satisfaction and Industrial Trends." A Sociological Reader on Complex Organizations. New York: Holt, Rinehart and Winston.
Cameron, Judy, and David Pierce. (2002). Rewards and Intrinsic Motivation: Resolving the Controversy. Bergin & Garvey.
Carbonneau, Thomas E. (2004). The Law and Practice of Arbitration. Huntington, N.Y.: Juris Publishing.
Gilley, Jerry W., and Ann Maycunich. (2000). Organizational Learning, Performance, and Change: An Introduction to Strategic Human Resource Development. Perseus Books.
Gleason, Sandra E. (1997). Workplace Dispute Resolution: Directions for the 21st Century. Michigan State University Press.
Goleman, Daniel. (2001). Business: The Ultimate Resource. Maine: Perseus Publishing.
Gruenberg, Barry. (1980). "The Happy Worker: An Analysis Of Educational And Occupational Differences In Determining Job Satisfaction." American Journal of Sociology.
Kelly, John, and Paul Willman. (2004). Union Organization and Activity. Routledge.
Kleinbeck, Uwe,  Hans-Henning Quast, Henk Thierry, and Hartmut Häcker. (1990). Work Motivation. Lawrence Erlbaum Associates.
Levine, David I. (1995). Reinventing the Workplace: How Business and Employees Can Both Win. Brookings Institution.
Zack, Arnold M. (2000). Employee Rights and Employment Policies (pp. 50-64). Horsham, Penn.: LRP Publications.