The Role of Psychiatrists in the Sexual Health of Sexually Dysfunctional Women Essay Sample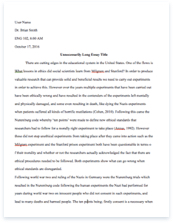 The whole doc is available only for registered users
OPEN DOC
Get Full Essay
Get access to this section to get all help you need with your essay and educational issues.
Get Access
The Role of Psychiatrists in the Sexual Health of Sexually Dysfunctional Women Essay Sample
The sexual health of a woman is dictated by her upbringing. There is a crucial role environment plays on her sexual health, from as simple as her relationships with her classmates in primary school to her relationship with her siblings and parents as she grew up (Manassiev and Whitehead, 2003, p. 180). Her relationship with her father may be remote and cold, or ideal and affection – any of which has a big impact on how she deals with everything that happens to her life as she grows up, especially with her sexual life. Her values when it comes to her religion, culture and social life are responsible of her sexual health, too.
She may concentrate on her negative or positive traits, and the point remains that the way she sees herself affects her sexual life. Other aspects that affect a woman are past relationships, anger, pain, medications, surgical history and medical history among many others (Manassiev and Whitehead, 2003, p. 180). However, not all women know all these. Women who are experiencing trauma have big problems to deal with. They have something in common with women who are undergoing menopausal and postpartum stages. In fact, women who are depressed experience the same thing, too.
That common thing between all these women is a problem that not all people are open about discussing. Apparently, a lot of women today claim that they are no longer interested in sex. Who can help these women? Psychiatrists are responsible in talking to these people and in listening to their problems. Once the psychiatrists know the root of the problem, they can prescribe treatments for the sexual issues of women. Interventions, which can be pharmacological and/or behavioral, are used to address the issues these women are facing (Saks, 2008).
The sexual issues of women can be summed up to a term, which is considered a lurking monster in the married lives of couples these days: sexual dysfunction. It can be easy to say that if men take Viagra to be interested in sex once again, then women can be prescribed something, too. It is not as easy as that. Even psychiatrists find it hard to deal with other people's problems especially if it is related to a very personal problem like their sex life. Not all people are open about talking about their sex lives, considering their age, gender, race and the culture they were accustomed to while growing up.
Sex is something that is not openly talked about, so psychiatrists, who happen to be experts on this matter, are challenged, too (Saks, 2008). Psychiatrists find it most difficult to initiate the discussion. They also have fears, like having the patient think that he or she is being harassed with the questions a psychiatrist asks, or having the patient think that the psychiatrist has insufficient training just because the patient started not feeling comfortable talking about this aspect of life.
Psychiatrists who concentrate on targeting sexual life issues are sometimes accused of violating boundaries the failing to address concerns (Saks, 2008). However, it must not be forgotten that sexual dysfunction is a destroyer. It destroys marital relationships. It destroys family life. It destroys intimacy, expectations, plans and dreams. Knowing the causes of sexual dysfunction in women will surely work wonders in alleviating sexual dysfunction in all people altogether (Saks, 2008). Hence, addressing sexual dysfunction, especially in women who are more conservative and inhibited when it comes to discussing sex, becomes difficult.
Psychiatrists do not give up in addressing the issue, though, because the simple act of exerting effort to start a dialogue between the psychiatrist and the patient starts it all. After all, psychiatrists are in the position to ask these questions to women, until issues about sexual history and medical history are all equally addressed (Saks, 2008). Once a psychiatrist gets a woman to talk openly about these issues, then the psychiatrist is almost halfway done with the job. The next step here, then, is how a psychiatrist knows the treatments to be employed to rid a woman of sexual dysfunction.
For this research to materialize, two women were interviewed, each highly different from each other. The interviews took place in a coffee shop, each of which lasting for an hour for the shorter interview and an hour and 30 minutes for the longer interview. Interviews conducted became possible with a tape recorder while at the same taking down notes. These personal interviews with two women in two separate situations were not easy since the adjustment, effort and initiation of a dialogue on a sensitive topic has to be done twice.
The success of the first interview does not guarantee the success of the other, let alone finally convincing each of them to talk about their sex life. Method These two interviewees both requested for anonymity. The first interviewee is a young woman, who happens to be 22, and is a lesbian. The other interviewee who also requested for anonymity is entirely different from the first interviewee. She is a heterosexual female who is married to one man and has eight kids. She is 47 years old, still working and raising her kids at the same time.
Together with her family, she spends time at the beaches and parks almost every weekend to give her kids a treat. Results Going back to the first interviewee, during her younger days, especially when she was 16, 17 and 18 years old, she was always interested in sex. Her sexual urges during those times, as she said, were intense. In fact, she reached the point of thinking that she is not normal for feeling that she is addicted to it, even if she was not sexually active. She was just highly interested in any sexual activity and was also watching and reading a lot of pornographic materials.
That time, she had a girlfriend, too. Although they were in a long distance relationship, they saw each other twice a year and during these meetings, they make the most out of their moments together. Her sex life with her girlfriend that time was a beautiful experience to her, although the relationship ended after three years. She recalled that this relationship was not a special case because she has fallen in love with other girls more intensely than what she felt for her ex-girlfriend.
She, however, does not deny the fact that she was most sexually-driven with that particular relationship partner. She explains that after that relationship, she had followed it with other equally serious relationships. She had great romantic relationships with other girls, until she met one girl who she almost committed suicide for. A break up with one girl changed her and the way she thinks about relationship. Thinking that she will never love again, she stopped looking at other girls and became busy with other things like school, music and sports.
Because of what she considers the most traumatic break up in her life so far, she claims that it was the time she started losing interest in sex, the same way she lost interest in other aspects in her life like romance and dating altogether. After moving on from what she considers the worst break up in her life, she again falls in love and engages in a whole new sexual and romantic relationship with a new partner. However, she no longer feels excited about her sexual activities with her partner. How she describes her sex life with her partner is this: "mechanical".
Sex, to her, is an obligation that they should do as a couple, even when she thinks that it is no longer necessary. In fact, she believed that she is more after love, emotions and feelings than lust. She started to be convinced that her love is real. After a few months, they broke up again. She, then, had another girlfriend, and became sexually active once again. Since then, she started thinking that she is dealing with a sexual issue since she does not know why these sudden changes on sexual urges are happening to her.
Moving on the married woman, her husband is a very loving and responsible man who works as an English Instructor in a college near their home. It can be safely said that their family is an ideal one. However, with their married life, everything is different. The woman says that her life is almost perfect, but she started believing that no one can really have it all since she realized that she is no longer sexually satisfied with her husband. They do not have sex. If her husband initiates, she tries to fall asleep so she can have an excuse for her husband not to bother her anymore.
Aside from that, she also reached the point where she had to fake her orgasms. Her desire is nowhere to be found. The woman is focused on her family and she believes that her husband is there only to support the kids and be a responsible father and husband to them. The essence of the word "couple" is no longer significant to her, as long as they do both their jobs to give their kids a bright future. Today, she thinks that while she may be a great mother to her kids, she is a failed wife to her husband because they no longer share the same intimacy, romance and excitement when it comes to sex.
These two women of different ages, different partners and even different sexual orientations have the same problem. While they are clueless about it, in science, their condition is called "sexual dysfunction. " Discussion Undoubtedly, the interviews support the results of this study because the experiences and background information of the two interviewees fall under a category to which they are qualified as people suffering from sexual dysfunction. Their experiences and background information represent the causes of sexual dysfunction, which is depression for the homosexual female and menopause for the married woman.
According to David Barlow, who authored the book Clinical Handbook of Psychological Disorders, "the risk of acquiring sexual dysfunction is heightened when a person is suffering from a particular psychological disorder. While depression may seem normal to any person who occasionally feels sad and disappointed about something, he or she suffers from a disorder for a given period of time (Barlow, 2001, p. 571). " Why does depression cause sexual dysfunction? Depression does not just involve frustration and anger, or loneliness and pain.
It also includes the lack of interest in what a person used to enjoy. An example of this would be a young man who just found out that his relationship partner is cheating on him. This situation has been seen in the movies, in radio dramas, in stage plays, in books and in television shows, where someone who is deeply hurt can not even finish the food being served. A depressed person stays away from the world and wants to be alone (Barlow, 2001, p. 571). This condition characterized by losing interested in activities that in normally enjoyed is called anhedonia.
Consequently, the homosexual female who lost interest in sex for a given period of time has been depressed and has suffered from anhedonia. Any person who is depressed and suffers the consequences of anhedonia is most likely to have difficulties getting aroused, let alone reaching orgasm (Barlow, 2001, p. 571). An interesting study has been conducted by Angst in 1998, where subjects were 591 men and women who are all sexually dysfunctional. "These 591 men and women are categorized into three: treated depressed, non-treated depressed and non-depressed.
Rates of sexual dysfunction in those who are non-depressed are 62%, in non-treated depressed, 45% and in treated depressed, 26% (Barlow, 2001, 571). " While a person may be treated from depression, it does not guarantee that he or she does not experience sexual dysfunction at all anymore. It is no surprise, then, that the first interviewee, who was depressed from a break up, was no longer interested in sex even after having found other new relationship partners in the long run. After getting over the madness, she has finally learned to appreciate sex again because depression is no longer consuming her (Barlow, 2001, p. 71).
According to Barlow, "emotions play a major role in maintaining our sexual relationships with other people (Barlow, 2001, p. 571). " Anxiety disorders and mood swings have a great impact on our sexual functioning, and consequently our receptiveness to sexual arousal. With depression comes anxiety, and it is exactly anxiety that is to be blamed in this case. Whenever an anxious individual engages in a sexual activity, he or she focuses on how to not fail. He or she will think too much about the consequences of not performing enough according to the standards of his or her partner.
That, alone, causes sexual dysfunction on the individual because in that moment, they fail to experience sexual arousal (Barlow, 2001, p. 571). The second interviewee, the married woman, is expected to face sexual dysfunction because of her age. Aging is not exactly what causes the dysfunction, but the menopausal stage that comes with aging. A woman may experience sexual dysfunction twice in her life, first being her pregnancy and second, being the menopausal stage. After giving birth, she feels pain all over, specifically on areas like her cesarean scar, tear and from episiotomy.
While she breastfeeds her baby, her estrogen is lowered, while her prolactin level is increased (Manassiev and Whitehead, 2003, p. 180). Aside from this, she starts to lack self-esteem after pregnancy because she thinks that she has gained too much weight and eventually finds it hard to resume to her normal appearance. A woman who just gave birth has disturbed sleep pattern, is always exhausted, has poor body image, has gained weight, is more focused on being a mother than anything else and of course, is afraid of getting pregnant once again.
With that, she refrains from engaging in any sexual activity with her husband (Manassiev and Whitehead, 2003, p. 180). The interviewee's problem is the same, but the causes are exactly the opposite. If a woman is under menopausal stage, she also thinks she has poor body image because she thinks she is old. Aside from that, she thinks she is no longer slim the way she was years ago. It is normal for a person undergoing menopause to gain weight because aging causes the redistribution of body fat. Body fat will be most evident in the abdomen and buttocks of a woman in her menopausal stage.
Her breasts, at this stage, have increased fat content and are at the same time pendulous, while her skin becomes dry, her hair becomes brittle, her mucosae becomes dry and her muscles and joints become painful (Manassiev and Whitehead, 2003, p. 180). Coping with midlife crisis is another challenge to her. At this age, as the interviewee said, she is more focused on raising her kids and being a responsible and good mother to her children. Aside from her emotions, a woman in her menopausal stage is deficient and is experiencing difficulties in orgasm, congestion, lubrication, arousal and sexual desire in general.
She starts feeling vasomotor symptoms (Manassiev and Whitehead, 2003, p. 180). The truth is, menopause is the biggest hindrance to sexual intimacy. Sexual arousal and intimacy is lessened because of illnesses, losses and cases of divorce, but nothing compares to the experience of a woman who is undergoing menopausal stage. What makes the situation worse is that menopause can even cause depression and mood swings, doubling the chances of failing when it comes to the attempts toward sexual intimacy. Menopause leads to anergy and anhedonia, which is constantly connected to lessenedd interest in sex (Manassiev and Whitehead, 2003, p. 80).
A treatment for sexual dysfunction can not be easily employed, which is why it important that a woman seek help and opinion from a psychiatrist. She can not just take medications and find ways to enjoy sexual activity if she does not know why she is dysfunctional in the first place. The reason why a woman should learn how to open up to a psychiatrist is because no other person will be capable of helping her in such a professional manner than how a psychiatrist does. (Manassiev and Whitehead, 2003, p. 180) This is also the same reason why a psychiatrist should learn how to initiate a dialogue with a sexually dysfunctional woman.
A psychiatrist became a psychiatrist to help people who find it difficult to recognize and accept their problems in the first place (Manassiev and Whitehead, 2003, p. 180). In a step by step procedure, however, a psychiatrist creates a treatment plan where assessment comes first before a woman is taught to be receptive to treatments and therapies. First, interpersonal, behavioral and cognitive characteristics of a depressed woman have to be assessed (Robert and Holland, 2000, p. 25). The physician of a woman should be consulted.
In this case, the physician of the homosexual female should be consulted in order for the woman's suicidality to be evaluated. Of course, with that, the need for medication is seen as necessary or not, depending on the results. Goals should be established before cognitive interventions and before employing recommended therapies (Robert and Holland, 2000, p. 25). Upon consultation with a psychiatrist, a woman who is depressed may be prescribed SSRIs, medications which are also known as selective serotonin reuptake inhibitors. Today, SSRIs are so far the most recommended medication for depressed women because they have safety in overdose cases.
A woman also experiences low side effect burden from SSRI if ever there is any (Yang, 2003, p. 49). Administrating SSRIs is also undeniably easy because typically, one dose a day is enough. SSRIs are known to effectively treat anxiety disorders which is why it has been considered as an activating anti-depressant that does not bring forth sluggishness or sedation. These are among the side effects experienced by people who take other medications other than SSRIs (Yang, 2003, p. 49). On the other hand, the woman who is suffering from menopause can not escape menopause, but can try remedies that can ease her pain.
These days, products are out in the market to relieve symptoms of menopause like natural progesterone creams, natural estrogen supplements, multivitamins and minerals for women, maintaining a well-balanced diet, maximizing the health benefits of omega 3 and fish oil and of course, exercise (A. Stengler A. and M. Stengler 2003, p. 136). While it is true that there are pharmacological treatments for sexual dysfunction in women, it should always be considered how important it is to clarify and look for the most effective treatments for the different types of sexual dysfunction.
Since there are various kinds of sexual dysfunctions experienced by a woman, it is then important to consider the causes, what stages she is undergoing and what treatments there are which are available for a specific case for a particular individual. The people who are in the right position to address the issue, then, especially when it comes to women, are sex therapists, gynecologists and of course, psychiatrists who studied and trained for years to learn the art to talking to people who are most likely not going to open up about sensitive topics like failed sexual health.
It is then important that a woman's life cycle, her relationships with people in the present and in the past, her history in general and her dynamics as a whole should be very well understood to know what treatment is best for her. What can be done, now, is that the medical industry should provide solutions for women on how to minimize the difficulties when it comes to sex. After all, a simple universal solution does not exist for this. At least, not yet.