The Salem Witch Trials Essay Sample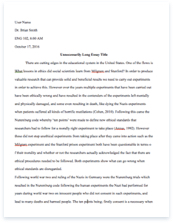 The whole doc is available only for registered users
OPEN DOC
Download Essay
A limited time offer!
Get a custom sample essay written according to your requirements urgent 3h delivery guaranteed
Order Now
The Salem Witch Trials Essay Sample
The Crucible, by Arthur Miller, was written during the Salem Witch Trials, in 1962 and during these times the reputation of one\'s name carried so much importance and to add to it in the township of Salem public and private moralities were at right about the same level, as a result the people of Salem were focused on maintaining a public standing in society and Many characters like Reverend Parris feared that the doings of their friends would ruin the way they were perceived in the town.
Firstly, the play starts with Parris fearing Abigail's ever-rising intolerable acts and the probability of witchcraft which was causing his daughter's coma, this would have questioned his reputation and would force him to resign and quit from being the minister since his reputation of being a Reverend and a townsperson was now at risk, But Parris did not want his name to go up in flames so instead of doing the proper thing, based on their religion, and go and confess about how he saw his daughter and niece dancing in forest, he instead goes on to say that,"And what shall I say to them?
That my daughter and my niece I discovered dancing like heathen in the forest? ",This just further proves that even after seeing his daughter and niece dancing in the forest and knowing the possibility that witchcraft had started in his very own house, he still questioned himself whether to let the people know because he worries about the negative impact it will have on his reputation if the town found out that his daughter was affiliated to the devil.
Secondly, John Proctor, who was also trying to maintain his good name by trying to hide his relationship he had with Elizabeth, as best as possible from the town because in the village of Salem this would have been conceived as an act of adultery, John Proctor had a chance to put an ending to the girls' charges but he chose not to, all in the name of saving the reputation of his name, Because it is my name!
Because I cannot have another in my life! Because I lie and sign myself to lies! Because I am not worth the dust on the feet of them that hang! How may I live without my name? I have given you my soul; leave me my name! ", this shows just shows how overly obsessed he was with the value that his name carried that he could even go to the extent of breaking his own morals and honesty just in order to save his name from tarnishment.
Lastly, in conclusion Reputation seemed to have paved a way for the characters to walk in, a path in which one's name was more important than their own morals and beliefs, a path in which good behaviour was achieved because of trying to keep a good image rather than following their religious belief, it was for that reputation that Reverend Parris questioned telling the truth to the community and it was for the very same reputation that John Proctor refused to comply with a false confession.