The Significance of Education and Key Strategies: Personal Perspectives Essay Sample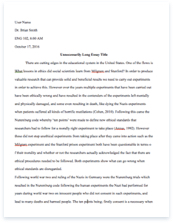 Pages: 2
Word count: 511
Rewriting Possibility: 99%

(excellent)

Category: education
Get Full Essay
Get access to this section to get all help you need with your essay and educational issues.
Get Access
Introduction of TOPIC
In almost all societies, the role of education is never underestimated. This is a subject that is perceived to have impacts on all aspects; social, political and economic. My personal sentiment which perhaps is not different from the views of the common is that education is both a means to an end and an end in itself. The educator then assumes important roles and therefore in itself must be worthy of the title.
Yet what end are we after and how does education serves as a strategy in attaining such? What roles does an educator play? In the manner of answering these questions, one will be led to disclose certain beliefs that are essential in the learning process of children, strategies which will enable effective learning interaction and proper relationships of the educator with the community, parents and colleagues. Below is a description of how I view these.
            Education is about knowledge sharing, enhancement and productivity. The educator must be a knowledgeable person therefore. Although information of any types contains
knowledge- the educator must be able to go beyond simplistic data and improve on what children might
refer to as their prior knowledge. This prior knowledge which is a result of children's interaction with their parents, peers, neighbors, etc must be developed into higher level information molded by academic frameworks- this is what the educator provides for the community.
The educator must be guided because of this with moral and philosophical principles which he/she must apply in this toil. Yet this process is difficult in its own right- lectures and relevant activities, modules and curriculum must be developed to be able to reach diverse students. Children's' minds are like sponges which absorb persistently. The educator must be prepared to perform the task of developing the basic knowledge and analytical capacities of the students. Educators must be prepared to envisage the dynamic characteristics of students and the changes which the society has yielded upon their behaviors.
Patience alongside with the aspiration to build an educated society must constitute their personal dictum. Education must be considerate of the roles of parents and the community as a whole in the development of studies. Fellow educators must be united in the creation of physical (materials, syllabi, and research facilities), intellectual (content, mission and vision and frameworks) and emotional preparations (virtues) for education.
The educator hence must create useful relationships and interactions with them. If at the end of the day, the student becomes a better individual, supported with informed knowledge and wisdom, and is capable of contributing to the goals of the community, we can say that education's agenda is successfully achieved. As the community aspires for social, political and economic development- education's goals must also be geared toward the same aims. The educator should both be an advocate and a lover of education and teaching.