The State of Black American Males Essay Sample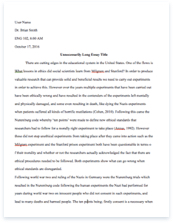 Pages: 4
Word count: 1,012
Rewriting Possibility: 99%

(excellent)

Category: racism
Get Full Essay
Get access to this section to get all help you need with your essay and educational issues.
Get Access
Introduction of TOPIC
Introduction
Racism is always been an issue in United States of America for many decades now. There were prejudices and structural inequality experienced by the black people. In a report made by Fred Gaboury in People's World, November 30 1996, stated that "advance copies of the 21st edition of the Urban League's The State of Black America were made available to the press on November 22. There were essays discussed the questions of unemployment and underemployment- infant mortality and life expectancy, housing and health, income, the report documented its conclusion that the fundamental question facing Black America and millions of other Americans in experiencing poverty" (See F. Gaboury, "The State of Black America 1996': Bad and getting worse". People's weekly world. Nov. 30, 1996.).
Abner Louima, Amado Diallo and Yusuf Hawkins were the examples of black American males who experienced maltreatment which is a form of racism. There were two sets of police officers who were accused and faced trials in New York City regarding the injury of Abner Louima and the death of Amado Diallo. These three men experienced tragic situations that won't be forgotten in the history of black American people. Yusuf Hawkins was the victim in the Bensonhurst beating with Yusef Salaam which one of the defendants convicted in Central Park jogger. Amado Diallo is the Guinean immigrant who was shot at forty-one times while Abner Louima is a Haitian immigrant who was tortured with a plunger (See P.J. Williams, "The Trials of the Millennium". Diary of a mad law professor. May 10, 1999). But these kind of savage and inhumane experiences also happened in the lives of a 14-year-old boy named Emmet Till and James Byrd Jr. According to Edmund W. Lewis that these two were each murdered by white supremacists on hot summer nights- one in Money, Mississippi and the other is in Jasper, Texas. Emmet Till was murdered on August 27, 1955 while James Byrd was on June 1997.
The white supremacists who murdered each of these two, sought to degrade and dehumanize the object of their hatred. T
hese two victims were unclothed. Before Emmet Till was murdered, he was battered and bruised and was
force to remove his clothing. Then he was shot in the head and dumped in the Tallahatchie River. His body was not found for several days. On another hand, James Byrd Jr. was walking home from a party and made a mistake for he took a ride with the three white supremacists. These three men murdered Byrd by slitting his throat before he was chained to the back of a pick up truck and dragged to bits for more than two miles down a winding country road in Jasper Texas. His pants had been dropped to his ankles and his face had been painted black and not only that, his attackers drove the truck in a zigzag fashion to inflict maximum pain on the victim. His body was dumped in front of a black cemetery (E. W. Lewis, "Hate's Harvest". The Louisiana weekly: Your community, your newspaper. February 3, 2003.).
In a study conducted by The Chicago Reporter, April 2000, showed the state of black men. It stated that there were about 25 percent of African American boys who enrolled in Chicago public high schools but during the 1998-99 school year, they were accounted for 46 percent of the system's expulsion. Out of 1,000 black male high school students, there were about eight who were expelled that year. In 1994, two out of the three African American male students who entered 9th grade, did not finish high school within five years. At same year, black men remain jobless at far higher rates and on average, African American men in Chicago live about a decade less than white men and black women and nearly less than white women. And they committed most of the homicides against black males when the offender was known. In 1999, there were about 57 percent of all arrests in Chicago involved by black men and the largest numbers of black men approximately 1,310 were arrested because of disorderly conduct. They make up nearly three out of every four detainees in Cook Country Jail. The survey also added that the black children are more likely to be raised by a single parent (See "The State of Black Men". The Chicago reporter. April 2000).
Since Black Americans are part in our society, the government should find ways and make programs solely for the development of the black people. They should make programs which motivate the black people to go to school and meet their needs. They should be encouraged to involve on any social's activities and give them chance to lead simple organizations that would make them feel the sense of responsibilities. But most of all, white people should let the black people know and feel that they are accepted and belong to their society.
References
Gaboury, F. "The State of Black America: Bad and getting worse". People's
                       weekly world. November 30, 1996.  http://www.hartford-
                       hwp.com/archives/45a/188.html
Williams, P.J. "The Trials of the Millennium". Diary of a mad law professor.
                        May 10, 1999. Http://www.thenation.com/doc/19990510/williams
Lewis, E. W., "Hate's Harvest". The Louisiana weekly: Your community,
your newspaper. Http://www.louisianaweekly.com/weekly/news/
            articlegate.pl?20030203f
"The State of Black Men". The Chicago reporter. April 2000.
                                   http://www.chicagoreporter.com/2000/04-
                                   2000/042000%20Graphics%20The%
                                   20State%20of%20Black%20Men.htm