The Success of "The Simpsons" by Betty Lam Vo Essay Sample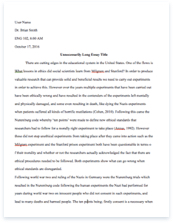 The whole doc is available only for registered users
OPEN DOC
Pages:
Word count: 1618
Category: Simpsons
Download Essay
A limited time offer!
Get a custom sample essay written according to your requirements urgent 3h delivery guaranteed
Order Now
The Success of "The Simpsons" by Betty Lam Vo Essay Sample
"Marge, cartoons don't have any deep meaning. They're just stupid drawings that give you a cheap laugh," explains Homer Simpson with his rear end exposed above his trousers.
And yet, the animated sitcom "The Simpsons" has been on the air for 14 years and has achieved a rare combination of cult status and mainstream popularity. Even though its straight-forward bluntness drew much heat at first, time has given the show critical acclaim as it has proved to be unlike other cartoons. Matt Groening's yellow creations are not 'just an animation', and this is shown by the diversity of its audience, having both child and adult spectators with concerns outside the realm of cartoons.
It seems most have joined the millions in the worldwide Simpsonian community, not being able to get enough of the dysfunctional family: Homer, the patriarch and idiot; Marge, his long-distressed, amusingly boring wife with the blue, gravity defying hair; the mischievous 10-year-old Bart; world-weary swot, Lisa; and of course, baby Maggie, who never talks.
This animated household has crossed the plain from existing as nothing more than a TV show to being imbedded in the very fibers that make up modern day society. But how can an impertinent cartoon manage to stay on top of prime-time television for an unprecedented length of time the way that "The Simpsons" has?
Firstly, that opinion about the show must be corrected- "The Simpsons" is not is not as irrelevant as it may seem. Unlike most other cartoons, in every episode there is a problem issue for this unpractical family and they must battle through life in that 'tell-it-like-it-is', comical attitude that the series is based on.
Let's start from the opening sequence, a scene that we have witnessed a thousand times before: the clouds part and the words 'The Simpsons' approaches our screen in yellow letters, along with a heavenly theme tune.
We, the consumers, are led into a misconception of the family being Walton-like at this moment, but that soon disappears and the truth is revealed as the characters are introduced: Bart in a detention, frantically writing ever-changing lines on the blackboard, rashly departing as soon as the bell rings; Homer, the dim-witted safety officer at a nuclear power plant, carelessly drops the dangerous substance he is holding as soon as the bell rings, too; Marge and the ignored baby Maggie at the supermarket; Lisa's individuality being displayed as she improvises on her saxophone, against the wishes of the conductor.
This is a representation of a real family; the flaws and clashing personalities are plain and evidently lead to problem situations. Lisa Simpson once said, "A man who envies our family is a man who needs help." This feeling is something that many viewers can relate to. The Simpsons have the power to manipulate our emotions as they are real.
But, what is substantial here is that through all of the turmoil within the household, the family finds their love for one another again by the end of the episode. The clich�d Simpson characters' disputes are something that the mass of viewers can relate to, even if only slightly,
However, that alone would not be enough for the show to be successful on screen; it would be 'too deep' for a cartoon. So, a spectrum of different genres of humour is added that effectively pleases a wide range of ages: There are the exaggerated stereotypes. Take Homer, for instance- the pot-bellied idiot with no hair, whose behaviour has been based on that of a 'typical' working-class, married man whose daily routine consists of not much more than eating (hence his "mmm…!" catchphrases), drinking duff, TV and sleeping incessantly. On the occasion that he has unused time, Homer will partake in an energy-consuming activity such as strangling his son, Bart, or showing his wife adoration: "[Marge] you work yourself stupid for this family. If anyone deserves to be wrapped up in seaweed and buried in mud, it's you."
Not only is Homer inarticulate, but his stupidity appears to bear no boundaries: "All right, let's not panic. I'll make the money back by selling one of my livers. I can get by with one." One couldn't speak differently about his na�ve selfishness, either: "Oh my God! Space aliens! Don't eat me, I have a wife and kids! Eat them!"
Contrary to the typical expectancy of cheaply animated cartoons such as "The Simpsons", even the outrageously childish slapstick really is quite entertaining!
And then there is the use of satire, the humour intended for the mature audience. It seems that the times before cartoons unhinged themselves and acquired a delicious, forbidden naughtiness beneath the form have been forgotten since the arrival of "The Simpsons". It never fails to make a mockery of all that is sacred, even including a subtle ridicule of Christianity (think Reverend Lovejoy using the public's donations for personal luxury, and his book entitled "Hell; It's Not Just for Christians Anymore") which sparked controversial views and received criticism for its inappropriateness. But one could not deny that this unsuspectingly clever humour is one of the main reasons for the millions in worldwide viewing figures. It is, in a word, ingenious. Well, the celebrities agree; Danny DeVito, Susan Sarandon, Kirk Douglas are just three amongst a whole host of Hollywood names who have done guest voices for the show. There is even a mystery guest star in one episode- was it really Michael Jackson voicing the oversized, crazy man housed in the New Bedlam Rest Home for the Emotionally Interesting?
There are several other reasons the show has remained so popular. Some involved change, and others include the fact that there has been none: Bart has been ten since forever and is still a vehicle promoting the "Cowabunga" tag line. But who is to say that is a bad thing- American magazine, Time, named him one of the most influential people of the 20th century, Of course, that did not sit well with the cultural critics, leading them to suggest that "The Simpsons" destroys the minds of the innocent. Why, could that be possible? These cartoon characters with funny hair, funny voices and yellow-for-white skin are corrupting humanity? As a reply in the words of Bart Simpson, "Eat my shorts!"
There is undoubtedly more to "The Simpsons" than just humour- it has a depth and variety that most cartoons lack greatly. The show does not face the problem that many others experience, being that they stick to the same philosophy in each and every episode, making them mundane. The writers have managed to apply extraneous humour in storylines without making the Simpson family become completely blasphemous by focusing episodes round the vast supporting cast of cartoon characters, who have become well-known due to the show's long run.
Viewers of the show will know the infuriatingly good-natured Flanders family, and Marge's husky-voiced sisters, and Mo from the Bar, and Apu Nahasapeemapetilon (yes, that is the correct spelling) and his Kwik-E-Mart as well as you know the Simpson family themselves. By focusing many episodes around a supporting cast of characters, "The Simpsons" has the ability to invariably switch subjects in every episode due to the fluidity of the series. We have been taught so much about the sinister corporate mind from Montgomery Burns ("Send out the whinged monkeys," he orders from his office window. When they all jump out of the window and fall to their deaths, Burns turns and grumbles, "Continue the research."). We have learnt about cheerful-diddy-ness from Ned Flanders, and how to be a bone fide nerd from Millhouse. In any case, what more could one ask for from an 'impertinent' cartoon?
The stark impact that the Simpson family have had on our world is indeed quite phenomenal: they have their own star on the Hollywood Walk of Fame, and Homer has been responsible for additions to the English language, such as "D'oh!" which has been added to the dictionary. Marge's grunts are now instantly distinguishable and we are all familiar with the Simpson children as if they were our own brother and sisters, and 'Bart' actually now unofficially means 'universal Bartness- ayekarumba!'
Evidently, the fact that the show is illustrated has not affected its popularity, but it merely adds to the flexibility, letting Groening capture new angles and does things that many other shows cannot. The Simpsons has lasted so long because it has done this and so cleverly interwoven numerous genres of TV, from comedy to satire, to drama. It is animated, but not just another meaningless source of amusement for children. Even reruns are always interesting because there is always a joke that is missed first time round (Remember to read signs in the background- a sign on a rocket which was to be sent to blow up a comet in space read, "Caution! Aim Away from Face." Classic).
No other TV show can capture the attention of an audience and educate them without even knowing it the way "The Simpsons" can; the show's subtle way of making its points allows the viewer to enjoy it but also absorb information easily. It has proved to the cynical that with its diversity and dry wit, it could educate the viewer without him or her being aware, and become a staple of a generation.
The Simpsons have taught us to love the damaged, crass, grossly over-advertised world- being our own. Let's just pray that Homer continues to eat doughnuts and may Bart keep serving detentions. The world is not quite ready for the demise of the Simpsons just yet. And maybe it never will be.