"The Sunflower" by Simon Wiesenthal Essay Sample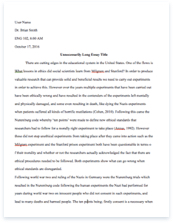 The whole doc is available only for registered users
OPEN DOC
Download Essay
A limited time offer!
Get a custom sample essay written according to your requirements urgent 3h delivery guaranteed
Order Now
"The Sunflower" by Simon Wiesenthal Essay Sample
Mistakes are inevitable and sometimes these mistakes we make bring hurt onto others. Everyone has been deeply hurt at some point in their lives, possibly though a friend, a family member, or maybe even a cheating partner. How can we allow ourselves to forgive these people for all the hurt they have caused us? Wiesenthal is a Jewish victim in a Nazi concentration camp In The Sunflower who becomes forced to decide if a dying SS solider deserves his forgiveness. In the end, Wiesenthal invites us to think about what we would have done in his situation. Although I cannot question another person's choice on forgiveness, (especially since I was not there to experience the pain that the Jews felt during the Holocaust) I do believe that everyone should learn to forgive and to continue their lives in emotional freedom.
During the story, Wiesenthal sees beautiful sunflowers lined up on soldier's graves at a local cemetery. He feels as though the flowers draw in the sun's energy and its happiness and pulls it into the dark ground where the soldier lay. These sunflowers represent joy while still bringing sunshine into these soldiers who have committed endless amounts of crimes and murders. The sunflowers do no give praise for the soldier's actions but instead symbolize that everyone deserves forgiveness and even a second chance to live in peace. Wiesenthal then sees his own grave, a bunch of bodies piled on top of each other, without a sunflower, and without peace.
Even though natural tendency desires revenge to those who have hurt us, refusal to forgive only brings about more pain until it completely takes over our lives. Forgiveness does not condone the other person's decisions or behavior but instead allows us to let go of all the anger and hatred inside. In the end, it does not matter if the soldier deserves forgiveness or not, but rather if Wiesenthal can allow himself to forgive the solider and move on. Put into the situation of choosing morality or anger, Wiesenthal remained silent when the SS solider asked for his forgiveness. Through the soldier's request, Wiesenthal had the power to not only allow the soldier to die in peace but also a chance for him to live without vengeance, thus putting a sunflower on both graves because forgiveness is not about the person who hurt you, but instead about the person hurting. Without forgiveness, our hearts and souls become filled with hatred, and bitterness and by leaving in silence, Wiesenthal missed the chance to unburden himself from the hate.
Moving on however, does not mean forgetting. Someone once said "You can't forget. Forgiving has nothing to do with forgetting. You should remember everything and learn from it. Forgiving is goodness in the middle of remembering" (forgiveness quotes Pg.2).We have to remember the past to make certain tragedies like the holocausts never happen again.
I am not saying that Wiesenthal made the wrong decision by leaving in silence. Forgiveness is a choice, a choice that takes time. We cannot tell our hearts to change feelings in an instant. During those few seconds, Wiesenthal was not ready to make such a huge decision and silence seemed like the best option at that time. But if he does not learn to forgive later in life, he will ultimately never be able to fully live in the present.
While I hope that I would be able to forgive anything done to me, I cannot say exactly what I would have done that day, especially since I cannot comprehend the pain and the loss millions of Jewish victims suffered. I do know that to free myself from the anger, I would eventually have to let forgiveness free me from the hatred.
We do not forgive out of the goodness in our hearts, but instead we do it to prevent revenge and hatred from taking over our lives. How else will we find emotional freedom? In the end the solider asked for forgiveness to die in peace, but really Wiesenthal needs to forgive the soldiers to find closure and move on because "it really does not matter if the person who hurt you deserves to be forgiven. Forgiveness is a gift you give yourself. You have things to do and you want to move on" (Forgiveness quotes pg.2).
Works cited
The Quotations Page. Michael Moncur. 4 Nov 2004. .
Simon., Wiesenthal,. Sunflower on the possibilities and limits of forgiveness. New York: Schocken Books, 1998.