The Symbolisms of Taoism Essay Sample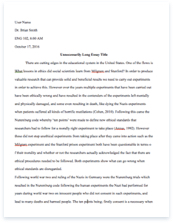 The whole doc is available only for registered users
OPEN DOC
Pages:
Word count: 272
Category: taoism
Download Essay
A limited time offer!
Get a custom sample essay written according to your requirements urgent 3h delivery guaranteed
Order Now
The Symbolisms of Taoism Essay Sample
            Water is generally regarded as one, if not, the most essential components of life. It is just interesting that one of the world religions had used water the in conveying its message. The "Tao Te Ching" is major text of Taoism. It is written in beautiful poetry and has been known to convey lessons from practical wisdom for the average person to complex political advice for the leaders of the society. What is admirable about the "Tao Te Ching" is that it had used simple looking symbols, water, the pathway, and the flow, to communicate profound ideas.
It appears that the author have been captivated by the image of water. Lao Tzu had even compared water what Taoism tells the people to pursue, "supreme good is like water / which nourishes things without trying to" (Lao Tzu 10). What makes Lao Tzu's use of symbolism effective is because religious and philosophical are already hard to discuss as they are. The use of such a very recognizable symbol as water had enabled Lao Tzu to communicate all kinds of people. Moreover, the exquisite use of symbols could be considered one of the reasons why Taoism had been embraced as a classic by the Taoist and even by Westerners. The abundance of the translations by non-Taoist of the "Tao Te Ching" just tell us of its popularity and worldwide appreciation. In a sense, Lao Tzu's design for the Tao Te Ching is that effective because it has even transcended cultural boundaries.
Work Cited
Lao Tzu. Tao Te Ching. Trans. Stephen Mitchell. New York: Perennial Classics, 1991.