The Two Rivers Essay Sample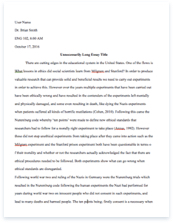 Pages: 7
Word count: 1,783
Rewriting Possibility: 99%

(excellent)

Category: literature
Get Full Essay
Get access to this section to get all help you need with your essay and educational issues.
Get Access
Introduction of TOPIC
Okeke and Veronica had been friends since they were little. Although they grew up together in the same "native" village, veronica's family is poorer than Okeke's, as the following quotation shows: "Her family had been even poorer than mine." This suggests that both of them are trapped by the power of poverty but Veronica's family is considerably worse of than his. Veronica loves and cares for her family very much. This is one of the reasons why she didn't leave for the city for Okeke. She did not wish to leave behind her family as the following quotation shows: "'I can't just leave my family.' 'Why not?' 'They are my family, that's enough.'" This line expresses how Veronica feels about her family, choosing them over a chance of a lifetime, which Okeke had offered her. She led her life taking orders from her brutal father and from an early age, he beats her, as the following quotation shows: "Night after night I lay awake listening to Veronica's screams." Veronica is very weak, just like her mother, and could not stand up to the power of her father.
If Veronica had been a male, her father would not have beaten her. Despite this, she still cares for him and the rest of her family deeply, as she says: "I just can't leave my family." Veronica's family was always very important to her. When Okeke came back after ten years and found Veronica with a child and husband, Veronica says to him: "God has blessed us with a son, is that enough?" This line is an example of how important family is to Veronica. It expresses Veronica's feelings towards her own family. She could have left her old life behind her and made fresh break in the city, but still, she treasures what she already has and is thankful for that. Veronica's parents expected her to take on the role of housekeeper because they think that she is the eldest child of the family so she has the responsibility to do things around the house, as the following quotation shows: " …since she was the eldest child a lot of responsibility of bringing up the other children had fallen on her." This reflects the attitudes in that culture and the tradition of being an eldest child.
However, Okeke was luckier because his parents had a different attitude and wanted him to be successful in his life. They encouraged him to go to a secondary school and then, when he got the scholarship to a university, they let him go to the city to finish his school and be successful. "When I was twelve I started at the secondary school in the town a few mile away… I had won a scholarship to the University…" This suggests that the life of Okeke is strikingly different to the life of veronica. Okeke, being a male gets to be a successful person, while, Veronica, as a female is expected to stay at home, taking care of her family.
Education was one of the key issues in this story. One of the reasons why Veronica decides not to go to the city is due to her lack of education. She feels that the city has nothing to offer her and that her only place is the village, as she says: "What will I do when I get there, I have no qualifications not even a standard six." This suggests that she is aware that she needs qualifications to succeed in the city and without them, she sees no point in going. If we look at Okeke, he has all the opportunity to complete school and have the perfect job for himself. He is a smart and bright person, and these qualities bring him success. This is shown in the following quotation: "I passed my exams and in due course I was ready to set up a practice of my own…while I had been a student I lacked the time, and afterwards, I lacked the inclination.
" This suggests that even though he could already see the brightness of his success, still, he
has no time for himself and his family that's why he brought his parents to the city too.
Other factors, which affect the lives of Veronica and Okeke, associated with education, are Veronica's expectations and attitudes towards her life. If Veronica's expectations were not so low, she may have gone to the city with Okeke, as the following quotation shows: " They are my family that is enough." This line is an example f Veronica's low expectations. She feels that her family is enough and she needs nothing else. Another example of her low expectations is when Okeke comes back to the village after ten years to find Veronica with a child and husband, saying: "God has blessed us with a son. Is that not enough?" this shows that Veronica is still the same after the considerable period that the two had been apart. She is still surviving in the squalor of a village of which Okeke had once lived. Her expectations had always been the same. This also justifies that Veronica is a fatalist. She believes that her life is pre-determined and that her life is set to be in that way.
Her future was influenced by the fact that her family seems to have a very low opinion of her. Consequently, she has low self-esteem. This is in contrast to Okeke. Okeke's parents supported him throughout his decisions in life. Veronica, on the other hand, is doubly disadvantaged, as her parents left her alone on her house responsibilities.
The low expectations and low self-esteem that Veronica has for herself, compared to the high expectations that Okeke has, show that it is a male dominated society. Even if Veronica had gone to the city, the opportunities open to women are very different to the opportunities open to men, as the following quotation shows: "'You could go to night school and become a secretary,' Okeke says." A secretary is a stereotypically female job whereas a doctor, which Okeke became, is a stereotypically masculine job.
Boys and girls seemed to be treated in a different way at that time. If Veronica had been a male, she would have gone to the city as a child to go to school. This would have put her in a similar position to Okeke, but due to the roles of men and women, Veronica was forced to live the desperate life of a suffering woman in a deteriorating village.
Another point is that the author uses symbolism to convey the closeness of Veronica and Okeke's relationship, as the following quotation shows: "I snapped the twig and threw it into the water. It bobbed on the current and then vanished from sight." The twig is snapped in hay, one hay is tossed into the river, while the other remains on the bank. This suggests that the river represents the flow of life, as Okeke takes this route, while Veronica stays in the village and her life is unchanged.
Another example of symbolism is when Okeke came back to the village three years after the war broke out, as the following quotation shows: 'I went straight to Veronica's hut. It was dark inside ad bare save for a figure huddled on the ground." This suggests that the dark empty hut symbolizes her miserable life and future, after she chooses this life over a more successful one in the city.
The most essential issue of the story and what it all amounts to is tradition. The life veronica led was steeped in tradition. Every aspect of the story is based on tradition. It was traditional for men to go off to work and for women to stay at home to cook, clean and look after the children. This would explain her lack of education and why the opportunity of going to a school as a child was not open to he. There were not a many opportunities open to women because it was unusual for women to go out to work or get a job. By tradition, men have the more dominant role. Veronica was a weak female so this would explain why she took unnecessary punishment of her father when she was younger. His also would explain why women as whole were expected to stay at home. These are the reasons why I believe Veronica did not leave for the city with Okeke.
Of the two friends, I think that neither achieved greater contentment and satisfaction than the other. Veronica decided not to go to the city with Okeke and felt that she had no choice but to stay and suffer with her family, due to her lack of education. She never had the chance to expand and discover the beauty of her life and she restricted her expectations. On the other hand, Okeke was also unfortunate with his life because with his wealth and job, he never had the time for himself and his family. He never had the time for himself and his family. He never had any girlfriend or wife because most of the women were only there for his wealth and money, as the following quotation shows: "All the women I meet are only interested in money and cars." This suggests that life is not always as perfect as you would be expecting when you are a wealthy rich person. Money and material things are not everything, what important is true love and care.
After I have read and understood the story, I found it very interesting, exciting, sad and effective. Adewale Maja-Pearce uses tension to keep the story interesting and exciting. She clearly relates the story to the things that was really happening at that time. She expresses the main theme clearly, enabling readers to easily relate to the story. She made it as simple possible, showing two different lives of people from a village.
As for my response to the ending, I can say that it is quite sad because Veronica had to die in the end without even experiencing greatness of life. But still, I think that money can't bring true happiness to a person's life without the feeling of being loved and cared of.