"The Unicorn in the Garden" and "You Just Don't Understand" Essay Sample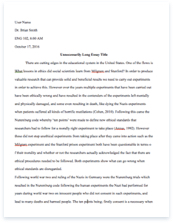 The whole doc is available only for registered users
OPEN DOC
Download Essay
A limited time offer!
Get a custom sample essay written according to your requirements urgent 3h delivery guaranteed
Order Now
"The Unicorn in the Garden" and "You Just Don't Understand" Essay Sample
1       Introduction
Statements on general topic shared by both texts or statements about your criteria for judging texts/impact of texts on readers like you
Both texts relate to the difference between a man's and a woman's thought processes. After reading the content, one could assume that a woman tends to be more sensitive, and therefore sometimes overreacts to a situation, or comment. However, the reading also implies that perhaps women respond and behave as they do in a direct reference to society, and the viewpoints of men. Most ironically, men, on the other hand, also respond poorly and tend to compete for dominance with woman, thus inadvertently perpetuating some of the 'classic' aggravating misinterpretations and miscommunications that women and men tend to experience.
Your Thesis Statement related to both texts (Do you prefer one more than the other? Why? Or Do you find one more worthy of your time? Why?)
I agree with … when she titled her book "you wouldn't understand". It speaks volumes to both of these pieces of literature. They both an examples of the unfortunate reality that men and women are doomed to misapprehend each other.
2       Summary
The Unicorn in the garden by James Thurber tells of a man who talks to his wife about a unicorn that is in the garden. The wife mocks him and calls the police and  a psychiatrist. The police believe her to be the one that is crazy due to the  husband's denial of the statements, thus they take her away to a psych-ward. I feel this story to show the wife to be lazy, and perhaps not liked by her husband. He awoke and made his own breakfast, she slept all day, and she was quite rude to him
"You just don't understand" by Deborah Tannen is a book underlining the differences in communication and interpretation between men and women. She correlates her own personal experiences with the experiences of others, as well as research she has done. The facts she found are indeed thought provoking and enlightening. I found it perplexing, amidst this modern society,  how primal our actions and reactions to still are
3     Body Paragraph #1 (Obvious Differences or Obvious Similarities)
Both writings shed light on the way women are quietly viewed in society to be more meek and meager, thus meant to behave and be quiet. James Thurber writes in regard to a husbands ease in dispatching his wife… ""Did you tell your wife you saw a unicorn?" asked the police. "Of course not," said the husband. "The unicorn is a mythical beast." "That's all I wanted to know," said the psychiatrist." (The Unicorn, pg1). This husband then lived "happily ever after", whereas the woman was taken to an institution.  This is unfortunately an example of a much more real, and much more deeply seeded mentality then most of us wish to admit. For centuries women were believed inferior. Deborah Tannen comments on colonial America's harsh treatment of women, "Though such institutionalized corporal punishments have given way to informal, often psychological ones, modern stereotypes are not much different from those expressed in the old proverbs" (You just don't understand, pg75).  These long standing viewpoints have become so ingrained within us that our instinctual reaction to others, including our mates, has been affected.
One quote from each text to support your topic sentence in this paragraph
Body Paragraph #2  (Unexpected Similarity or Differences within Similarities)
The obvious difference between these two writings is the viewpoint of the authors. One male one female.  Ironically, both presenting the male's sense of territoriality and competition, as well as, his tendency to seek independence and dominance.  Tannen writes that men tend to engage the world, "as an individual in a hierarchical social order in which he was either one-up or one-down" (You just don't understand, pg24) This reigns true in Thurber's tale when the husband says to the police and the psychiatrist that "the unicorn is a mythical beast" (The unicorn in the Garden, pg1) The husband is openly telling his wife that he's one-upped her by winning his game, and mocking her distain earlier in the story.
One quote from each text to support your topic sentence in this paragraph
Conclusion (Restate your thesis statement, add a clear recommendation for your reader)
The unfortunate truth that men and women are doomed to misunderstand each other is unsettling, and comforting all at the same time. Indeed, it is annoying to attempt to communicate and identify with someone so far on the opposite end of the pole from you (a testament to ramped relationship turmoil).  However, looking deeper and accepting that our behavior is, at it's core, predictable, and therefore quite understandable, gives one a sense of hope for future relationships.
Paragraph three, The unicorn by James Thurber .. date, etc.
Page 75, You just don't understand by Deborah Tannen, Ph.D … date, etc.
Page 24, You just don't understand by Deborah Tannen, Ph.D … date, etc.
Paragraph three, The unicorn by James Thurber .. date, etc.