The Use of CAD/CAM in Organizations Essay Sample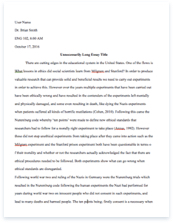 Pages: 4
Word count: 981
Rewriting Possibility: 99%

(excellent)

Category: computer
Get Full Essay
Get access to this section to get all help you need with your essay and educational issues.
Get Access
Introduction of TOPIC
CAD: Computer Aided Design. CAD is used to create highly detailed drawings or technical illustrations in 2 Dimensions or move advanced 3 Dimensions. Cad has revolutionised the design industry. People such as architects, builders, engineers, landscapers and even the fashion and film industry use cad technology to great effect. Ideally a cad program should be easy to use but produces effective drawings and 3-d images.
Advantages of CAD
* Drawings are very Precise and accurate
* 3D detailed drawings
* Computerised models can be made to scale
* Test the product if you need to without having to produce it first
* Drawings are device independent
* You can resize drawings easily by using calculations on the program
* More economical and efficient
* Files are Smaller than bitmapped images
* Easier to see the characteristics
* You can see the image in animation so you can get the feeling of it without having to build it
Disadvantages of CAD
* Initial cost of set up equipment, Software, and training of staff.
* High employee costs
* The software requires High maintenance.3D software is one of the fastest developing industries and most systems need to be updated on a 3 monthly basis.
There are many CAD programs and packages available with some being harder to use than others and for the different aspects of design needed.
Top CAD programs currently on the market
SolidWorks 2003
SolidWorks 2003 is a top CAD program for many reasons. One of which is the ability to make use of their extensive online 3D parts catalogs. Also very useful are its assembly, sheet metal and parts modeling tools.
Solid Edge
Solid Edge from EDS is 3D CAD software that embeds design management functions directly within CAD, allowing design information and content to be easily viewed by anyone.
Alibre Design 5.0 a low-cost CAD package, Alibre
5.0 is fairly easy to use. Version 5.0 includes many functions such as linking, sketching, parts modeling, and 2D drafting.
AutoDesk inventor 6
AutoDesk's Inventor 6 is a CAD package, which is nearly the best of the best. Among the many new features are many tools helpful to specific industrial design.
ArchiCAD 8.0
ArchiCAD 8.0, from Graphisoft, is a very good architectural modeler with some great features. Included in this version is a new Extended Virtual Building makes viewing interactions between 3D elements much easier.
Twenty years ago if an architect were to design the layout of a new building he would have to roll the plans up and send it through the post to reach the manufacturer, which could take a long period of time. Now the architect can use a CAD program and save it in electronic format and send it via e-mail in real time.
CAM: Computer Aided Manufacturer. CAM is the process in which the CAD designs are taken and are made a reality. CAM works by using complex computer systems
To send the design data to robotic machines for production. The system created uses numeric data stored within it; this is sent to the machines telling it what to do ans the rate at what is has to be done. A car manufacturer would use a CAM system within their factory to speed up car production by having separate robots to perform each task; one robot would be in charge of assembling body parts, another for the soldering, and another for paintwork and so on. Each of these robots would need a separate system to control them.
Advantages of CAM
* CAM is cost effective because less people have to be employed to operate machines.
* CAM machines can work 24 hours a day 7 days a week unlike employees who need to rest.
* CAM can work in various different conditions.
* JIT (Just in Time production) can in conjunction with CAM be used if a specific order has been placed, this can produce orders just in time.
* CAM can produce mass numbers of products which can all be made at the same time.
* Quality control is at a much higher standard as each product will be made exactly the same unlike human errors.
* CAM systems do not become ill or tired.
Disadvantages of CAM
* CAM has taken over a number of jobs available therefore it has increased the rate of unemployment for human workers.
* In a case total power loss production would stop causing a loss of profit.
* If errors are made in the designing process the whole production line is affected
* People employed by companies to program the CAM machines are expensive to pay.
* Many CAM machines have to be built for many tasks
* The machines need constant maintenance to ensure peak performance.