The War in Afghanistan Essay Sample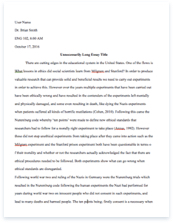 The whole doc is available only for registered users
OPEN DOC
Get Full Essay
Get access to this section to get all help you need with your essay and educational issues.
Get Access
The War in Afghanistan Essay Sample
After 9/11, President George W. Bush gave the rulers of Afghanistan an ultimatum: hand over the terrorists responsible for 9/11, or "share in their fate." The Taliban—the Islamic fundamentalists who ruled the country—refused to surrender their ally, terrorist leader Osama bin-Laden. Air strikes began on 10/7/01, less than a month after 9/11. American, British and other soldiers fought together with Afghans opposed to the Taliban. The goals: remove the Taliban from power, find bin-Laden and his lieutenants, and destroy his organization, known as Al-Qaeda. Taliban forces fled from Kabul, the capital city, on 11/12/01, and retreated toward the mountainous border of Afghanistan and Pakistan. With U.S. support, a new government was installed, with Hamid Karzai as President.
The Taliban gradually rebuilt its fighting forces and carried out attacks against the new government and American soldiers. Noting the Taliban's growing strength and the difficulty of fighting an enemy hidden in remote caves and mountains, many observers said that the war was unwinnable. On 12/1/09, President Obama announced a new strategy: the rapid deployment of 30,000 additional troops, to break the Taliban's momentum and turn the war around. Despite slow progress, serious obstacles remain.
President Karzai's followers have been accused of brazen fraud in his 2009 reelection, further eroding support for his government among the Afghan people, who complain of widespread corruption. The Taliban has proven difficult to uproot. Nevertheless, after the assassination of Osama bin-Laden in May, 2011, President Obama announced he would accelerate the withdrawal of that American forces—reflecting, in part, America's war-weariness and lingering economic woes. Pressure to pull U.S. troops out earlier than planned
Three separate incidents during the early months of 2012 inflamed Afghans against the American military. First, four American Marines were videotaped urinating on the corpses of Taliban insurgents. Next, copies of the Koran were thrown into a trash incinerator on a U.S. military base—inadvertently, a spokesman said. That incident set off violent riots, leaving 30 people dead, including two American officers. Finally, in March, an American soldier went from house to house, murdered 16 Afghan villagers (many of them women and children), and burned some of their bodies. In response to the incident, President Karzai demanded that the U.S. pull its troops out of Afghan villages, back to military bases. Many Americans now want the president to speed up the troop withdrawal—but military and political leaders oppose a change in the timetable, which calls for most of the 90,000 U.S. troops now in Afghanistan to come home by December, 2014. For now, the president has not decided to change U.S. withdrawal plans. Where exactly is Afghanistan?
Between Iran and Pakistan. (Picture India on a map; go northwest, past Pakistan, and you're there.) Our purpose The U.S. originally hoped to replace the Taliban regime with a Western-style democracy. Corruption seems to run deep in the Karzai government, however; our main purposes now are to keep the Taliban from returning to power and to prevent Afghanistan from again becoming a haven for anti-Western terrorist groups. In order to accomplish that, the U.S. will have to help Karzai's government provide Afghan citizens with basic services and security, so they won't give their support to the Taliban. Historical background
From 1979-1989, the Soviet Union joined the Marxist government of Afghanistan in trying to put down an Islamist insurgency. Religious guerrillas known as the mujahadeen fought to push the Soviets out. In 1989, they succeeded. (The Reagan Administration armed and funded the mujahadeen in their war against the Soviets—a Cold War tactic that led to the rise of the Taliban.) The Communist government in Afghanistan fell in 1992, three years after the Soviets left. Various anti-Communist factions fought for control of the country. Mullah Mohammed Omar formed an armed group called the Taliban. (The word means students; many of the original recruits were religious students.) Other mujahadeen leaders joined with the Taliban, and the group came to dominate other militias and warlords.
Beginning in 1996, the Taliban ruled Afghanistan, and imposed a strict, anti-modern version of Islamic law. Women were forbidden to work outside the home, attend school, or appear in public without a father, brother, or husband. They were required to wear the burqa, covering them from head to toe. Men were expected to grow beards and attend religious services. Movies, TV, and music were banned. Anti-Taliban leaders fled to the northern part of the country, and continued to attack the capital. Osama bin-Laden's terrorist group, al-Qaeda, which had training camps in Afghanistan, joined the Taliban in fighting off this Northern Alliance. How many have died in this war?
U.S. soldiers: 2,014 (as of 7/10/12, according to the Department of Defense) As of 10/24/10…
Taliban: More than 30,000
al-Qaeda: more than 2,500
Afghan government forces: 6,100
Afghan civilians: more than 34,000
British soldiers: 341
Canadian soldiers: 152
Soldiers from allied countries (mostly from Germany, Spain, France, and Denmark): 163 Why is it so hard to achieve our goals?
• Afghan society is composed of many different tribes and ethnic groups, with a long history of conflict and rivalry. Bringing them together under one democratic government (as we're trying to do) is a formidable task. • The country's mountainous terrain gives insurgents countless hiding places, and makes conventional warfare impossible. • Though the U.S. has no intention of colonizing the country, the traditional Afghan hostility to foreign invaders works against us. For a typical news story that shows the difficulty of defeating the Taliban, see this N.Y. Times article. Names you should know
Hamid Karzai: President of Afghanistan since 2004
Mullah Mohammad Omar: the leader of the Taliban (in Islam, a mullah is a male religious leader or teacher) General Stanley McChrystal: commander of international forces in Afghanistan until June, 2010 General David Petraeus: commander of international forcesin Afghanistan from 2010 to 2011. Before 2010, he oversaw U.S. forces in Iraq, and is credited with turning around the war effort there. President Obama appointed Petraeus Director of the C.I.A. in mid-2011. General John Allen: current commander of international forces in Afghanistan. Kabul, Kandahar, Kunduz: cities in Afghanistan. Kabul is the capital. Northern Alliance: a military-political organization, created in 1996, that united various Afghan groups to fight against the Taliban. What does Pakistan have to do with this war?
Although Pakistan is an American ally, and has been cooperating with U.S. efforts to defeat the Afghan insurgents, evidence has surfaced that the ISI (Inter-Services Intelligence, Pakistan's intelligence agency) has been helping the Taliban. The WikiLeaks documents made public in July, 2010 seem to indicate that ISI officials met with the Taliban to organize insurgent groups fighting against American forces. And the New York Times quoted an anonymous Pakistani security official saying, "We protect the Taliban. They are dependent on us."
Afghanistan shares a long, mostly mountainous border with Pakistan, and Taliban fighters have taken refuge in Pakistan, crossing the border at will despite the presence of Pakistani military patrols. And the assassination of Osama bin-Laden by American commandos inside Pakistan has served as further evidence of Pakistan's mixed loyalties. Why would our ally aid our enemy? Pakistan is a Muslim nation, and many of its citizens disapprove of the U.S. invasions of Iraq and Afghanistan. Further, American military operations on the Pakistani side of the border have resulted in civilian deaths, infuriating Pakistan's leaders and its citizens. In a 2008 poll, a majority of Pakistanis rated the U.S. a greater threat to their country than either the Taliban or Pakistan's chief rival, India. Recent developments
6/14/10: Mineral wealth discovered: American geologists and Pentagon officials have found almost $1 trillion in deposits of iron, copper, cobalt, gold, and lithium, enough to transform Afghanistan's economy completely. At present, the country's economy is largely based on opium and foreign aid. (See the New York Times for more.) July, 2010: McChrystal out, Petraeus in: After Rolling Stone magazine published contemptuous comments by General McChrystal and his staff about Vice President Biden and other administration officials, President Obama removed McChrystal from command and replaced him with General David Petraeus. (To read the Rolling Stone article that led to the general's dismissal, go here.) 7/26/10: The New York Times reports on six years' worth of classified documents (covering the period ending in 12/09), that draw a grim picture of the U.S. military's struggles against Afghan insurgents.
The documents—92,000 of them—were published on the internet by WikiLeaks, and include accounts of the accidental deaths of many civilians. 8/17/10: The Taliban order a young couple who eloped to be stoned to death. This was the Taliban's first public execution since their fall from power in 2001. For details, see this New York Times article. 2/7/11: American soldiers in rural eastern Afghanistan have found that the Taliban still operate as an underground government there: collecting taxes, operating schools, resolving disputes in Islamic courts, and punishing those who collaborate with the Americans. This deeply entrenched insurgency will pose a huge challenge once the area is turned over to Afghan security forces. For details, see this New York Times article .4/1/11: Enraged by the burning of the Koran by Florida pastor Terry Jones, thousands of Afghan protesters in the city of Mazar-i-Sharif stormed a U.N. compound.
Twelve people were killed, including at least seven U.N. workers. Early reports that two U.N. workers had been beheaded proved false. For more, go here. 4/25/11: Almost 500 Taliban fighters escaped from the biggest prison in southern Afghanistan, through a half-mile-long tunnel dug over five months. 6/22/11: President Obama announced that he will accelerate the withdrawal of U.S. soldiers from Afghanistan. For details, see the New York Times. 8/5/11: Taliban insurgents shot down a U.S. helicopter in eastern Afghanistan, killing 30 Americans en route to a raid, most of them Navy SEALS.
This was the biggest single loss in the ten-year-old war, and a setback for the U.S. as it begins to withdraw troops from Afghanistan. For details, see this AP article. 9/14/11: Insurgents attacked the U.S. Embassy in Kabul, showing that, even as the U.S. prepares to disengage from Afghanistan, the Taliban can still penetrate the most secure areas in the country. 9/21/11: A man posing as a Taliban emissary assassinated Burhanuddi Rabbani, leader of Afghanistan's High Peace Council, whose job was to negotiate an end to the war with the Taliban. The killing damaged hopes for any peaceful settlement with the Taliban.
9/23/11: Mike Mullen, chairman of the Joint Chiefs of Staff, said that Pakistan's spy agency supported the insurgents who attacked the American Embassy in Kabul. This is the bluntest criticism yet aimed at Pakistan, our supposed ally, by an American official. 10/11/11: According a report by the United Nations, Afghan police and intelligence personnel routinely torture detainees during interrogations: a disturbing revelation, as the U.S. prepares to leave Afghanistan.
For details, see the New York Times. 1/20/12: Afghan soldiers have been killing American soldiers, though they're supposedly fighting on the same side, against the Taliban. The incidents reflect a deep mutual hostility. See the New York Times for more. 2/27/12: Following days of violent protest after Americans threw Korans into burning trash, two U.S. military officers were killed inside the Afghan Interior Ministry. 5/1/12: In Kabul, Presidents Obama and Karzai signed a Strategic Partnership Agreement, committing the U.S. to continue its support of Afghanistan from 2014 to 2024, after U.S. troops withdraw. The agreement left many details unspecified, however: for details, see Fox News.