The World Of Washington Irving As Shown In "The Legend Of Sleepy Hollow" Essay Sample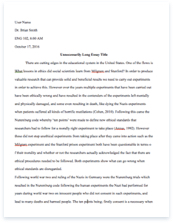 Pages: 4
Word count: 1,016
Rewriting Possibility: 99%

(excellent)

Category: society
Get Full Essay
Get access to this section to get all help you need with your essay and educational issues.
Get Access
Introduction of TOPIC
            Washington Irving does not disclose a great deal about himself in "The Legend of Sleepy Hollow," but from this and his biography, a picture can be discerned of a man enjoying a good story, and enjoying a good life beyond the story.
            The society portrayed in "The Legend of Sleepy Hollow" is rural, and area of farms large and small.  The people are descendants of Dutch settlers, enjoying the gentle conditions of the Hudson River valley in what is now New York. Irving generally portrays this society favorably, although he seems to poke fun at their traditions of ghosts and phantasms and hauntings, although it is of note that the great text on such matters came not from Dutch source, but from the great Puritan Cotton Mather, whose "History of New England Witchcraft" in which the Connecticut-born (Irving, 1961, p. 332) Crane "most firmly and potently believed.  (Irving, 1961, p. 335)  A key to Irving's attitude is that in The Sketch Book, he opened "The Legend of Sleepy Hollow" with a note: "Found among the papers of the late Diedrich Knickerbocker."  (Irving, 1961, p. 327) Diedrich Knickerbocker was a pseudonym Washington Irving used in his satirical History of New-York, in which he described and poked fun at the early Dutch settlers.  Further, when died in November 1859, at age 76, he was buried in the Sleepy Hollow Cemetery at the Old Dutch Church in Sleepy Hollow, New York.  This choice of a burial cite must reflect a certain fondness for the Dutch, as Irving certainly left a sufficient estate that he could have afforded a burial plot in a different location had he wanted one.
            Although is now remembered almost entirely for his fiction, especially the stories in The Sketch Book, later in his life he stopped writing fiction, and devoted himself exclusively to historical studies including a multi-volume biography of George Washington, and two substantial and thoroughly researched studies of Columbus, written based on original sources he studied while in that country, so widely admired that the Spanish elected him to their Real Academia de la Historia.  He was also awarded an honorary degree by Oxford University and gold medal in history from the Royal Society of Literature in Lond
on.  When he finally returned to America, his home in Sunnyside became a salon regularly visited by
literary pilgrims.  ("About WASHINGTON Irving," n.d.)  The painter Christian Schlussele paited Irving there, surrounded by such contemporary luminaries as Hawthorne, Emreson, Longfellow, Emerson, Cooper, Bancroft, Bryant, and Holmes.  (Conn, 1989, p. 114)  These are the actions of a man who enjoys the society in which he lives.
            Although engaged once, Irving never married.  ("About Washington Irving," n.d.) He seems to have regarded women as either the good Dutch wives with whom he shared gossip and stories, or coquettes like Katrina von Tassel. (Irving, 1961, pp. 333-34, 336, 337) She endeavored to win the attention and even the affection of me, but without sincere emotions.
            The word "slave" does not appear in "Sleepy Hollow," and it is only by inference that the Blacks who are mentioned are classified as slaves.  They were unquestionably the social inferiors of the Von Tassels.'  Ichabod learns of the dance when one brings the news to his schoolroom. (Irving, 1961, p. 344) At the dance, the musician is an old Negro.  (Irving, 1961, p. 348) Other blacks lean in at the doors and windows, watching the spectacle.  (Irving, 1961, pp. 348-49) Assuming that these were slaves, Irving seems to find nothing unusual or out of order about their social position or the treatment they receive
            Although Ichabod Crane was a school master, he was hardly a man of profound education.  He had read "several books quite through," (Irbing, 1961, p. 335) but by modern standards, he would scarcely be called literate.  Irving clerarly accepts this as the education that was ofered for this time and place: "That all this might not be too onerous on the purses of his rustic patrons, who are apt to consider the costs of schooling a grievous burden and schoolmasters as mere drones, . . ." (Irving, 1961, p. 333)  Notably, only boys attend his school. (Irving, 1961, p. 357)
            Insofar as there is a hero, it is Ichabod Crane.  He is certainly the protagonist in the simple sense of being the first actor introduced, and the actor about whom we know the most.  The villain is more complex.  Is it Brom Bones, the ruffian whose affections for Katrina von Tassel crane has displaced, or the headless horseman, who brings Crane's undoing?  Given the focus on the haunted nature of the place, I think the villain is the headless horseman.
            In a postscript to the story signed with the initials "D.K." Irving reports that an old skeptic heard this tale, and afterwards ask "what was the moral of the story, and what it went to prove?" (Irving, 1961, p. 359)   Replying, the storyteller explained, "'there is no situation in life but has its advantage and pleasures – provided we will but the a joke as we find it.'  'That. Therefore, he that runs races with goblin troopers is likely to have rough riding of it.'" (Irving, 1961, p. 359)  When the listener expresses doubts about the tale, the storyteller responds, "'Faith sir, . . . as to that matter, I don't believe one-half of it myself.'" (Irving, 1961, p. 360)  Assuming that Irving is the storyteller, he does not take himself too seriously, and he enjoys that.
SOURCES USED:
"About Washington Irving." (1999).  Resources for Educators.  Retrieved February 13, 2007, from <http://www.hudsonvalley.org/education/Background/abt_irving/abt_irving.html>.  Internet.
Conn, Peter.  (1989).  Literature in America.  New York, New York: Cambridge University Press.
Irving, Washington. (1961) "The Legend of Sleepy Hollow." The Sketch Book.   Ed. Perry Miller.  New York, New York: New American Library.  Pp. 329-60.