The Writing Life Essay Sample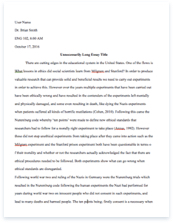 The whole doc is available only for registered users
OPEN DOC
Pages:
Word count: 1420
Category: writings
Download Essay
Get Full Essay
Get access to this section to get all the help you need with your essay and educational goals.
Get Access
The Writing Life Essay Sample
Compare two distinct themes the writer employs as your own writing life essay.
Topics: The writers voice as you hear that voice with one central thesis and one author analysis. You may write on the Annie Dillard text. Select ANY author (female) who has moved you; write a comparison of that emotion as a central tone with life history story as you develop as a writer.
Style: comparison and contrast MLA style analytical essay with reference to at least one prose work. Theme is paramount in this phase of study. See the works of Kate Chopin online for understanding of the importance and depth of theme of feminism in literary thought.
Themes are ideas or thoughts generated by Annie Dillards work.
The major goal of the assignment is the understanding of two themes about a female character (male author is fine) or by a female author.
Sample Rough Drafts
1. Thesis: The Writing Life themes of music and travel compare to my themes fall 2007.
2. The themes of literary allusions in The Writing Life compare to my themes of life history commentaries in my essays.
3. Do not make any passive verbs or voices please. Choose text (reference) in The Writing Life written by Annie Dillard to use in the essay. For the second reference, you may choose what you prefer, but it should be written by a femail author (Book, not a website). Thank you very much
The Writing Life Among Other Women Writers
THEME: Writing is an economic tool and a way to be free.
The Writing Life is candid yet realistic essays of a writer. It bares the soul: fears, joys and defining moments of a writer using metaphors, exact sceneries, honest words and emotions that overwhelm and at the same time reassure a fellow writer that she is not alone in her travails. It is a communication between a writer and her fellow writers. It is written to inform a struggling that, "You're fine, keep it up. You're not alone."
So much as Behrens' (2007) essay "Raising Her Voice to Keep Sane," who wrote that "I believe in words saving lives.  When I have a problem, I know that there is a poem I can write to smooth the bumpy reality, or a book I can buy that will solve the mess," (p 248)I share a similar thought with these women writers as I struggle with a line of words that need to deliver a sense.
Writing has become a basic education requirement so that every essay I have to do, with or without inspiration, must be delivered, like it or not. While there are times that I have to struggle like Charlotte Perkin Gilman's (1899) Mrs. John in "The Yellow Wallpaper," there are also moments when in my lonesome, I know that my written words have catharsized a pain, a sorrow, a longing. These written words have served a purpose.
Essays and other written requirements in the university are always a challenge, specifically the "academic" ones of which even if educators try as much to provide and inculcate freedom to express and how, always have followed a strict rule that somehow violates the freedom to express.
What if I have been naïve originally about a thought and a line that has been said and written a thousand times, and yet I have written it as my own? The fear. There is always the fear of writing and not writing as Dillard, Behrens, and especially Gilman's portrait have shown. After all, ignorance is not an excuse to exercise a Constitutional right: ah, the freedom of expression, the freedom of writing.
Dillard, however, connects to a certain crowd, a crowd who may not always connect with the world of a writer, for who would care about the fears and doubts of a writer? "Entertain us, amuse us! Provide us the information, empower us!" the outside crowd would demand. For a time and probably for an eternity, the writer would acquiesce, for most of the time, there is no choice but oblige. For the pen and paper has become an economic tool.
And so, back at the university, the pen and the paper serve an economic reason: to pursue a better career, I have to write what is required. To get to a higher economic level, I have to submit an essay, or a written research. It prostitutes, humbles and slaves, but for the consumer in me, I have to write. And so, I join Dillard and Behrens' heroine as well as Gilman and her Mrs. John. As Dillard has said it, writers need to dispatch bulletins, meet deadlines, so much like university requirements.
Elsewhere, writers seem to have been given the power: to create and lead. But as Dillard have acknowledged, as the writer leads, it also is being led: what lays ahead even the creator dreads. For a piece started with a good intent cannot promise to end as a whole. So, the writer, as Dillard said it again and again, jettisons a word, a paragraph or two, or even pages, unsure if the original thought will be carried out. A work started will be lucky to end up as one piece, or would it have an ending intended? Or would it find an ending at all?
But after a piece is done, and the world has started to marvel at it, slowly one by one, until it mounts into hysteria, the outside crowd would suspect a writer has been made. But alas, it is not so. For after some careful thought and examination, Dillard suggests "But no," (p 6). For me, it is often enough that I get a passing mark for a required essay at the university where drive is too much but inspiration elusive. The Writing Life portrays the struggles I feel when I produce final drafts in English I and the joys I feel when I receive positive feedback.
Oftentimes, as Dillard, Behrens' heroine Evelyn "Mom" Ryan and lastly, Mrs. John, feel there is already the need to give up, and it happens a lot of times, I also give up, repeatedly. Most of the time, I try hard, harder. Sometimes, as Dillard placed it, I feel I already have given my best to a first draft, or more precisely, "Several delusions weaken the writer's resolve to throw away work," (p 6). As if this could be published in the near future and would enlighten a soul or two.
Many times, creative writers have a delusion of grandeur, in their mind. Most of the time, I keep it mo myself that someday, one of my essays, or probably book, would be reviewed at New York Times. Never mind if it will not be included in the best seller list. In my thoughts, it would be enough that one of my works be reviewed at New York Times. Never mind if most of the time, I consider these publications as the bigwigs of hype. Never mind if I sell out. I would love to sell out, hah! In fact, it would be enough that I sell.
But first, as Mrs. John was not able to fight back the odds, her fears and challenges, she has succumbed. This is the ultimate demise of a writer. There are times that I, too, would like to just abandon writing, or creative writing. Maybe, I would still write, professionally for some organization, or business entity. Or write and get paid for writing what a client wants. But Thoreau, as Dillard put it, has written beforehand: the writer returns to his or her materials like an unfinished business, for they are his life's work. As if predestined to either accept, reject or suffer as writer, and a prisoner of the task.
And yet, as I write and release my thoughts, untangle webs the have accumulated in my mind, or connect and reconnect these threads to form a united web, I am freed. The pen and the paper, as Behrens, Dillard and Gilman all attest, set me free. And so, as all writers of the world would claim, we are free.
Reference:
Behrens, Susan J. (2007). "Raising Her Voice to Keep Sane: An essay about the film The Prize Winner of Defiance, Ohio." Quiet Mountain Essays 4 (5) 248-251
Dillard, Annie (1989). The Writing Life. New York: Harper and Row
Gilman, Charlotte Perkins (1899). "The Yellow Wallpaper."