Things Fall Apart (District Commissioner Passage Analysis) Essay Sample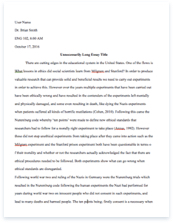 The whole doc is available only for registered users
OPEN DOC
Download Essay
A limited time offer!
Get a custom sample essay written according to your requirements urgent 3h delivery guaranteed
Order Now
Things Fall Apart (District Commissioner Passage Analysis) Essay Sample
How does Achebe's writing here make you feel about the District Commissioner and his messengers?
During this passage, Okonkwo and the fellow leaders of Umuofia are sent called for and once asked for their part in the burning of the church are handcuffed and sent to prison, where they are maltreated. As a reader one feels compassion fro Okonkwo and his fellow kinsmen and in this essay I will be exploring the ways in which Achebe makes the reader feel about the District Commissioner and his messengers.
The messengers treatment of the clansmen makes the reader feel angry towards them. Their blatant disregard for their superiors' wishes 'to treat the men with respect' is shocking as they take matters into their own hands. Their saluting and acknowledgement of the District Commissioner's wishes is hypocritical as they neglect this and this disrespect is unusual as the Igbo people value men with status and would do anything to disrespect them. As the prison barber 'took down his razor and shaved off all the hair on men's heads', this is a similar incidence to when Mr. Kiaga tells the outcasts to 'shave off the mark of [their] heathen belief.' Even though it is normal for an Igbo man to shave their head in this incidence it is symbolic, as it is the white man who shaves their head without permission almost as if he is stripping Okonkwo and the leaders' of their Igbo rights.
The mocking of their chief status is also infuriating. 'We see that every pauper wears the anklet of title in Umuofia.' In their ignorance, they do not know that to be called 'agbala', a woman or a man of no title is an insult and only successful men can carry the anklet of title. This complete contempt for their culture, even in ignorance is angering. Okonkwo has 'thrown himself [into achieving title] like one possessed,' and as a reader seeing that struggle and then seeing the messengers ridicule the leaders is sad.
'At night the messengers came in to taunt them and to knock their shaven heads together.' This further torment of the prisoners is shocking because the violence is not retaliated as 'they did not carry their guns'. There is an Igbo proverb of mother kite and the duckling. 'There is something ominous behind the silence,' and in this instance it is ominous as they 'just sat and moped' and it makes the reader feel as if the messengers are even more senseless. 'They were not given any water to drink… could not go out and urinate.' By stripping these Umuofian men of.their dignity in this way by starving and depriving them of a chance to relieve themselves makes the messengers seem even more disrespectful in the eyes of the reader.
The 'sweet-tongued' speech of the District Commissioner makes the reader feel sorry for the Igbo leaders. 'The tortoise had a sweet tongue.' In this story, the Igbo people are reminded to be wary of those who are great orators, more so those with ulterior motives. The District Commissioner addresses the men as 'friends' and wants to hear their side of the story. However the Igbo leaders are 'handcuffed and led into the guardroom,' after this. This betrayal of the men by the District Commissioner makes the reader feel as if the District Commissioner is a devious man. He lures them into a sense of false security but his tone using words such as 'I have decided,' and 'I want,' is not a voice used with friends and it is very rude. 'We shall not do you any harm,' this has been promised before and broken, 'if only you agree to co-operate with us.' He is patronising towards Okonkwo and the clansmen and promises them a chance to co-operate but yet he does not look fore their input.
The District Commissioner's assumptions make him seem very ignorant. 'We have brought a peaceful administration to you and your people so that you may be happy.' His belief that the Igbo people were unhappy with their way of life for the reader is irritating as most of the Igbo people were seen to be happy before the white men came. ' We have a court of law where we judge cases and administer justice.' The District Commissioner believes that the Igbo people do not have a justice system but yet it is explained in previous chapters. He judges with a lack of knowledge about the Igbo people by saying that justice is administered as 'in my own country'. He accuses them of 'molest[ing] others, to burn people's houses and their places of worship.' He does not know or has not attempted to find out what was the motive behind it. The Commissioner has picked a number at random for the clan to pay to recompense the burning of the church. The District Commissioner has very arrogant ideas that the Igbo way of life is miserable and that they are not civilised and cannot settle a dispute by themselves and this makes the District Commissioner seem very egotistical and condescending towards the Igbo people.
The symbols used in Achebe's writing here are very important. The leaders of Umuofia are outnumbered 'with twelve men' to their six. This is similar to the biblical betrayal of Jesus by Judas with the twelve disciples. The twelve disciples being the twelve messengers and the District Commissioner thinking of himself as a Jesus figure with his declaration of somehow coming to save the Igbo people. 'If any man ill-treats you we shall come to your rescue.' His overconfidence is visible here, however with his hypocrisy and betrayal of the Igbo men's trust, he is likened to a Judas figure.
In conclusion, Achebe uses many different ways of showing the District Commissioner in a pompous, self-righteous and deceitful manner, and his messengers as brutal worker of the District Commissioner and whom without power decide to take matters into their own hands. In spite of this, I believe that it is the ignorance portrayed in this passage that is Achebe's most successful way of depicting the District Commissioner in a negative way.