Thomasites: The Thomasites arrived in the Philippines Essay Sample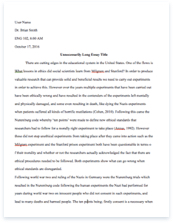 The whole doc is available only for registered users
OPEN DOC
Download Essay
A limited time offer!
Get a custom sample essay written according to your requirements urgent 3h delivery guaranteed
Order Now
Thomasites: The Thomasites arrived in the Philippines Essay Sample
Thomasites: The Thomasites arrived in the Philippines on August 12, 1901 to establish a public school system, to teach basic education and to train Filipino teachers, with English as the medium of instruction. The name Thomasite was derived from the transport vessel, the USS Thomas (formerly Minnewaska), that brought them to the shores of Manila Bay. Although two groups of new American graduates arrived in the Philippines before the USS Thomas, the name Thomasite became the designation of all pioneer American teachers simply because the USS Thomas had the largest contingent. Later batches of American teachers were also dubbed as the Thomasites. Although the Thomasites were the largest group of pioneers with the purpose of educating the Filipinos, they were not the first to be deployed by Washington, D.C. A few weeks before the arrival of the USS Thomas, U.S. Army soldiers had already began teaching Filipinos the English language, thus in effect laying down the foundation of the Philippine public school system. Curriculum 1902-1935
The Thomasites taught the following subjects: English, agriculture, reading, grammar, geography, mathematics, general courses, trade courses, housekeeping and household arts (sewing, crocheting and cooking), manual trading, mechanical drawing, freehand drawing and athletics (baseball, track and field, tennis, indoor baseball and basketball).
Legacy
The Thomasites built upon the contributions laid down by the U.S. Army. They built elementary schools and learning institutions such as the Philippine Normal School and the Philippine School of Arts and Trades (PSAT) in 1901, the Tarlac High School on September 21 1902 and the Quezon National High School (now, Tayabas High School), also in 1902. The Thomasites also reopened the Philippine Nautical School, which was originally established by the Board of Commerce of Manila in 1839 under Spain.[2] About a hundred of the Thomasites stayed on to live in the Philippines after finishing their teaching assignments. They transformed the Philippines into the third largest English-speaking nation in the world and they became the s of the present-day U.S. Peace Corps Volunteers. For their contribution to Philippine education, the Thomasites Centennial Project was established in cooperation with American Studies associations in the Philippines, the Philippine-American Educational Foundation, the Embassy of the United States of America in Manila, and other leading cultural and educational institutions in the Philippines.