Three inter personal and three non-verbal communication skills Essay Sample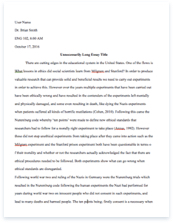 The whole doc is available only for registered users
OPEN DOC
Get Full Essay
Get access to this section to get all help you need with your essay and educational issues.
Get Access
Three inter personal and three non-verbal communication skills Essay Sample
In my assignment, I will be selecting three inter personal and three non-verbal communication skills. I will also discuss these in full detail and I will be explaining how they help effective communication. The scenario that I have chosen is the process of preparing for a job interview.
I am going to discuss the first interpersonal skill appropriate dress and personal hygiene. There is a specific uniform that has to be worn in the job interview. There is also way to display your self to an interview, as the interviewer will be looking at your style of dressing. There is also another important thing they will be doing is judgements about you from the moment you walk in the room. Therefore you do not have to wear any expensive or brand new, but some things which will make your self look smart so this show them that you have made an effort to wear something for the interview.
Also smart dress code help effective communication because the interviewers would approach you in a more professional manner, for this type of manner u must wear an outfit which very smart. Your dress must also be clean and tidy this include shoe and hair. As you walk in to the room you must have eye contact, look, smile at the interviewer and shake hands, this will give them a good impression of you self.
The importance of excellent personal hygiene, how to dress and the way you should present yourself to other people.
Secondly I have chosen organisational skills because i will be explaining the importance of organisation.
Before going to the interview you will need to be well organised such as writing down anything notes , making realistic plans , being self-disciplined and keeping to schedules, storing information so that it can be easily found, keeping their belonging neat, breaking down long or complex tasks and also monitoring their progress and letting people know if there is problem.
Writing down notes will help to remember any things because so you don't forget when you are in the interview. Making realistic plans will help for the interview so you plan before going to the interview and you will also make sure that you don't make any mistake whist your in the interview. Fore an example planning for journey to the interview such as finding the right department, so you don't go to the wrong department.
Organisation skills are important for the reason that they insure what you must accomplished throughout your planned day. They demand on your attention and give you some sense of control.
Thirdly, my last interpersonal skill to discuss is good time management. This includes being self- disciplined about the use of your time so that you do not waist time doing unnecessary things. Good time managers are normally able to achieve far more in the course of the average working day. This is because they do not do jobs when they are scheduled to be done, rather than when they feel like it. They are also firm about interruptions. They discourage people from distracting them when they are busy and are equally sensitive enough not to disturbs anyone else at the wrong time, either.
The purpose of any interview is for the interviewer to find information about you, however the interviewers can vary in the way that they are carried out. Finding yourself in an interview situation you hadn't expected can easily put you off. You must always remember that you want to appear professional and you must talk mush and end up discussing things you were, never asked in the first place. If you're not asked about something that seems relevant and important to you, make sure you find an opportunity to: say what you want politely.
Do not be late for the interviews, be on time. If you are going to be late then let the interviewers know that you are going to be late by ringing in. Make sure you have money with you just encase an emergency.
Good time management skills: are important because, so that you can gain control of your time and start working efficiently.
Fourthly I will be discussing my first non-verbal skill which is reveal feeling. The moment an interviewer meets you, they will impression about what sort of person you are. Even if you are not communication by speaking they will still understand by looking at out body language. Gestures are important because it allows individuals to express in variety of feeling.
In essay I have chosen three interpersonal skills and three non verbal skills, I founded out that they help effective communication and why they are really important.
I my opinion the most important communication is interpersonal skills this is because it is easy to communicate and it is also professional.
Bibliography
Books
Heinemann educational publishers
Halley court, Jordan hill, oxford OX2 8EJ
Part of Harcourt Education
Carol Cary forth and mike Neild