To Kill a Mockingbird By Harper Lee Essay Sample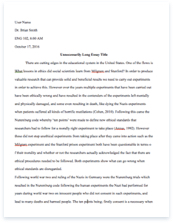 The whole doc is available only for registered users
OPEN DOC
Download Essay
Get Full Essay
Get access to this section to get all the help you need with your essay and educational goals.
Get Access
To Kill a Mockingbird By Harper Lee Essay Sample
a) At the beginning of chapter 10, it is clearly stated how both Jem and Scout regarded their father in comparison with the others: "Atticus was feeble: he was nearly fifty". The paragraph goes on to demonstrate both children's views: his father was much older and there was nothing to brag about when talking with classmates about him because he was always tired and he did not demonstrate particularly interesting abilities like driving a truck, working in a garage, play football. He wore glasses and he did not smoke or drink or play poker. In a nutshell, he, compared to other classmate's fathers, was not outstanding. The children were not disappointed or ashamed of Atticus, but they lacked reasons to brag about him.
b) At the end of chapter 10, this situation changed. Atticus shoots Tim Johnsons, a dog with rabies, from afar, demonstrating his special skills of shooting at a great distance. Jem and Scout become especially firstly amazed and mesmerized that their father could shoot so well and estranged due to the fact that their father had not told them of this special skill.
c) Atticus shows to be a true gentleman in the sense that he is honourable and sensible, understanding his outstanding abilities and still restraining them because he follows peaceful principles, showing also to be righteous and acting according to his beliefs. He is shown to be also courageous when the time comes to be, as we can it is seen when he shoots the dog, though initially reluctant to do so.
d) Scout wants to tell everyone about Atticus' shooting abilities but Jem tells her not to. Jem understands this is a skill Atticus is not specially proud of having, because he had to realize it was within him the power to kill and he chose to not use it unless completely necessary, unlike other fathers who used it when hunting. This is how Jem understands how, as Miss Maudie say "People in their right mind never take pride in their talents." It is Atticus humbleness, which makes Jem proud of what a gentleman he is and finally realizes that, even if he couldn't do anything, he would admire him. Jem learns that it is this true meaning of who a gentleman is and is proud to be like him.
e) This comment arises from Miss Maudie's reason for not killing mockingbirds: it's a sin because they do not harm us or do anything to us. Mocking birds represent good people who do nor intend no harm but are still harmed and corrupted by evil. This can be related with Boo Radley, who has not harmed anyone but instead gives presents to Jem and Scout and gave Scout a blanket during the fire. However, he has had a rough life, unable to leave his house for a mistake he made a long time ago and being to a certain point abused spiritually more than anything else, by his father.
f) Miss Maudie has great respect and admiration for Atticus, knowing he is a gentleman. This is why she understands he stopped practicing his talent of shooting because his mind because he understood this activity was unnecessarily cruel and harming toward the animals he shot. This shows how she also realizes he is a truly honourable good person, true to his clam heart and ideals.
g) Jem was not happy with buying the steam engine and baton. He was silently thinking what to do and when he approached Mrs. Dubose home, he took Scout's baton and cut the tops of Mrs. Dubose's camellias. Jem was on enraged because, even though he was used to Mrs. Dubose offensive comments, when she insulted his father, she went too far, hurting him where it mattered to him. This only shows his profound respect and admiration towards his father and thus he cannot tolerate and will further defend any harsh comments against him.
h) In page 108, there is a retrospective comment where we can see anticipation to the actions to occur, trying to reason Jem's outburst of anger. It looks at the situation from the outside telling us this was a small exception in Jem's stage of rectitude. This will be later explained as Jem's sudden inability to keep his temper as an exception, obviously a one time occurrence because he was describe as having a "tranquil disposition and a slow fuse". This gives sensible reasoning to Jem's actions and both counteracts the latter as well as provide a contrasts to the terrible outburst to follow so that we keep this in mind and avoids antagonizing Jem.
i) Atticus is very wise in showing his children to stand strong and impassive towards the other's comments. Like Mrs. Dubose and those form children at school, because this will teach them to be tolerant and distinguish what they believe and what others say, valuing what is really important.
j) Mrs. Dubose's home was worn down, with a horrible odour. This made Scout "afraid, expectant, and watchful". I was clearly a way of setting this menacing character in a menacing, sombre, dark surrounding which a first seemed in accordance, but that later made Scout feel sorry for her, and therefore we do too because we realized she was quite fragile and unable to fix or care for her belongings.
k) To Scout, Mrs Dubose seemed like a monster, damaged by the years and, as she would later find out, her addiction: "She was horrible. Her face was the colour of a dirty pillow- case, and the corners of her mouth glistened with wet…Old- age liver spots dotted her cheeks…" This description makes her seem like an abomination which to a point could was exaggerated in Scout's fear.
Mentally, she was very unstable: she would start nagging Jem and them she would start moving her mouth and her head form side to side and stay silent. This was due to the effects of her addiction.
l) It was a very mature comment from Atticus to state that "nigger lover" was just a phrase born in the ignorance of others to insult, especially Atticus, because this is given to those who treat negroes in the same way as other, without preference; a quality which is especially remarkable in that society. By teaching her it was just another word, then its meaning and intentions are lost and are easier to ignore.
m) At first Jem was quite afraid of Mrs. Dubose and this is shown when he opens the gift she gave him. He is tired of her verbal abuse and angry. This is why when she dies, he is indifferent, but them becomes guilty and remorseful when finding out she was a morphine addict, finally sinking in the meaning of her death and subsequent loss.
n) Atticus then told him that was her way of making peace. He wanted to show Jem the courage she had when quitting morphine and all the pain she went through to get her which of being lucid when she died. As Jem touches a camellia's petals, we see he quietly made peace with her too as he realized her burden and suffering behind her scolds.
o) Firstly, Atticus' case and idea of equality will take an important role in the second part, as it will affect the lives of the Finch family and the whole town. We will see the prevalent theme of equality and racism and the clash between both due to the town's strong prejudice. We will also see how these life lessons Jem and Scout have learned will help them in their standing throughout the process, as the town's people will surely look down on them.