To What Factors Make Topshop so Popular Among the Chinese Female Students in the UK Essay Sample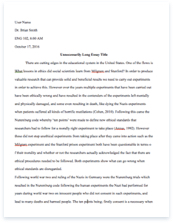 The whole doc is available only for registered users
OPEN DOC
Download Essay
A limited time offer!
Get a custom sample essay written according to your requirements urgent 3h delivery guaranteed
Order Now
To What Factors Make Topshop so Popular Among the Chinese Female Students in the UK Essay Sample
Introduction
Topshop is a fast fashion brand which likes a fashion miracle and it is a successful story of fashion industry gradually. Lots of overseas Chinese young female students choose Topshop to be their favorite fashion brand among large number of high street brands. A number of studies have focused on why Topshop get succeed and become a fashion miracle. However, it seems that insufficient investigations have been took on the issue about why Topshop is so famous among Chinese young female students. Therefore, the following will explore the possible causes of why overseas Chinese young female students like Topshop so much.
Background
Topshop was founded in London in 1964 and it is owned by the Arcadia Group. At that time it only has a Shoppe in Sheffield. From 1974 Topshop become an independent retailer. Jane Shepherdson is a woman who wants to make Topshop become an authority fashion brand and when she became the majordomo of Topshop, Topshop started to develop to be a successful story of fashion industry. Nowadays, Topshop is one of lead clothing retailers in the United Kingdom. It sells fashion clothes and accessories for both men and women. The target consumers of the company are young fashion males and females on a budget (Philip, P. 2008). Topshop has over 300 branches in England with its flagshop store located in London Oxford Street. Each week, it attracts over 20 million consumers to patronize. Topshop have 100,000 new products on sale weekly. It brings the high street fashion pop from England to occident and then Asia (Baidu, 2009). According to the brand, it sells 30 pairs of knickers (average price 3) per minute, 500 pairs of leggings (15) per hour and 6,000 pairs of jeans (40-45) per day (Rushton, 2007)
Topshop in China
According to my observation and understanding of the situation I found that China has lots of young Topshop fans. The magazines and news papers in China always reports the latest fashion news from Topshop. Girls discuss about Topshop in every fashion BBS. With the expectation of Chinese young consumers, Topshop signed a document with Zhengda square in Shanghai and opened their first retail in China in 2008 and it is looking at other locations in Beijing and Hong Kong as well. For its original market in UK, Topshop is planning to target the young Chinese, who are benefiting from their country's sustained economic boom (Daily mail, 2008). Some Topshop fans in China express their excitement through the internet by saying: "No eastbay any more." Because there are only two Topshop retails in China nowadays and the clothes always of ancient pattern, People even look for purchasing online from the persons who settle in British despite the price is much higher than from retails. So Topshop may be the most familiar brand in British for Chinese young females.
Consumer behavior
Consumer behavior apparently is an essential issue on investigating the factors which make Topshop popular among Chinese girls. The first aspect is people have a kind of mind which called Conspicuous consumption. The terminology conspicuous consumption was proposed by the economist and sociologist Thorstein Veblen (1857-1929). The term is used to describe the behavioral characteristic of the nouveau riche in his book "The Theory of the Leisure Class" published in 1899. Conspicuous consumption is a term illustrates the lavish spending on purchase goods and services acquired mainly for the purpose of displaying income or wealth (Veblen, 2006). The consumers which have this kind of thought will take such purchase and services acquired as a means of attaining or maintaining social status.
In the 1920s, economists such as Paul Nystrom (1878-1969) theorized that lifestyle changes which increase fashionable consumption. As a result of the lifestyle become different, the concept of conspicuous consumption has been discussed as the desire for immediate satisfaction in the context of addictive or narcissistic behaviors induced by consumerism (Wikipedia, 2009). In the section above of Topshop in China, it has mentioned that there are only two Topshop retails in China and the clothes there are describe as ancient patterns, Chinese young female can not derive satisfaction from purchasing these Topshop products in China. However, it is difficult for them to buy the latest Topshop products oversea. Thus, this situation would lead to two possible results. The first one is the students who have the opportunity to study aboard might buy lots of Topshop products and cause of their conspicuous consumption mind which they can show off to their friends in their motherland, they will love Topshop more and more. The second result is that the overseas students will open an e-shop to sell Topshop products through the Internet to satisfy the young female in China which is unable to purchasing Topshop products aboard. Because of the pecuniary benefit, they might love Topshop more and more.
Consumer behavior in fashion could be a more appropriate issue which should be explored in this case. Consumer behavior in fashion is a phenomenon which shows the public follow something fanatic or imitate someone as their wearing model reflect in their consumption (Solomon, M and Rabolt, N. 2004). With the development of the media, technology, education, and the enhancement of social civilization, the aesthetic ideas of people are recognized to change. At the same time, imitative and self consciousness is enhanced (Solomon, M and Rabolt, N. 2004). According to my observation, lots of Chinese young female love Europe and the United States Fashion very much. Lots of Europe and the United States Fashion icon became their wearing model, such as Kate Moss, Nicole Richie, Paris Hilton and Lindsay lohan. These Fashion icon always purchase Topshop products in their daily life, some of them wearing Topshop dress attend some events even. It makes Topshop become more and more famous and more and more Chinese young female begin to imitate these fashion icons by wearing products designed by Topshop.
Marketing strategy
A modern and fashionable marketing strategy might be another factor why Chinese young female students in the UK love Topshop so much. It is generally agreed that applying a proper market strategy is one of critical reasons for enterprises to achieve success currently. Good advertising, events and sales promotion are the important factors help the enterprise plan a good market strategy (Yau, 1994). For the advertisement and events, Topshop cooperate with fashion icon Kate Moss to design series of clothing for them and Kate Moss advertised her clothes by herself. These clothes just like grab from the private wardrobe of Kate Moss (Rushton, 2007). One industry source said: 'For the Chinese teenager with an eye on Western fashions, Kate Moss is pretty much the coolest person on the planet.'(Dailiy Mail, 2008). The usual price of Topshop is not high. It can be easily found from the high street that the average price of common Topshop products is around 30 pounds. Overseas Chinese young female students can offer this kind of price largely. For the sales promotion, every Christmas and New Year Topshop will provide amazing sales promotion to their consumers. These kinds of sales promotion attract lots of overseas Chinese young female students obviously. In the other hand, Topshop have online shop services to consumers. It means that consumer can choose Topshop products without walk out. Online shopping provides great convenience to overseas Chinese young female students which lack of time in doing their homework instead of shopping.
Fast fashion
The last issue is the fast fashion supply chain of Topshop. Topshop is a typical example of fast fashion. Fast fashion is a vocabulary used to describe clothing collections which are based on the latest fashion trends presented at Fashion Week in both the spring and the fall of every year. These trends are designed and manufactured quickly and cheaply to allow the mainstream consumer to take advantage of latest clothing styles at a lower price (Wikipedia, 2009). An efficient supply chain plays an important role in fast fashion. Because of this efficient supply Topshop always can catch the latest fashion of every season. When overseas Chinese young female students pass the window of Topshop, most of them can not stop themselves to walk into the shop to find out the latest suitable clothes for themselves.
Conclutsion:
This literature review has discussed both why overseas Chinese young female students love Topshop so much and how Topshop attract Chinese young females. Whilst it seems that Topshop really is a famous high street brand in overseas Chinese young female students' mind. Good management of Topshop in marketing strategy and supply chain help Topshop become more and more popular among overseas Chinese students. However, further research is clearly needed. To research how long can Topshop keep this amazing popular trend in the future and find out will Topshop can still be the famous high street brand anymore.
 References
Philip,P. (2008). Fashioning: Webster's Quotations, Facts and Phrases. ICON Group International
Baidu. (2009). Topshop. Retrieved November 24th, 2009, from http://baike.baidu.com/view/1274930.htm?fr=ala0
Daily Mail. (2008). Kate Moss may make 25million out of deal to export Topshop range to China. Retrieved January 13rd, 2010, from http://www.dailymail.co.uk/tvshowbiz/article-1042471/Kate-Moss-make-25million-deal-export-Topshop-range-China.html
Veblen, T. (2006). Conspicuous consumption. Penguin Books
Wikipedia. (2009). Conspicuous consumption. Retrieved November 24th, 2009, from http://en.wikipedia.org/wiki/Conspicuous_consumption
Solomon, M and Rabolt, N. (2004). Consumer Behavior in Fashion. Pearson Hall.
Yau, O, M. (1994). Consumer Behaviour In China. Routledge.
Ruston, S. (2007). How did Topshop become the high street's dominant fashion brand? Retrieved January 13rd, 2010, from http://www.belfasttelegraph.co.uk/lifestyle/how-did-topshop-become-the-high-streets-dominant-fashion-brand-13437760.html
Wikipedia. (2009). Fast fashion. Retrieved November 24th, 2009, from http://en.wikipedia.org/wiki/Fast_fashion#Supply_Chain.2C_Vendor_Relationships_and_Internal_Relationships