Top Quality Food Service Essay Sample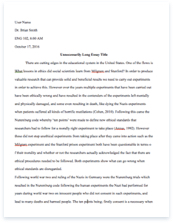 The whole doc is available only for registered users
OPEN DOC
Download Essay
A limited time offer!
Get a custom sample essay written according to your requirements urgent 3h delivery guaranteed
Order Now
Top Quality Food Service Essay Sample
Restaurants have always been the easiest way to acquire food. In this fast-faced era where people are always on the go, people tend to go to fast food restaurants for easy food. In any food business, service, food quality, and ambiance are factors which determine the competence of a restaurant. (The Appeal of Roy Rogers') Every one out of four Americans eats fast food. That is why America has been called a "fast-food nation". Most do it for the convenience of it, because lack of time leads many people to the drive thru, and money plays a part as well. Fast food restaurants are often the cheapest option when you are eating out. (Fast food, 2006)
Minimal service and food which is supplied quickly after ordering often characterized fast food restaurants. Fast food outlets also characterized as the take-away or take out providers , often with a drive-thru service which enables customers to order and pick-up food from their cars, although most of the restaurants also have a seating area in which customers can eat the food on the premises. Fast food restaurants have been assigned to be eaten "on the go" and often does not require traditional food. (Fast food, 2006)
Restaurants provide instant food, that is why most people prefer to aet here than to cook meals at home. Often, restaurants provide a variety of choice depending on the place it is located. Some of the most famous restaurants are McDonald's, Wendy's, Kentucky Friend Chicken, Cinnabon, Burger King and Roy Rogers'.  The individual's food preference and the type of food best define the meaning of good quality when it comes to food. Wholesomeness, freshness, nutritional value, texture, color, aroma and flavor are just some of the important characteristic of good food quality. For most consumers, safe food means that there will be no danger from pathogenic microorganisms, naturally occurring toxins and other potentially harmful chemicals which may be deliberately added to foods. (Food Safety & Quality, 2005)
Starting first at their food quality, most of the restaurants, especially fast food restaurants is often prepared in an industrial function and is highly processed. Some of the processes it uses are a large scale with standard ingredients and standardized production and cooking methods. To minimize the cost, foods in these restaurants are usually served in plastic wrappings, bags, or cartons. In most fast food operations, menu items are generally made from processed ingredients prepared at a central supply facility and then shipped to individual outlets where they are reheated, cooked by microwave or deep frying or assembled in a short amount of time. This process ensures the consistency and quality of the product. With these methods, restaurants are able to quickly deliver the orders to the customers and eliminate equipment cost and labors to individual stores. (Fast food, 2006)
Fast food concept relies in low cost, uniformity and speed; fast food products are often made with ingredients prepared to preserve freshness, and to achieve a certain flavor and consistency. Because of this, it needs a high degree of food engineering, which is the use of additives and processing techniques that substantially alter the food from its original form and thus, reducing its original value. (Fast food, 2006)
When it comes to nutrients, fast food restaurants are generally not the most nutritious options. Generally, fast food meals often lack imporatnt vitamin and mineral because they are higher in calories, fat, and sodium. Many fast foods and restaurants only offer french fries as their only vegetable option. It is not esay to call fast food french fries as vegetable because by most standards, french fries is just another junk food. Similar challenges also poses to restaurant dinings. Too much salt, fat or sugar aare included in restaurant meals and portions are almost always larger than normal. But nowadays, a lot of restaurants, fast foods, and sit down are adding a healthier options in their menu. Nutritious meals on the go are now possible. (Fast food, 2006)
To be able to meet the demands of the customers when it comes to health, some large fast food chains incorporate healtier aternatives in their menu like salads and fresh fruits. This move was welcomed by most consumers because it guarantees good nutrition for more people who are always on the go. (Fast food, 2006) Services are also very important to any restaurant. When it comes to services, consumers always consider it as a very imporatnt factor in choosing a good restaurant. Roy Rogers' Restaurants for example, provide a wide-variety of appealing, prepare-to-order foods with a quality and freshness that sets a new standard in the quick service segment. They also enable guest to dress their sandwich the way they like it without the need for special orders. (There's Fast Food…Then There's KFC!, 2001)
They also offer efficient operational systems. They are well trained when it comes to order-taking at the point of sale, order processing and preparation, inventory and cost-control, marketing and managerial functions to the speed and efficiency of Roy Rogers' Restaurants. They are also proud of their training because it guarantees better sevices for their customers. They believe that every service business is defined by the quality of its people and Roy Rogers' definitely have the best people to handle their business. (There's Fast Food…Then There's KFC!, 2001)
On the other hand, Kentucky Fried Chicken, which is popularly known as KFC boost of its business coaching, training, development, and cooperative sourcing. Management team training is also done in KFC. There are six to eight weeks training to key restaurants personnel to develop their quality of service. (There's Fast Food…Then There's KFC!, 2001)
Furthermore, McDonald's is proud of its trained crews who are ready to serve their customers with their speed and efficient service. They also gained reputation for their fast service, cleanliness, and child-friendly atmosphere. It is designed where families can break from the entire routine of home cooking, or just grab any food when they are on the road. (Fast food, 2006)
Ambiance-wise, restaurants also differ. Most of them depend their ambiance on their target consumers. Cinnabon guaranteed a unique and delicious treats in a warm and friendly atmosphere. Cinnabon bakeries range in size from 400 to 1200 square feet and are found in travel plazas, airports, universities, hospitals, malls,casinos, theme parks and train stations nationwide. Bakeries are also found in a number of different formats and wide varienty of locations like kiosk, street sides and mobile bakery stands to suit their customers needs. (There's Fast Food…Then There's KFC!, 2001)
McDonalds also have their way of appealing to young customers. The Happy Meal, which includes toys to please the children, is a way to create a child-friendly ambiance in the store. McDonald's stores can be found all over the globe in different locations. Malls, universities, train stations, airports, and in almost every place possible. It is known to cater to almost all kinds of consumer because of its cozy ambiance and welcoming crews.
Burger King and Carl's Jr. are known to direct advertising towards young teenage and college-aged men. The ambiance is often trendy to target the young generations. (Fast food, 2006) In general, restaurants, whether fast food or sit in offer a pretty good quality when it comes to service, quality of food, and ambiance. But five-star restaurants definitely stand out among the rest.
Food-wise, five-star restaurants offer a great menu which changes almost everyday to suit their customers's needs. Their bread and pastries are made in-house, and most of their ingredients came from private gardeners and farmers, and fresh meats and fishes are a must to ensure customer satisfaction. This kind of restaurant often have a wide range of cuisines from different countries. Food safety is the number one concern of these restaurants. Customers can always be sure of healty cuisines because nutritionists and experts continuously check the food value.
When it comes to service, five-star almost always have the well-trained crews and chef. Internationally aclaimed restaurants boost of their hospiptality and great service. Most of the customers here are professionals or those who come from a well-earning family that is why the good service is guaranteed. Most five star restaurants have a legendary reputation for guest attention and service. Five star restaurants pamper their guest and give them an extraordinary hospitality that is why it is almost often hire world class workers.
The ambiance is different, depending on the type, but most of the five-star restaurants are suited for relaxation or business. Stunning ambiance, calm and tarnquil view almost often define five star restaurants. Most of these restaurants are also inside a hotel. This gives the costumers more time to relax and enjoy their warm and first class services.
In conclusion, restaurants differ. There are myriad restaurants depending on each customer's needs and group. Fast-food and sit-in restaurants are much cheaper, which generally cater to all groups. These reastaurant are for people who are always on the go who need a fast way of aquiring food. On the other hand, five-star restaurants are expensive because of their well-trained crews and staff. But customers are always sure of better quality of food, better services and a nicer ambiance.
Works Cited:
Fast food. (2006, 19:30, 17 May 2006). Retrieved May 17, 2006, 2006, from http://en.wikipedia.org/wiki/Fast_food
Food Safety & Quality. (2005, Wednesday, 05-Mar-03 16:06:54). Retrieved May 17, 2006, from http://msucares.com/health/food_safety/
There's Fast Food…Then There's KFC! (2001). Retrieved May 17, 2006, from http://www.franchisegator.com/cgi-bin/profile.php?key=453&f_type=2