Toyota Motor Corporation Argumentative Essay Sample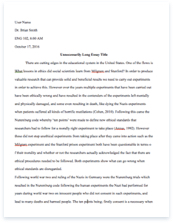 The whole doc is available only for registered users
OPEN DOC
Download Essay
A limited time offer!
Get a custom sample essay written according to your requirements urgent 3h delivery guaranteed
Order Now
Toyota Motor Corporation Argumentative Essay Sample
I. Executive Summary Toyota Motor Corporation is leading the way to future mobility through innovation, productivity, quality and efficiency. Toyota uses a self-developed strategy known as the Toyota Production System (TPS) to guide business process improvements. TPS has been utilized by a variety of industries all over the world, though many organizations tailor system components to their needs rather than embracing TPS as a total management system. The advantages of TPS are savings in time, space and resources resulting in increased efficiency and revenue, however, TPS limits organic production capacity by narrowing supplier relationships and inventory. A grid analysis is used to compare Toyota Motor Manufacturing Canada (TMMC) and USA locations for the Lexus RX 330/350 North American plant. Nine weighted factors are used to compare plant sites. These factors relate to government control, taxes, brand recognition, infrastructure and more. The three critical factors are distance to market, distance to suppliers and government regulation. Grid analysis results favor the TMMC site over USA by a total weighted score of 146 to 140.
The TMMC site is recommended based on the grid analysis results. At the TMMC site, a 25,000 unit plant production capacity is recommended for maximum profit based on decision tree analysis. It should be noted that decision tree analysis works best in less complex projects, because the more complex projects become, the greater the sensitivity and margin of error in the analysis. Currently, TMMC is the only plant outside Japan to manufacture Lexus. It has earned JD Power & Associates Segment Awards for 2008, 2007, 2005, and is the first plant outside Japan to ever win a Platinum Award. Toyota's North American operations are extensive, including 15 production facilities in the U.S. alone Canada and Mexico represent Toyota's lesser operation sights with strong future growth potential. Our strategic change recommendation for Toyota's North American operations is to branch out from Texas operations to further expand in Mexico where labor is abundant and relatively inexpensive.
II. Introduction The global vision of the Toyota Motor Corporation is to "lead the way to the future of mobility, enriching lives around the world with the safest and most responsible ways of moving people" with additional emphasis on quality, continuous innovation, corporate social responsibility and harnessing the power of human capital (Toyota Motor Corporation, n.d.). At the heart of operations is the famed Toyota Production System (TPS). Researchers and industry professionals generally agree that eliminating defects and waste improves productivity and efficiency, but Toyota was the first company to pioneer and later codify the activity. After approximately eight decades of application, TPS is as strong a stratagem as ever. Today Toyota produces optimal quality, low-cost vehicles with the shortest relative lead time through the identification and elimination of process resource waste (The Advantages of Lean Manufacturing, n.d.).
The Lexus RX 350 sports utility vehicle (SUV) is a prime example of Toyota's finely tuned production system at work. US News Rankings & Reviews (2011), ranked it number 1 out of 17 mid-size luxury SUVs, and US News and World Report called it this year's Best Luxury Midsize Crossover (US News Rankings & Reviews, 2011). The vehicle also has one of the best fuel economy ratings in its class. Quality for Toyota is the product of innovation and relentless pursuit of excellence with TPS as its mainstay. TPS centers around two major principles: jidoka and just-in-time. To maximize revenue from RX 330/350 sales in North America, the selection of a production plant site is of paramount importance. Location must be within acceptable reach of critical suppliers and urban centers to allow Toyota to bring its products quickly to market. Using grid and decision tree analysis, plant location and production capacity are prepared for corporate Ringo Sho and Nemawashi in anticipation of future project sponsorship.
III. Exercise 1: Toyota Production System (TPD) Today TPS Term Definitions & Practical Examples 1. Jidoka refers to automation with a human touch, and it was developed in 1896 by Sakichi Toyoda, founder of the Toyota group of companies (Toyota Motor Corporation, n.d.). It is based on the automatic loom which stopped each time a problem arose thereby producing no defects. A single worker could supervise numerous machines which improved organizational productivity. Today, Toyota machines and employees are tasked with stopping production lines when abnormalities are detected, defects are removed, and processes are fixed immediately ensuring no repeat errors occur (Toyota Motor Corporation, n.d.). 2. Just-in-time was developed by Kiichiro Toyoda, son of Sakichi and the founder of Toyota Motor Corporation. Just-in-time is a system where supplies are delivered to the production line when they are needed. It requires planning to ensure stock levels are kept to a minimum. For example, Dell Corporation used just-in-time inventory practices to manufacture build-to-order computers.
They only requested deliveries from suppliers when orders were received. Based on the philosophies of jidoka and just-in-time, Toyota can efficiently and quickly produce quality vehicles that satisfy customer requirements (Toyota Motor Corporation, n.d.). 3. Hoshin is the Japanese strategic planning process designed to ensure that the mission, vision, goals, and objectives are communicated throughout an organization, and implemented by everyone from top management to the lowest level employee (Source: BusinessDictionary.com). It is a deliberate communication plan. Hoshin can use management speeches, company newsletters, websites, seminars, leadership and  management training, and the media. For example, Subway is famous for its vision to serve fresh, delicious, made to order sandwiches (Torres, 2003). They have even emphasized it to the public with their "Eat Fresh" marketing campaign. About every four months, Subway gathers franchisees, advertising board, purchasing co-op, development agents and company representatives to discuss the direction of the company. The team is dispersed to make changes and spread the vision which aids the organization's movement towards the right direction (Torres, 2003).
Heijunka is a term used to explain the method for setting production rates based on actual demand from customers over a long period, and it stabilizes short term demand based on average rates (Velaction Continuous Improvement, LLC., n.d). Production scheduling software is used by manufacturing firms to plan production which can include ordering stock. When Procter & Gamble products are scanned at a Wal-Mart store, the sales information is sent via satellite to P&G notifying them when to produce more and which Wal-Mart store to ship the products to (Source: Worldacadamyonline.com). Muda is waste and refers to elements of production that add no value and only raise cost (Toyota Production System Terminology, n.d.). Some examples of muda include overproduction, waiting, inventory, and motion. Moving tools or supplies closer to a workstation eliminates excessive motion, a no value added task, thereby eliminating muda.
 Kaizen is continuous improvement or the day-to-day improvements employees make to processes and equipment (Toyota Motor Corporation Australia, n.d.). Canon Corporation implemented kaizen by devoting 30-minutes each day to thinking about improvements  and identifying problems. Employees are advised by management not to hold meetings or answer phones during this period. 7. Standardized work is essential to identifying where things go wrong. It sets up the best sequence of each process. Once the most efficient sequence is determined, work is repeated the same way avoiding unnecessary motion and wasted effort, maintaining quality, assuring safety, and preventing damage (Standardized Work in Toyota Production System, 2009). Pepsi Co has standardized its production of beverages. Pepsi created precise production and quality standards that they monitored with constant testing to guarantee quality and consistency. Production facilities receive flavor concentrates from special manufacturing plants; liquid sweeteners are shipped in; water is filtrated and purified; and carbonation is added in the last step.
PepsiCo's meticulous quality control audits ensure each soda tastes the same in all countries. 8. Pokayoke also referred to as mistake proofing or error proofing is essential to jidoka. It refers to the "low-cost, highly reliable devices or innovations that either detect abnormal situations before they occur at a production process; or once they occur, will stop the machines or equipment and prevent the production of defective products." (Toyota Production System Terminology, n.d.). In Air Force personnel management, for example, pokayoke was integrated into Oracle database programs, MilPDS and PC-III, in the form of "triggers", which told users when a military performance report was due and again when it was overdue. The software calculated the future report date, scanned for a report entry before that date, and if missing, triggered a notification memorandum for the supervisor. This trigger repeated on the report close out date and generated an overdue  notice to the supervisor if necessary. The trigger worked 99.9% of the time, making it a high fidelity pokayoke system for military evaluation programs.
IV. Exercise 1: TPS as a Total Entity TPS is a set of tools that help organizations identify and eliminate waste to improve quality and production time while reducing costs. Traditional mass production pushes inventory from one process to the next resulting in large inventory buffers, whereas TPS is based on justin-time which pulls inventory to build only the parts necessary for the next process without impacting to other processes (Liker & Morgan, 2011). MIT researchers found that TPS was more effective and efficient than traditional mass production and coined it lean production to indicate the drastically different approach to manufacturing (The Advantages of Lean Manufacturing, n.d.). Lean production has been implemented around the world in all forms of production due to its extensive benefits.
Advantages The advantages to TPS include reduced manufacturing time, lower costs, increased earnings, decreased space requirements, increased productivity, waste elimination, customer satisfaction, and stronger organizational cultural. TPS is based on the employee's ability to reduce inventory, identify problems, and fix them. Once the organization focuses on making each process efficient, manufacturing lead time will be significantly lowered. The cost of use of energy, utilities and wages will be reduced. Labor and human resource experts estimate effective lean manufacturing techniques and strategies can help organizations reduce their physical floor space requirements by as much as 30% and it can significantly increase manufacturing productivity by as much as 125% (The Advantages of Lean Manufacturing, n.d.). The elimination of waste and unproductive activities will empower workers and give them the time to focus on customer demands. It will also improve quality of products and services which results in customer satisfaction.
In lean manufacturing, the organizational culture is standardized and unfavorable practices and behaviors of employees are reduced, if not eliminated (The Advantages of Lean Manufacturing, n.d.). There can be some limitations to using TPS. Limitations TPS is built on just-in-time which requires close relationships with suppliers. It also limits the amount of inventory kept on hand, so dependable suppliers are required to provide products consistently. Problems such as transportation delays, poor quality supplies, and natural disaster can hinder the effectiveness of TPS. In 2010, Toyota recalled 10 million vehicles for defective pedals and floor mats (Cusumano, 2011). Toyota cut production at its North American plants by 75% after the March 11 earthquake and tsunami in Japan forcing the company to conserve its limited supply of parts (Keeling, 2011). These types of problems can adversely affect an organizations reputation and leads to customer dissatisfaction.
To promote a culture of continuous improvement, employees must be trained to the same standard. Training employees from different countries can be extremely challenging. Instead of using written training manuals, Toyota uses visual videos to explain specialized knowledge in an easy to understand format which has reduced the length of training time (Toyota Motor Corporation, n.d.). Employees are needed to constantly observe and fix problems, so lack of interest or training can severely hinder improvements. Evolution Using TPS, Toyota has displayed a competitive advantage over its competitors for years. The recent quality problems exposed the flaws of TPS, but it continues to evolve. Every quality system demands throughput, accuracy, effective error proofing and manufacturing to the design record, all while staying within tolerance levels (Leggett, 2010). Management admitted they focused too much energy cutting costs to overtake General Motors as the world's largest automaker (Cusumano, 2011). They were also harshly criticized for not responding to the problems more quickly.
Toyota has pledged to continue to evolve amid the ever changing global environment, and continue manufacturing products the Toyota Way (Toyota Motor Corporation, n.d.). The Toyota Way is to confront problems openly, find the root cause, solve the problem and learn from the mistakes (Liker, 2010). Toyota now recalls vehicles immediately with the slightest signs of a problem. Toyota will become stronger because the organizational culture emphasizes a combination of commitment by management, proper training, and a culture of continuous improvement. TPS Use Among Other Companies Due to the success of Toyota, many of the methods of TPS have been copied by other organizations. TPS concepts have spread to every country in the world and the principles have been applied to logistics, services, retail, healthcare, construction, maintenance, and government. (The Advantages of Lean Manufacturing, n.d.).
While lean is now the dominant paradigm in manufacturing, it is questioned how effectively and consistently it has been implemented (Liker & Morgan, 2011). Although the intent and goals of TPS have been embraced in many fields, followers have not fully embraced the philosophy but have simply implementing a few concepts. Toyota describes its production system as an operating philosophy for guiding the management of an entire enterprise not just the production floor (Teresko, 2006). US manufacturers have used many lean practices for years. Experts say that instead of embracing TPS as an overarching management system, they have used it as a piecemeal toolbox (Teresko, 2006). Many believe it explains why Toyota's North American auto division gained more market share than General Motors and Ford despite their use of TPS practices (Teresko, 2006). V. Exercise 2: Grid Analysis (Weighted Scoring Model)
The following tables show decision factors for the selection of Toyota's North American Production Facility. There are only two choices under consideration, which are Toyota Motor Manufacturing Canada (TMMC) and the USA Table 1 shows the relative quality or condition of each factor at each potential site, using an ordinal scale of 0 to 5, where 0 = worst, 3 = average, and 5 = best. Table 2 shows the weight or importance attributed to each factor, and calculates each factor's weighted score as well as the cumulative score for each site. Weights are based on an ordinal scale of 0 to 5, where 0 = not important, 3 = average importance, and 5 = critically important. Table 1: Grid Analysis: UnweightedFactor: Brand recognition Market saturation Per capita income Distance to market Distance from critical suppliers Govt regulation/interferrence Govt corporate taxes Govt labor regulation Site infrastructure Weight: TMMC 2 3 3 3 3 5 5 4 3 USA 2 2 4 5 5 3 2 5 4 Ordinal factor scale: 0 (worst conditions) – 5 (best conditions) 10
Factor: Brand recognition Market saturation Per capita income Distance to market Distance from critical suppliers Govt regulation/interferrence Govt corporate taxes Govt labor regulation Site infrastructure Total Weight: 2 3 4 5 5 5 4 4 3
TMMC 4 9 12 15 15 25 20 16 9 125
USA 4 6 16 25 25 15 8 20 12 131
Ordinal weight scale: 0 (least important) – 5 (most important) Exogenous Factors & Assumptions 1. Market saturation – the presence of competitors and number of their local distributors is considered an important exogenous factor to facility location, because the number of competitors proceeding Toyota's arrival is an environmental factor outside corporate control. High market saturation will cause a proportional increase in supply costs, increase the likelihood of substitutes and could negatively influence market share. Canada appears to have a mature yet growing automotive industry with international partners (The Canadian Encyclopedia, 2011). Conversely, the U.S. automotive industry, once a titan of domestic auto production capacity, has been in serious decline for many years. Both countries have similarly viable automotive markets, but the decline of U.S. domestic automakers may present an exceptional opportunity for foreign producers like Toyota. Each country is given a score of 2 because the Lexus RX 330/350 belongs to a luxury SUV niche market with strong existing competitors GM, Ford, Chevrolet and Nissan.
Assumption: for our analysis, market saturation is assumed to be consistent from one region of the country to another because the choice of TMMC or USA is limited in this discussion to the countries themselves rather than particular provinces or states. 2. Per capita income – in 2008, per capita income was $39,300 in Canada and $47,000 in the U.S (CBCNews, 2011). Average individual income is an exogenous factor related to native economic prosperity, and is not a result of any influence from Toyota Motor Corporation. However, greater per capita income could have a positive effect on RX 330/350 pricing and profit margin. Finally, income will influence operations sustainability because higher income consumers will be more tolerant to shorter product replacement lifecycles. If per capita income were normalized to the lowest alternative, then Canada should receive a 3 and the U.S., only 20% higher per capita, should receive a 4. Assumption: it is assumed that the standard and average cost of living in Canada and the U.S. are comparable, and that purchase power parity of $1 Canadian and $1 USD are stable over time, such that differences in per capita income are measured from the same baseline; i.e. $1 Canadian is expected to buy the same or nearly equivalent amount of services or consumer products as $1 USD.
Government regulation or interference – as measured by the 2011 Index of Economic Freedom, this exogenous factor is based on a comparison of composite business freedom and trade freedom scores for both countries. A composite score of 140 is considered average with a corresponding ordinal value of 3 on our scale. Canada's and the U.S.'s composite scores were 184.5 and 177.4, respectively (The Heritage Foundation and The Wall Street Journal, 2011). Again, this is an environmental factor and Toyota has no influence on host country government commercial or trade policies, but can mitigate negative regulatory influence by selecting the most deregulated business and trade environment for their facility. Assumption: all freedom categories of the 2011 Index of Economic Freedom are assumed to be weighted equally, which allows an observer to compare countries using an overall composite score or using a composite score of multiple categories to target specific freedom areas like business freedom and trade freedom. This composite score would lead to the same conclusions as individual category compared separately, however, the multi-category composite score is more user-friendly.
4. Government corporate taxes – taxes on corporate earnings is another exogenous, environmental factor outside corporate influence, which in this case is given a factor value in proportion to Canada's and the U.S.'s respective fiscal freedom scores from the 2011 Index of Economic Freedom: 78.0 and 68.3, respectively (The Heritage Foundation and The Wall Street Journal, 2011). The top Canadian corporate tax rate of 18% as compared to the U.S. top corporate tax rate of 35% make for a compelling argument in favor of TMMC. Since lower taxes are favorable and should receive a higher factor score on our scale, this factor is normalized to the U.S. rate; consequently USA received an average factor score of 3 and Canada received the highest score of 5. 5. Government labor regulations – this exogenous factor relates to the flexibility of labor regulations, the propensity of workers to unionize, and government sponsorship of collective bargaining policies and institutions in the private sector as measured by the 2011 Index of Economic Freedom score for labor freedom. This factor accounts for several variables that are extremely difficult to quantify directly without exhaustive research, so the U.S.'s labor freedom score (95.7) and Canada's labor freedom score (81.7) were normalized to the average score of 61.5, yielding an above average ordinal factor score of 5 for U.S.A and 4 for Canada.
Endogenous Factors & Assumptions 6. Brand recognition – brand recognition is a function of market penetration, usually with the help of a persistent marketing campaign to generate demand for a product. Marketing and brand exposure to a target audience is clearly within the control of the corporation, thus this factor is endogenous. According to Kanetix.ca, based on insurance quotes obtained from 2006 to 2008, Toyota was the third most popular auto brand in Canada (as quoted in Ellis, 2011). Automotive News lists the Toyota Camry and Toyota Corolla/Matrix the third and fifth most popular cars in the U.S. in 2007 (USA.org, 2011). Consumers in both markets hold the Toyota brand name in high esteem, but not the highest in relation to strong competitors like Ford, Chevrolet and Honda. Unfortunately, the Lexus RX 330/350 is a crossover sports utility vehicle that has neither the carrying capacity of an open-bed truck nor the fuel economy of a small sedan.
It is a luxury class car that appeals to the high end of a niche SUV market. Both countries received a 2 for this factor because the RX 330/350 is priced outside the range of the average consumer. Assumption: it is assumed that a majority of consumers are aware of the connection between the Toyota and Lexus brand names. 7. Distance to market – the distance to market is exogenous in the sense that major urban and industrial areas are pre-established and their distances from one another are fixed. However, this factor can be optimized for Toyota by considering various distances to major cities and then selecting via linear programming the location that minimizes distance between markets, or maximizes the number of markets within a defined radius. In this latter sense, the distance to market is an endogenous factor. Canada has relatively less distance to cover domestically from production facility to market since most major 14
cities are located roughly between 45 and 50 degrees latitude along a 3,400 mile stretch of countryside not far from the U.S. border. The U.S. is broader still from east to west, and far bigger from north to south, thus it follows that a central location reaching both markets would be ideally located within the U.S. The score for USA reflects its optimal position (5), while Canada is given a lower than average score (2) because optimizing distance to markets within both countries is severely limited by the position of the U.S./Canada border relative to major urban centers in the southern U.S. Assumption: it is assumed that the optimal location for Toyota to produce the RX 330/350 is one most centrally located between all target markets in either Canada or the U.S. Target markets are assumed to be major urban industrial centers with high concentrations of people. 8. Distance from critical suppliers – the argument for distance to critical suppliers follows the same argument above for distance to market. Both may be defined as exogenous or endogenous factors depending on the observer's perspective.
Assumption: it is assumed that the optimal location for Toyota to produce the RX 330/350 is one most accessible to or centrally located between all critical suppliers within the host country. 9. Site infrastructure – this factor may seem exogenous at first, but site infrastructure entails a number of native factors like electric, water, sewer and road access which can be developed or improved by Toyota for a price, though it is in the best interest of the corporation to minimize these costs by selecting "improved" sites that are construction ready. In this sense, the potential for Toyota to directly impact this factor, rather than accept or reject it, make site infrastructure endogenous. Canada is assigned a value of 3 and the U.S. a value of 4 for the simple fact that production facilities may remain from the decline of the U.S. automotive industry, which would be suited to Toyota's facility without additional improvement costs. Assumption: it is assumed that optimizing distance to market and suppliers is preferred over site selection based on infrastructure, so this factor is highly constrained even if budget for site improvements is unconstrained.
Constraints Constraints to production facility site selection are expressed in the weights given to each factor in tables 1 and 2. Selection factors with a weight of 5, i.e. distance to market, distance to critical suppliers and government regulation/interference, are the most critical. All other endogenous factors with lesser weights are subordinated to these three and therefore highly constrained by them. It follows that if weights of these subordinate endogenous factors changes up or down, the effect on the cumulative score would not be significant enough to overcome the critical factors. In essence, the three critical factors contribute the largest portion of overall points to the cumulative score, thereby "anchoring" it against changes in more minor factors. The importance of at least 3 minor factors in the unweighted table would have to change in favor of TMMC, with no corresponding increase in U.S. factors, to change the outcome of the weighted total scores.
VI. Exercise 2: Location Recommendation The results of grid analysis indicate a higher overall score for USA: 131 points versus 125 points for TMMC. The three critical factors, i.e. distance to market, distance to critical suppliers, and government interference, have the most influence over the end results, and as USA is weighted more favorably in two out of three critical factors, it is not surprising that USA's overall score is higher. The most distinctive advantages of a USA location for the RX 330/350 plant are centralization between market and supply nodes, and a highly developed and mature automotive industry infrastructure; most notably in the mid west and south regions. Per capita income is higher by 20% in the USA as compared to its northern neighbor, and labor freedom there is also slightly better (CBCNews, 2011). Conversely, Canada enjoys more freedom from burdensome government regulations as well as a remarkably low corporate tax rate. Additionally, Canada has slightly less market saturation as evidenced by the growth of its automotive industry during the same period of decline in the USA. The cultural, geographic, and trade ties between the two countries fosters a bi-lateral economic equilibrium that communicates popular consumer brand information efficiently.
This could potentially eliminate the marketing burden of two targeted campaigns managed separately, in favor of an iterative approach that adapts one campaign over time as Toyota reaches out to markets further and further away. Using excursions in various non-critical factors, results of grid analysis still favor the USA until three or more noncritical factors change in favor of TMMC with no resulting increase in the same factors for the USA. Moreover, if the third critical factor, i.e. government regulation/interference, increased by only one for the USA, all six non-critical factors would have to increase by one for Canada's overall score to exceed the USA's. Lastly, if the USA and Canada had the same optimal government regulation score, all six non-critical factors would have to increase by 1.25 or more to exceed the USA's total score. Based on agreement with Toyota Motor Corporation in the selection of factors, confidence level in the value attributed to each unweighted factor and the adherence to Toyota's corporate objectives in factor weight assignments, it is our view that the USA is the clear choice in location for the RX 330/350 production plant.
VII. Exercise 3: Decision Tree Analysis TMMC Production Capacity Recommendation At the TMMC site, a 25,000 unit plant production capacity is recommended for maximum profit based on decision tree analysis. A capacity of 25,000 units will maximize the Expected Monetary Value (EMV), or average payoff (Knode, 2011). EMV is the sum of all payoff values multiplied by their probabilities. Five different capacity recommendations for TMMC are: 10,000, 15,000, 20,000, 25,000 and 30,000 units. In order to compare recommendation profit value for the 2000 period, according to Knode (2011), the EMV must be calculated for each alternative. Once each EMV is determined, then you identify the recommendation yielding the maximum profit by comparison with its alternatives. Limitations Decision trees can help users make choices between alternative courses of action. They help form a balanced picture of the risks and rewards associated with each possible course of action (Mind Tools, n.d.).
Decision trees are simple to use and easy to understand, but they have some limitations. Small changes to the tree can cause large changes, which can cause mistakes. Decisions trees are based on expectations and illogical expectations can cause errors (Nayab, 2011). It also may not be possible to plan for all contingencies, so oversights can lead to bad decision-making. Decision trees are easy to use but the more branches they have the more confusing they may become. Determining the best split and selecting optimal weight are complicated tasks that require experience and expertise (Nayab, 2011). Larger trees are complex, so knowledge and understanding are essential. The cost to train employees may be too expensive, which is why many organizations do not use decision trees despite the advantages (Nayab, 2011).
Decision trees may also contain too much information overloading decision makers and decrease decision-making time. Quality Performance in North America Quality is paramount at Toyota Canada's production facilities. They have received the JD Power and Associates Platinum Plant Quality Award in 2011 and the Gold Plant Quality Award in 2010. TMMC's RX 350 also received the JD Power & Associates Segment Award in 2008, 2007, and 2005. The Cambridge Plant South is the only plant outside Japan to manufacture a Lexus, and it is also the first plant outside of Japan to earn a Platinum Award (Four Lexus Vehicles and Canadian Lexus Plant Earned Top Awards in JD Power and Associates Initial Quality Study, 2011). Toyota has maintained outstanding quality throughout its North American manufacturing plants.
The 2011 JD Power and Associates 2011 Initial Quality Study (IQS) has ranked Lexus models highest in four segments which was more than any other premium brand; highest among all nameplates; and Toyota moved up 14 positions to place seventh overall (Four Lexus Vehicles and Canadian Lexus Plant Earned Top Awards in JD Power and Associates Initial Quality Study, 2011). Lexus has ranked highest in the IQS study in 13 of the last 22 years, beginning with the brand's first model year in 1990. VIII. Exercise 4: Current Regional Production Strategy Assessment In the United States, Toyota has several locations which offer many different services. Looking state by state in Toyota's operations brochure, Toyota has 15 of its locations in the U.S. listed which receive varying numbers of employment and investment dollars and are responsible for various parts of the vehicles made. Toyota is responsible for 29,089 direct labor positions and 169,243 indirect labor positions. Toyota also has almost 18 billion dollars in direct investments and over 16 billion dollars in dealer investments. These figures incorporate forecasted projection amounts for scheduled production of new vehicles such as the Corolla production scheduled for fall, 2011.
In Canada, Toyota established itself in 1964 and started production on the Corolla in 1988, the Matrix in 2002, the RX 350 in 2003, and the RAV4 in 2008. Toyota's combined Canadian effort exceeds five billion Canadian dollars in investments and over 6,000 employees (Toyota.com, 2011). Toyota established itself in Mexico in 2001 and currently has 63 dealerships, which account for two billion pesos in investments and over 800 employees. Toyota's expansion into Mexico is likely an attempt to capture market share from competitors GM, Ford and Honda. Trade with Mexico from within the borders of North America may also have tariff and excise tax advantages pursuant to NAFTA. Though Toyota currently has only one plant in Mexico to produce Tacomas, according to "Ed" at Toyota's U.S. Customer Experience Center there are rumors for future production plant expansion in Mexico, but that is still being discussed by upper management.
Of all Toyota cars sold in the U.S., 70% are manufactured in North America (Moreno, 2011). Toyota has diversified its operations on the entire continent by positioning itself in all three North American countries. This type of production diversification aids Toyota in profit and cost management. Toyota is able to choose which locations are best positioned to increase its operational efficiency and its cost effective initiatives. Toyota has chosen to produce cars for the North American Market in this manner due to the particular resources in each country. The resources in the United States vary from the resources in Canada and Mexico. For instance, the United States is a large economic player that attracts many international as well as domestic companies to create products that Toyota can use to build its cars in North America affordably and avoid the high costs of importing vehicles. Canada has a market for Toyota's products and a climate that is favorable for research and development. Mexico is an emerging economy with a wealth of human resources and inexpensive labor.
Change Recommendations Considering that Toyota already has a combination of direct and indirect staff in Texas of approximately 16,000, Toyota should move to increase its production and staff in Mexico where costs are favorable. The position of neighboring Mexico, to well-developed Texas, will aid Toyota in developing Mexican plants and ultimately result in cost savings. The Mexican locations can eventually become a major source of production for the company and a key position along the supply chain. Since NAFTA allows Toyota to freely move its products, there would be no penalties for making this move. IX. Summary The grid analysis results comparing TMMC, with a weighted score of 125, and USA, with a weighted score of 131, favor USA primarily for its centrality in relation to suppliers and markets within both countries.
Trusting in the accuracy of the factors and weights of the analysis, we recommend the USA site consistent with the weighted score results. At the TMMC site, a 25,000 unit plant production capacity is recommended for maximum profit based on decision tree analysis. Toyota's North American operations are flourishing in the U.S., and to a lesser extent, Canada. Still, TMMC has special status as the only Lexus producer outside of Japan, and the plant has won several prestigious awards from JD Power & Associates. Mexican expansion has been timid despite significant production activities in nearby Texas; only Tacoma production and limited Toyota dealership investments are currently underway. Rumor has it that Toyota may yet capitalize on the automotive and labor market in Mexico after more Ringo Sho and Nemawashi to entice corporate leadership. We recommend Toyota's North American operations branch out initially from its Texas operations to further expand into Mexico where labor is abundant and relatively inexpensive.
References
CBCNews (2011, June). Canada outpaces U.S. in per-capita income growth: CIBC. Retrieved from http://www.cbc.ca/news/business/story/2009/06/09/per-capita-canada-us.html
Cusumano, M. A. (2011). Technology strategy and management reflections on the Toyota debacle. Communications of the ACM, 54(1), 33-35. doi:10.1145/1866739.1866750 Ellis, G. (2011). Top 10 most popular car brands. Retrieved from http://ca.autos.yahoo.com/p/659/top-10-most-popular-car-brands Four Lexus Vehicles and Canadian Lexus Plant Earn Top Awards in JD Power and Associates Initial Quality Study (2011). Retrieved August 12, 2011, from Toyota Canada Inc. Newsroom website: http://media.toyota.ca/pr/tci/en/four-lexus-vehicles-and-canadian208566.aspx Keeling, J. (2011, July). Rethinking Just-in-Time. Light & Medium Truck, 24(6), 36. Retrieved August 10, 2011, from ABI/INFORM Trade & Industry. (Document ID: 2404130131). Knode, C.S. (2011). Decision trees & grid analysis: The basics. Retrieved from http://umuc.wimba.com/launcher.cgi?room=DMBA604_9042_2011_0802_2000_38 Leggett, S. (2010). TPS Troubles. Quality Progress, 43(4), 8-9. Retrieved August 10, 2011, from ABI/INFORM Global. (Document ID: 2038888851). Liker, J. (2010, May). The way back for Toyota. Industrial Engineer, 42(5), 28-33. Retrieved August 10, 2011, from ABI/INFORM Global. (Document ID: 2063989921). Liker, J., & Morgan, J. (2011). Lean Product Development as a System: A Case Study of Body and Stamping Development at Ford. Engineering Management Journal, 23(1), 16-28. Retrieved August 10, 2011, from ABI/INFORM Global. (Document ID: 2324072871). Mind Tools. (n.d.). Grid analysis. Retrieved August 10, 2011, from http://www.mindtools.com/pages/article/newTED_03.htm Mind Tools. (n.d.). Decision trees: choosing by projecting "expected outcomes". Retrieved August 10, 2011, from http://www.mindtools.com/dectree.html Moreno, J. (2011, March). Updated Toyota statement regarding earthquake and tsunami in Japan. Retrieved from http://pressroom.toyota.com/article_display.cfm?article_id=2939 National Academy of Engineering (1982). The competitive status of the U.S. auto industry: A study of the influences of technology in determining international industrial competitive advantage. Washington D.C: The National Academies Press. 24
Nayab, N. (2011). Disadvantages to using decision trees. Retrieved August 12,
2011, from http://www.brighthub.com/office/project-management/articles/106005.aspx Standardized Work in Toyota Production System (2009, March). Retrieved from http://totalqualitymanagement.wordpress.com/2009/03/18/standardized-work-in-toyotaproduction-system/ Teresko, J. (2006). Learning from Toyota — Again. Retrieved August 8, 2011, from http://www.industryweek.com/articles/learning_from_toyota_–_again_11301.aspx The Advantages of Lean Manufacturing (n.d.). Retrieved August 8, 2011, from Lean Manufacturing website: http://www.toyotaway.com/Articles/The_Advantages_of_Lean_Manufacturing.php The Canadian Encyclopedia (2011). Automotive industry. Retrieved from http://www.thecanadianencyclopedia.com/index.cfm?PgNm=TCE&Params=A1ARTA000 0412 The Heritage Foundation and The Wall Street Journal (2011). 2011 index of economic freedom. Retrieved from http://www.heritage.org/Index/ Toyota Celebrates JD Power and Associated Platinum Plant Quality Award in Cambridge, Canada (2011). Retrieved from CNW Group Ltd. website: http://www.newswire.ca/en/releases/archive/June2011/23/c8851.html Toyota Motor Corporation (n.d.). Toyota Production System. Retrieved August 8, 2011 from Toyota.com website: http://Toyota Motor Corporation, n.d. /company/vision_philosophy/toyota_production_system/ Toyota Motor Corporation Australia (n.d.). Toyota Production System. Retrieved from Toyota.com website: http://www.toyota.com.au/about/toyota-production-system Toyota Production System Terminology (n.d.). Retrieved August 8, 2011 from University of Kentucky, College of Engineering website: http://www.lean.uky.edu/reference/terminology/ Toyota Production System Terms (n.d.). Retrieved August 8, 2011 from Toyota.com website: http://www.toyotageorgetown.com/terms.asp Toyota.com (2011). United States Operations Brochure 2011. Retrieved from http://www.toyota.com/about/our_business/our_numbers/images/USOperations BrochureFINAL_4-1-11.pdf Torres, N. (2003). The man behind Subway's success. Retrieved August 9, 2011, from http://www.entrepreneur.com/franchises/franchisezone/qanda/article58978.html 25
Velaction Continuous Improvement, LLC. (n.d.). Lean Term: Lean Heijunka.
Retrieved August 8, 2011, from Velaction Continuous Improvement website: http://www.velaction.com/lean-heijunka/ USA.org (2011). Most popular cars in the USA/bestsellers cars in the USA. Retrieved August 12, 2011, from http://www.usa.org/cars/most_popular.html US News Rankings & Reviews (2011). Lexus RX 350 – what the auto press says. Retrieved August 9, 2011 from http://usnews.rankingsandreviews.com/cars-trucks/Lexus_RX-350/ 26