Training Methods Available For a Teacher Essay Sample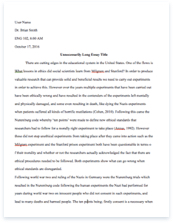 The whole doc is available only for registered users
OPEN DOC
Pages:
Word count: 1022
Category: teacher
Download Essay
A limited time offer!
Get a custom sample essay written according to your requirements urgent 3h delivery guaranteed
Order Now
Training Methods Available For a Teacher Essay Sample
In order to become a qualified ICT teacher I will need to undergo a series of training in order to increase my knowledge and skills and to gain more experience. Having training would benefit me when applying for the role of an ICT teacher as employers would want someone with training.
There are 2 types of training: on the job and off the job. On the job training is training that takes place in the workplace in my case on school premises whereas off the job training is training that takes place outside the work place such as courses.
The advantages of using on the job training are that it is compared to off the job as you are training them yourself on your own premises. It also means that the employees get to work on in their own environment which makes it more useful to them. This also means that they employees can get to know each other better. The disadvantage of on the job training is that it limits what the employee can learn because the manager, who is most likely the person training the employee, has limited knowledge they can pass on.
The advantages of off the job training are that it allows me to learn from more experienced staff. It also allows me to focus on my training and not get distracted by work or other employees. The main disadvantage is the can be expensive because a professional is hired to train the employee. Another disadvantage is that it costs the business as they have to pay for the employee to get train as well as pay their wages/salaries.
On the job Training:
The main on the job training that is available is a GTP (Graduate Teachers Programme). This training is for people wanting to become newly qualified teachers and takes place on the school environment. If I were to undergo this training I would be employed by the school to teach and earn a salary at the same time. This training will help me to get my newly qualified teacher status.
There are several other on the job training I can undergo. One of these is coaching. Coaching is when the employer and discusses and strengths and weaknesses they have. The benefit of me doing this is that it allows me to improve on my weaknesses.
Another training I can undergo is mentoring. Another more experienced teacher (preferable and ICT one) would work with me and they would pass onto their knowledge and experiences on to me. This would get me more familiar to teaching Job -shadowing is another training I can go through which is similar to mentoring but rather than another teacher working with me, I would observe them teaching and ask them any questions I may have. An example is ITT (Initial Teachers Training). This training is specific to me as a newly qualified teacher and would allow me to get familiar to a school environment as well as demonstrations on how to teach.
I can also undergo job rotation. This is when I move between jobs rather than just sticking to one so I would carry out the role of a form tutor or a supply teacher. The benefit of me doing this is it broadens my skills and experiences. I would not carry out the roles of another subject teacher such as History as I don't have the knowledge required.
ICT is changing everyday and is more commonly used in the workforce. Therefore I would need to undergo ICT training to get familiar with the new software within the school such as the interactive whiteboard and SIMMS.
INSET (In-Service Education and Training) is an example of training method I can undergo on the job. This type of training would help the teacher to develop his skills in a specific area such as teaching strategies. This course would be great for improving my innovative skills as the following graph shows that this is one of my weaker skills:
Under the Health and Safety at work act, I am required under law to undergo the Health and Safety training. This act states that the employer is responsible for the safety of the employee. In this training, I am taught the hazards of the workplace so I can avoid them, the safest and quickest route to the fire exit and safety tips.
Off the job Training:
Before applying for an ICT teacher, I would need a PGCE (Postgraduate Certificate of Education). This is a course that is taken at university and is only available to teachers who want to become a teacher. This is the most appropriate training for me as it focuses on developing my teaching skills on the subject I intend to teach.
External course is the most commonly used off the job training. This is when the employer would send me off to another institution such as a college or university in order to gain more qualifications. An example of an external course I can go to is an ICT course which is available at many institutions. The benefit of me going to external courses is that I can gain more qualification and it will improve my skills and knowledge in the specific subject i.e. ICT.
Placement is another off the job training. Placement is when I would go to another school and carry out the same roles as I would in my current school. This is similar to work experience but is directly suited to my job i.e. teaching. The benefit of me doing this is that it allows me to gain more teaching practice and techniques.
LEA (Local Education Authority) meetings and events are available to me and is held for people to further develop their skills in areas they're weak at. Another training similar to LEA is CPD (Continued Professional Development. This course would help me to improve and broaden my knowledge in key areas (such as areas I am not quite so good at) and help to develop their skills.