Treatment of the Women Throughout the History and Cultures Essay Sample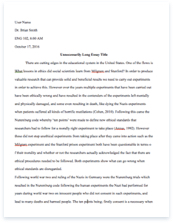 The whole doc is available only for registered users
OPEN DOC
Download Essay
A limited time offer!
Get a custom sample essay written according to your requirements urgent 3h delivery guaranteed
Order Now
Treatment of the Women Throughout the History and Cultures Essay Sample
Introduction
Religious fundamentalism has been blamed as being a crucial issue for women in this millennium (Coomaraswamy, qtd. in Samath, 1999). According to the United Nations Special Rapporteur on Violence against Women, religious fundamentalism was growing in South Asia, and the international community needed to join with the local groups to fight violence against women in all its forms. According to the author, girls and women were restricted by Taliban fundamentalists to access school and university education. In addition, western clothes and make-ups have been banned and jobs outside homes restricted except for all-female hospital wards. The women's rights to speak to men except family members, attending of social gatherings other than weddings and funerals, where men and women are segregated, have been denied according to the author.
Religious fundamentalism which is sponsored can be blamed for controlling women sexuality, fertility and mobility of women in South Asia. Religious fundamentalism ideologies may cause a country to adopt laws that not only physically or directly discriminate against women, but those that indirectly discriminate by restricting women to work in certain fields and not others because of assumed traditional roles. These restrictions have persisted in certain regions even when those sectors of economies where women were allowed to contribute collapse. Examples which can be given for this case is the high rates of women employment in unorganized sectors and in Pakistan, women employment in non-farm employment was less than 3% (1975/76 CMIU data; Amrita, n.d.), with women being concentrated in the food processing manufacturing, textiles and cotton ginning, electronics, garments and pharmaceuticals. State sponsored religious fundamentalism has been reported in South Asia, with effects towards endorsement of violence against women. The development towards withdrawal and denial of women rights in the region through legal and political influence has been indicated to have its basis in the religious fundamentalism and the support of these tendencies by governments.
The women in Iran opposed to Shah found themselves bound with resistance to their basic roles as mothers and wives with marriage age reduced to 13 years and divorce being impossible (Haleh, Ashar, 1985; qtd. in Amrita, n.d.). The legal rights of women to appeal for maintenance from their husbands were withdrawn by the Indian parliament in 1986 through adoption of the Muslim Women's Protection of the right of Divorce Bill following mass demonstrations, strikes, and petitions presented by the Muslims and Hindus in India. The demonstrations and protests were held after a Supreme Court granted a woman partly maintenance money from her husband. Therefore, adoption of this law may be seen as the legislatures' endorsement of the religious fundamentalism in a way. Another evidence of religious fundamentalism supported by the state is the efforts encouraging dictation of certain trends such as women dressing codes following declaration (or tendencies to) of certain religions as state religions or state support of growth of certain religions such as Islam in Bangladesh in 1977 (Amrita, n.d.).
Some reasons put forward for state support or sponsor of religious fundamentalism in Southeast Asia are need for unity- e.g. stressing on "Muslim" identity to avoid confrontations between provinces with their differences in Pakistan and dependence of foreign aids- e.g. the case of Bangladesh (Emajuddin Ahmed, 1983; qtd. in Amrita, n.d.). Although religious fundamentalism is not directly sponsored in India which is implied to be a secular nation, emphasis or support of communalism in the country may be viewed as religious fundamentalism because the ideas of communalism view that people have common political, economic and social interest because they share a particular common religion (Amrita, n.d.). The impact of the state-supported religious fundamentalism can be felt when laws are amended to deny women certain rights such as ownership of property, in favor of men. Support for ideologies that see women as only supposed to perform traditional roles led to the driving of women from office jobs in Iran, restoration of right to husband to bar wives from paid employment and closure of workplace nurseries (Haleh Afshar, 1985; qtd. in Amrita, n.d.).
Confucianism originated in China, while Buddhism originated in northern India in around 500 B.C with Siddhārtha Gautama and spread to Southern India then came to China in about the First Century A.D. Although the religion originated in India, it came to vanish from there and was also repressed in by Communist dictatorship in China. It could be found in Southeast Asia, Japan and Korea as late as 2007. Many Buddhist scriptures came to be written many years after the founder lived, and the religion is not a "religion of the book" like Islam or Christianity or other religions and not a religious code (Kopel, 2007).
            Confucianism is thought to have had its greatest influenced in Japanese state during the eighth and ninth centuries during reorganization of the state and during the Tokugawa period (17th and 18th centuries). Influence of the ideas of Confucianism was intense in Southeast Asia, particularly Vietnam between the fourteen and sixteenth centuries, while the ideas influenced Korea mostly after the fourteenth century (Net Industries, 2009).
            Religion in China consists of Folk Traditions, Taoist, Confucius, Shinto and Buddhism. Confucianism hierarchy lowered the status of women in China according to Best (n.d.). Confucianism has been accused as the most pervasive religion that promoted the belief in the women's "natural place" (Women in World History Curriculum, 2009). Confucius, the founder of the religion is said to place women at the lower end of the patriarchal family structure although he did not denigrate them. Confucian hierarchical precepts were the basis of the assumption that men's and women's social places and expected behaviors were distinct, and manuals like the Lessons for Girls reinforced the behaviors and social places. Lessons, which were written by the female historian Ban Zhoa (Han dynasty, ca. 45-120 C.E. ) served to advice on female behavior in China and according to Women in World History Curriculum (2009), one nugget encouraged the women to submit to others and put themselves last and others first. NeoConfucianism led to further stratification of the woman in the 960-1279 C.E and encouraged husband worship and wife fidelity brought by the Mongols.
Further, selling of unwanted daughters, insistence on window chastity, and women foot binding were encouraged by the beliefs in the NeoConfucianism. Foot binding discouraged mobility of women but was not practiced by some peasants who had to work in the fields, women in Japan, and ethnic minorities, including the Hakka and Manchu women. Women in Japan were able to find some relief through the influence of Shintoism, where women held powers as mikos, a type of shaman with divination abilities. Women would hold power and respect in ruling dynasties in Japan. However, the positive influences of Shintoism are said have weakened following the spread of Buddhism and Confucianism in Japan and the samurai culture. During the 950-1050 C.E. women were free to write in vernacular language and held relatively equal rights in marriage, education and property. Proper female behavior in NeoConfucianism held that women were supposed to obey their father when young, their husbands when married, and their sons when windowed, through the Three Obediences oft. The road to women revolution was begun when men realized that improvement of the woman's position in the society would make the possible the nation's acceptance by other technologically advanced nations.
Although educated women from China and Japan also joined the move, conservative nationalists and traditionalists in both countries championed against any change in the gender roles. Japan was transformation from a feudal shogunate to modern nation in 1868-1912 encouraged female public participation and the women's concerns were raised by the Japan's "first wave feminists" on their conscious about the subordinate nature of women. However, conservative legislatures reinforced the NeoConfucianism beliefs through the passing of laws, codes and a new constitution that would restrict the progress of the liberation for women. Some women lost the marital rights held under shogunate, political participation was restricted, and even taking of political courses denied. The meaning of the term "good wife, wise mother" which was previously implied "good" citizenship of women through acquire of education and participation in public affairs was reverted to refer to women who would sacrifice themselves to their family welfare.
There is a resonance of this ideal today according to the Women in World History Curriculum (2009). Japan's "second wave feminism" sought to oppose the challenge of unequal gender differences in the 1910s and the NeoConfucian ideology of "good wife, wise mother". A feminist magazine seito founded by Hiratsuka Haruko in 1911 and which encouraged freedom of love in marriage was later on censored and banned. An indicator that Confucianism led to the demeaning of women in China was the seeking of the personal fulfillment and substantial changes in the legal status of women which was mounted through writing by the women's May Forth Movement which was also called the New Cultural Movement (1919). They used the slogan "Down with Confucius and his disciples". Freedom of love in marriage, coeducation and bobbing of hair became the sources of familiar conflicts in China in 1920s and 1930s. White Terror (1927-1928) was against females activists who were also accused of being instigators of societal chaos and several women were rapped and murdered during the hunt for Communists by Chiang Kai-shek. Before the embodiment of changes in the Marriage Law of1950s, young people would not be allowed to choose their marriage partners and also initiation of divorce by the woman was also prohibited in China.
            There is evidence that habits that influenced the position of the woman are still present or have bee revised even in the post 1980s modernization efforts. The woman has been urged to revisit his position at home, "feminize" her physical appearance and assume her traditional roles. With 80% of women participating in politics and working away from home, the woman has been indicated as holding "Two Skies" according to Women in World History Curriculum (2009).
References and Bibliography
Amrita Chhachhi. The State, Religious Fundamentalism and Women-Trends in South Asia. Retrieved 9 April 2009 from (html) http://www.wluml.org/english/pubs/pdf/dossier4/D4-SouthAsia.pdf
Barbara Ramusack and Sharon Sievers. (1999). Women in Asia: Restoring Women to History, Bloomington: Indiana University Press
Best Ben. A Simplified History of China. Retrieved 9 April 2009 from http://www.benbest.com/history/China.html
Janet Ng and Janice Wickeri. (1997). May Fourth Women Writers: Memiors, Renditions Press
Kopel David. (2007). Self-Defense in Asian Religions. Literature Law Review. Vol. 2:79. Retrieved from http://www.davekopel.com/Religion/Self-defense-in-Asian-religions.pdf
Net Industries. (2009). Women's History – Asia – The Confucian Pattern. Retrieved 9 April 2009 from <ahref="http://science.jrank.org/pages/11650/Women-s-History-Asia-Confucian-Pattern.html">Women's History – Asia – The Confucian Pattern</a>
Ono Kazuko. (1989). Chinese Women in a Century of Revolution, 1850-1950, Stanford University Press
Reese Lyn. (March 2003). Teaching About Women in China and Japan. Social Education. NCSS
Samath Feizal. (21 August 1999). Religious Fundamentalism Threatens Women. Retrieved 9 April 2009 from http://www.hartford-hwp.com/archives/50/095.html
Sharon Sievers. (1983). Flowers in Salt: The Beginnings of Feminist Consciousness in Modern Japan, Stanford University Press
Susan Mann. (1990). Women's and Gender History in Global Perspective: East Asia, American Historical Association, Washington, D.C.