Treatment Recommendations Essay Sample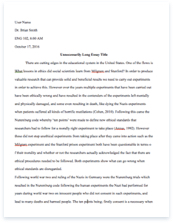 The whole doc is available only for registered users
OPEN DOC
Pages:
Word count: 2469
Category: drug
Download Essay
A limited time offer!
Get a custom sample essay written according to your requirements urgent 3h delivery guaranteed
Order Now
Treatment Recommendations Essay Sample
Rosa Lee Cunningham is a 52 year old African American women with an addiction of heroin. Rosa Lee grew up in poverty. Her mother and father were sharecroppers who had migrated to the city. Rosa Lee had eight children, six boys and two girls. She was 14 years old when she had her first born. While pregnant with her first child, Rosa Lee dropped out of school without having the ability to learn how to read. At the age of 16, Rosa got married. Because Rosa Lee didn't have a productive role model in life, she set standards of living on her own. She supported her family by selling drugs, waitressing, shoplifting, and working as a prostitute. Due to the stealing and selling of drugs, Rosa spent time in jail. She then taught her children to steal clothes so they would have clothes to wear or other items to sell to purchase food.
Postliminary, she would involve her children and grandchildren to sale drugs because she knew that police officers wouldn't go after children. But what Rosa didn't think nor expected was to put her children at high risk of getting in trouble or involved with the drug. Eventually, Rosa Lee became addicted to illegal drugs and began to share it with her children. It became so common to her and her children of sharing drugs, that the children started to rely on their mother to support the habit. Due to the case of Substance Abuse with Rosa Lee in her children sharing needles, they also began to share the disease of HIV.
SOURCES OF INFORMATION:
The information gathered is from the interviewer and the family's perspectives, other interested parties and records from the police.
PSYCHOSOCIAL HISTORY
Rosa Lee has went through many harsh obstacles, yet she is still seen as a human, someone who could have been much more and made something out herself, rather than just being the woman who died of AIDS in 1995 at age 59. Many of Rosa Lee's brothers and sisters and two of her eight children escaped the world of drugs and poverty, "She was caught up in a tragedy for which she was partially at fault, but, at the same time, one that was foreordained". Rosa Lee lived a miserable life, of being born in poverty and abused as a child. The traumatic experiences from her past led to her Substance Abuse lifestyle that will further weaken her as a women, instead of making her stronger from her experiences. During her adolescence years, she cultivated the cruel reality that African American girls were born to take care of their families, while the men were adored and able to run free. With her belief of that, she did everything at home while being watched by her extremely bitter mother, Rosetta. CURRENT STATUS:
Rosa Lee's typical day is waking up to a painful reality of poverty and hopelessness after the high has worn off. Rosa has the drive to get up and steal or sell drugs so her children are housed, given money to buy drugs and fed. Rosa Lee is currently dead. She died on July 8th, 1995. Before she passed away, Rosa was living in an apartment which three of her sons, one of her daughters and a grandchild lived in. Rosa was not employed. She received income from welfare checks, which her mother had full control over, so she began prostituting and selling drugs to provide for her eight children. INDICATORS OF USE/ABUSE/DEPENDENCY:
Attitude and Behavior: Rosa Lee seems to be more functional and motivated when she is under the influence of heroin. When she is not Rosa Lee's body responses to drug use withdrawal are usually associated to how she takes medication to control the related symptoms that the use of dangerous drugs have caused. Since her reading skills are inadequate, she is not accurate in following the dosage of the prescribed medication, causing her body to react with seizures, memory lapses, and other symptoms. Social functioning: Rosa Lee seems more social when she is out making money prostituting or selling drugs. She doesn't seem that interested in getting to know people, as much as she is interested in keeping money to survive and supporting her habit. Due to the lack of love Rosa received from her mother she had no motivation to stop what she was doing and change for the better. Occupational functioning: Rosa isn't currently employed. She did work as a waitress but she mostly prostituted and sold drugs to bring in the income for her family. For Rosa Lee not having much education she doesn't have any job perspectives. Due to the lack of knowing how to read, Rosa made money the best way she could.
Financial Aspects: Rosa Lee has no real job. But she makes money with drug dealing and being a prostitute. With aspects of fulfilling her primary obligations, Rosa Lee has been commonly late in paying her bills. As a result, many services get cut off. Rosa is unable to manage her finances due to her addiction. She doesn't know how to prioritize what's important and what not. Rosa Lee puts her habit of hers and her children's drug supply in front of the needs of food for everyone, or money for the utilities. "All thought the procedure(s) by which heroin addicts obtain their money has changed over the years, the process has not: Heroin addicts must still feed their "habit" every day" (Doweiko, 2012, p. 159).
Legal history of: Rosa has been arrested many times for stealing, prostituting and selling marijuana. Once she was arrested for possession of 60 bags of marijuana and had to serve six months in jail.
Health history of: Rosa Lee has been put into many health situations since dealing with her addiction to heroin. Having aids and dealing with the threats of drug dealers, and having seizures due to taking too much medication.
Spiritual History of: No indications of Rosa's spiritual life. DIAGNOSTIC IMPRESSION:
It has been found that Rosa Lee has a long term addiction to heroin. "Heroin addiction does not develop instantly but will usually require approximately 2 years between initiation of heroin use and and the time the individual has become physically independent on it" (Doweiko, 2012, p. 164). So far there hasn't been an indication of any evidence of any kind of drug this far. However, because Rosa Lee has been exposed to selling drugs and have her children who are into heroin and cocaine, it is highly assumed that Rosa may have consumed cocaine at one point in her life. There is also no evidence of Rosa abusing any other particular drug in her lifetime. This evaluation does not exempt that Rosa Lee may have not consumed alcohol or marijuana, it just states that it isn't as worse as her heroin addiction. When consuming this drug, Ms. Rosa Lee show symptoms of a long term heroin addict, such as cold flashes, and restlessness. Due to the fact she injects herself every day, tit has been shown that she presents a number of developmental disorders.
Since Rosa was a child, she was a slow learner and her low literacy skills has lead her to many problems in her life. Such as, misreading prescribed medications. Rosa Lee also shows some obsessive-compulsive behaviors when she is stressed. She cleans her house in earnest to the point that it is spotless. Furthermore, Rosa Lee had various psychosocial stressors in her life. The eminence of her mother's role in her life has greatly affected the way Rosa character and personality is. Rosa Lee was afraid of her exploitative and cruel mother who forced her to do things against her will. She was physically and verbally abused. As a result, Rosa craved for her love and affection. Rosa Lee felt smothered of her mother, because she controlled her life. She felt as though getting pregnant and getting married young would give her a chance to break loose. Although Rosa did leave her mothers, she ended up right back at home with her because her husband was abusive. Having to be the money maker of the family pushed Rosa Lee to work harder at acquiring income to support them all. Resulting in Rosa to feel unappreciated, she felt unappreciated and taken advantage of, but she continued to do strive to support her family.
As Rosa continued to take care of her children as they got older, it began to become a bigger psychosocial stressor on her. As they began to become much more dependent on her to give to them. They even began to expect more from her when they got in trouble with the law. They expected there mother to save them from the consequences of breaking the law. Such as, bailing them out of jail to taking their place of their misdemeanors. Rosa Lee's children grew up to be that way because she refused to treat them how her mother treated her. She refused to physically beat them or verbally assault them. Her idea of maternal love is just to give and to give, and her selfish children insisted on letting her continue to do it so they could continue to take and take, giving their mother nothing in return. Another stressor is the environment Rosa lives in. If she were to try to stop doing heroin she couldn't because it eggs on her continuous engagement in the drug trade. If she or any of her children is guilty of crossing anyone, the consequences would be to harm them. RECOMMENDATIONS:
In coming up with an appropriate treatment plan for Rosa Lee, many factors are to be considered. Like in most cases, treatment needs to combine psychological therapy with the treatment of the physical addiction. Before any treatment plan is attempted, Rosa Lee's intrinsic desire to be reformed must be expressed. The decision to be healed of her addiction should help her commit to being cooperative with the concrete vision that she will indeed be free from the bondage of the addiction. To cleanse her body of the chemicals she has ingested, Rosa Lee needs to go through medical detoxification. "While detoxification alone is rarely sufficient to help addicts achieve long-term abstinence, for some individuals it is a strongly indicated precursor to effective drug addiction treatment." (National Institute on Drug Abuse, n.d.). As it is, Rosa Lee has been taking her doses of Methadone, a drug that helps her in stabilizing her life and reducing her illicit drug use.
Her treatment plan must likewise include treatment and management of her HIV positive state to prevent it from becoming a full-blast AIDS disease. Priority should be helping Rosa Lee regain her physical vigor and feisty spirit. Since her immediate environment is one factor that encourages her addiction, she must be moved to a less threatening environment that promotes well-being. Being in a stress-free environment greatly helps in achieving peace. A conducive environment also facilitates deep introspection and coming up with an action plan to pursue a drug-free and positive lifestyle after the treatment process. The most important element in the treatment plan is Rosa Lee's psychological therapy. Managing the effects of her trauma from childhood entails getting to the root of it. Therapy must include her revisiting of the past and steps to achieve closure from the psychological pain inflicted by her overpowering mother and the prejudicial socio-cultural environment that exploited her dignity as a person. Family therapy is essential in the healing of Rosa Lee's affliction.
"The third stage of rehabilitation is that active treatment, during this time the staff will teach the client coping skills, to help him or her find sources of support of family to help him or her manage his or her illness" (Doweiko, 2012, p. 357). Since the dysfunctional members are likewise culprits in encouraging Rosa Lee's addiction, they themselves must undergo psychological therapy not only for her but also for their own good. In doing so, an empowered sense of self and responsibility is hoped to be developed. Psychotherapy will help in treating Rosa Lee's emotional wounds. The need to understand why things turned out the way they are should be met so the individual is equipped to resolve the situation and move on. One example is for Rosa Lee to understand the dynamics she shared with her mother and how she should manage the strong feelings her painful relationship still brings about. Being able to manage it will help her in dealing with stressful situations associated with her mother. Rosa Lee's strengths should be used in the treatment plan.
Among these are her deep love for her family and her creative and critical thinking abilities. In helping her understand how her dysfunctional behavior puts her children and grandchildren at risk may help her shift her paradigm on love. "Encouraging her to be strong in denying her children the whims which may bring them harm by using "tough love" may be effective in likewise strengthening her character" (Dash, 1997).She may find it very difficult at first considering giving in to all her children's whims has been her parenting style for a long time and her way of showing love for them, but eventually, as she reaps the fruits of her sacrifice, she will eventually be accustomed to it. Her creative and critical thinking skills may be called upon whenever she feels tempted to relapse into her addiction after treatment. She may find ways and means to avoid anything that would trigger her urges to take illicit drugs like old co-drug dependent friends, drug dealers, or even places she associates with her former life in the drug trade.
In the book, there were frequent references to the power of religion over her. This may mean that Rosa Lee finds it important. Being exposed to the teachings of her chosen religion may help her acquire proper understanding of moral values. It would be ideal if religion and spirituality would be her substitute for the ultimate "high" she is perennially in search of. Even at a late age, she may still be given tutorial sessions on developing literacy skills. Not only will she learn to read and write, but her confidence and self-esteem will be improved, giving her hope for a better future. Vocational rehabilitation such as engaging in arts and crafts, gardening, cooking, etc. will not only keep her mind off her addiction but also equip her with more skills. Such skills will help her find appropriate, decent and gainful employment to start her off in her reformed life.
References
Dash, Leon. Rosa Lee: A mother and her family in urban America (1996) Basic Books. New York, NY Doweiko, Harold E. Concepts of Chemical Dependency. Eighth Edition (20120 Brooks/ Cole. Belmint, CA