Truman Reaction Paper Essay Sample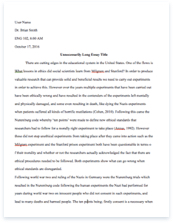 The whole doc is available only for registered users
OPEN DOC
Download Essay
Get Full Essay
Get access to this section to get all the help you need with your essay and educational goals.
Get Access
Truman Reaction Paper Essay Sample
In life, we frequently switch from one attitude to another and mix them together. In watching television, we may easily become absorbed in the program. Then something will jar us out of our spell, such as a breakdown in the illusion or the expression of ideas we disagree with. As a result, we will suddenly distance ourselves from what we are watching, and perhaps ridicule it or suspect the intentions of its creators. The critics of media have been trying to get us to cultivate this second attitude, so we will see through the falsehood we are offered on a daily basis. The movie depicts just such a change in attitude as a transformation in the way Truman sees his surroundings and as a physical journey. First, Truman is absorbed by his stage-set world. He is convinced it is real and it occupies his view. Then, as a result of flaws in the seamlessness of the illusion, he begins to question it. He develops a healthy paranoia — are they watching him; can he know what is authentic?
As he makes his escape, and the producer of the show blocks him at every turn, that is the creators of the movie telling us that we too have to take a journey — of mind — and distance ourselves from this media landscape, if we want to secure our freedom. The movie wants to play the role of just such a critic for us. It tells us to look around and break the spell that keeps us believing in the media-fabricated illusions of popular culture. Of course, the movie is also a form of media. As it conveys these ideas to us in dramatic form, we are absorbed by its own take on the meaning of things. Like Truman, we are manipulated and entertained by its lifelike simulations and story line.
We identify with Truman and psychologically become a part of his world. So the movie uses the manipulations of media in order to manipulate us into seeing through the manipulations of media. The movie isn't only a satire of television and other forms of media. It aims many of its most pointed barbs at us, the audience. After all, as we watch the characters hanging on Truman's every expression so they can feel something, that is us we see depicted on the screen. We are the one's who make this system possible, the movie tells us.
The willingness of the audience to exploit Truman so it can enjoy his life as entertainment is our own willingness to exploit an endless parade of human victims of news and reality programming because they have the misfortune to be part of some "newsworthy" event. And both the audience and Truman portray our willingness to experience an easier and more exciting substitute for life, which is what fuels the media machine. So Truman and the audience depict us. We're the villains and victims and hero of The Truman Show. And, ultimately, the only illusions we have to escape are the ones we create ourselves.