Turabian Wizard Essay Sample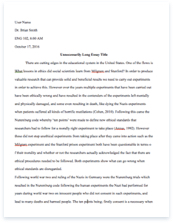 The whole doc is available only for registered users
OPEN DOC
Download Essay
Get Full Essay
Get access to this section to get all the help you need with your essay and educational goals.
Get Access
Turabian Wizard Essay Sample
There isn't a person alive who doesn't experience some sense of fear at some point in their lives; fear of the dark, being alone, fear of rejection, being misunderstood, uncertainty, not knowing the future, indecisiveness, sickness, or death. The list could go on and on. Dr. Newcomer tells the story of a psychology class that questioned 500 people about their fears. Those 500 people listed nearly 7,000 different fears. 1 People are filled with fear and anxiety.
Everyone deals with fear. Even David the mighty king dealt fear and anxiety. I Samuel 21:10-15 says, And David arose and fled that day for fear of Saul, and went to Achish the king of Gath. And the servants of Achish said unto him, Is not this David the king of the land? did they not sing one to another of him in dances, saying, Saul hath slain his thousands, and David his ten thousands? And David laid up these words in his heart, and was sore afraid of Achish the king of Gath. And he changed his behaviour before them, and feigned himself mad in their hands, and scrabbled on the doors of the gate, and let his spittle fall down upon his beard. Then said Achish unto his servants, Lo, ye see the man is mad: wherefore then have ye brought him to me? Have I need of mad men, that ye have brought this fellow to play the mad man in my presence? shall this fellow come into my house?
David was afraid of Saul and running for his life. Then because he feared Achish the King, he acted like a madman. David trusted in God for the defeat of Goliath and the ten thousands he slain but now he runs and acts mad out of fear. Just like David fear can engulf us and we soon are so caught up in our fears that we loose sight of God and His great love and power in our lives.
Cause of Fear
Christian's fear because they have a warped view of the character of God. They fail to fully comprehend the finished work Christ did on the cross to the throne of Heaven. They fail to see God's sovereign hand at work involved in every aspect of our lives. There is a lack of understanding of power of God. They fail to see God's omnipotence. We naturally in our fleshly nature view God wrong. Therefore we must constantly be reminded of His character. This is exactly what happened with the disciples. They struggled with a fear and a wrong understanding of Christ. In Matthew 8 we read,
And the same day, when the even was come, he saith unto them, Let us pass over unto the other side. And when they had sent away the multitude, they took him even as he was in the ship. And there were also with him other little ships. And there arose a great storm of wind, and the waves beat into the ship, so that it was now full. And he was in the hinder part of the ship, asleep on a pillow: and they awake him, and say unto him, Master, carest thou not that we perish? And he arose, and rebuked the wind, and said unto the sea, Peace, be still. And the wind ceased, and there was a great calm. And he said unto them, Why are ye so fearful? how is it that ye have no faith? And they feared exceedingly, and said one to another, What manner of man is this, that even the wind and the sea obey him?
What is the cause of fear? That is exactly what Christ asked the disciples Jesus asks them why they were afraid. It would seem that the answer would be obvious. They were on the verge of certain death, they saw there lives coming to an end, yet Jesus was leading them to an understanding of Himself to develop a fear not of circumstance, but a complete awe and fear of God. At that point Jesus then asked them why they didn't see who He was and why their faith was still so weak. The disciples had been following Jesus for a while now, they had seen great miracles and they believed he was the promised Messiah, yet just as many of us do today they failed to fully understand His character. We so easily are deceived and see things from our own perspective and we forget the greatness of our God. During every part of that storm there was nothing out of His Sovereign hand. We are no different than those disciples.
The ultimate cause of fear, worry, and anxiety is a poor image of God. A failure to see God's sovereign hand in every part of life. We see our lives and the things going on around us through our warped perception. The battle is in our minds and how we perceive our circumstances and stitualtion going on around us. Therefore the cause of fear is not our circumstance, but our perception.
Consequences of Fear
Fear can be immobilizing. It drives you to act in ways that produce anxiety and disillusionment. A person who is driven by fear is like Saul in the Old Testament. Throughout Saul's life he is continually characterized by fear and impatience. There are many example of Saul's fear. In I Samuel 18:6-16 Saul was afraid of David. The hearts of the people were turning to David and Saul could see that he was losing control and that David not Jonathan would be the king after him. Saul decides to send David out to battle hoping the Philistines would kill him. The plan did not work. David won many battles and the people loved him more. Saul was afraid that he would loose his kingdom to David, so he spent the remaining time as king running around the country chasing David and trying to kill him. He even wipes out a whole family of priests in his attempt to get at David. His fear drove him to obsession and he could not even enjoy being king because of the fear that overtook him.
Fear can affect many different areas of our lives. It can be damaging to your health. It also can cause the object obsession in your mind that consumes your thoughts as in the case of Saul. Fear can cause the productivity of your life to be disrupted, also demonstrated by Saul's life. The way you treat others will be negatively affected as a result of fear. Jonah dealt with fear that caused him to reject a whole nation of people, until he gained the right perspective of God's love. Fear also affects the way we trust people, but ultimately, fear steals your ability to trust God completely, as in the case of the disciples.
Cure of Fear
Jesus teaches us the greatest cure for anxity, worry, and fear. In Matthew 6 Jesus preaches that we should live fearfully. In 6:25 Jesus tells us that we should not be worried about our life because the same God that created us and can be trusted with the details of our lives. Christ counsels that worrying does more harm than good since worrying cannot change our circumstances. Instead of worrying, Christ tells us not to focus on the circumstance but to have the proper perspective.
In 6:28-30 Jesus says that God loves us more than we can ever imagine and he will not ignore us, he will take care of us. In 6:31-32 Jesus tell us that fear is ultimately a lack of faith and understanding of who God is. We are shown the big picture in 6:33 where Jesus tells us that we should instead pursue His kingdom and purposes and to not let worry and fear keep us from that purpose. In 6:34 we are told to live one day at a time to avoid being consumed by fear. What powerful counsel from Christ. Jesus gets our focus off the circumstances around us and so graciously corrects our perception God.
The source from which we must draw from to gain victory over fear is God's Word and the Holy Spirit. II Timothy 1:7 tells us, "For God hath not given us the spirit of fear; but of power, and of love, and of a sound mind." The Spirit to which Paul is referring to is that is given to us is that of Galatians 5. When we were saved the Holy Spirit indwelt within us and as Paul says, we now "live by the Spirit," he next tells us to "Then walk in the Spirit." We are no longer to walk in the flesh, but in the Spirit. Paul tells us in Timothy that we are not to fear, but instead we are to walk in the Spirit who will empower us to produce fruit of love and self-control through Him.
The stronghold of fear must be displaced with the stronghold of God. David speaks of this in Psalm 27:1. He says, "The LORD is my light and my salvation; whom shall I fear? The LORD is the stronghold of my life; of whom shall I be afraid?" Fear is to be conquered by focusing on the Lord who so powerfully liberated us. If we want to be liberated from fear, we must like David remember the power of our Salvation and make God a stronghold in our lives. Only then can we say with confidence, "Whom shall I be afraid?"
In order to conquer fear we must possess a proper view of God's love and control. As Jesus prepared the disciples for ministry without Him, he encourages them to have a proper view of God and His control over all. Matthew 10:28-31 says,
28And fear not them which kill the body, but are not able to kill the soul: but rather fear him which is able to destroy both soul and body in hell. 29Are not two sparrows sold for a farthing? and one of them shall not fall on the ground without your Father. 30But the very hairs of your head are all numbered. 31Fear ye not therefore, ye are of more value than many sparrows.
God is aware and in control of everything that happens, even to birds, you are certainly more valuable that the birds. You are so loved by God that He sent His Son to die for you. Therefore there is no reason to fear difficult situations or trials. There is nothing that can change God's love and control in every area of your life. The only option then is to rest and abide in God's love completely, trusting His Word.
Another part of the cure to our entrapment of fear is to poor our hearts out to God by casting our cares on him through prayer. Philippians 4:6-7 says, "Be careful for nothing; but in every thing by prayer and supplication with thanksgiving let your requests be made known unto God. And the peace of God, which passeth all understanding, shall keep your hearts and minds through Christ Jesus." There is nothing that we should be anxious about in our lives. We should instead fall on our face before God and lay our worries at His feet "Casting all of our cares on Him" (I Peter 5:7). Only then will God's peace come upon you. True peace is the opposite of fear. God promises that He will grant us peace and he will keep your heart and your mind in Christ Jesus. A promise that allows us to confidently rest in His Sovereign arms as we stand in awe of His loving kindness.