Tyson's Life Essay Sample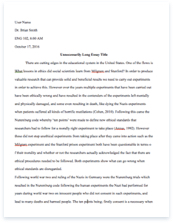 The whole doc is available only for registered users
OPEN DOC
Download Essay
Get Full Essay
Get access to this section to get all the help you need with your essay and educational goals.
Get Access
Tyson's Life Essay Sample
On the seventh day, the 28th, Tyson was standing on the edge of an elevated building, wondering how he had ever gotten himself into this situation. The timid night was upon him. Blood trickled from his forehead, eyes worn out of their sockets and his stomach fit to burst. Falling seemed like the single sane thing to do having been wrongly convicted of homicide at his college. Tyson's existence had been a torment ever since he moved to his new school roughly one week back. He takes one more step forward. He leans over to take a look but a blurred, obscured picture is all he can make out. Cars racing across the roads at soaring pace can be heard but that's all. Tyson had never been so terrified in his life until this moment. His legs and hands quiver in trepidation as he takes one more step forward.
The morning of the 21st began. Tyson woke up with the sunshine gleaming directly in his eyes. He strode his legs outside the bed, yawning, and with not the happiest expression on his face. It was 6 am, and the first day of the week had come. Today was the day that Tyson and his parents moved to a new house, in a new area, and more importantly, Tyson moved to a new school. Tyson himself was about average height for a seventeen-year-old, Jamaican-brought up, a bit shy and was a great student.
His work was always on time and always high standard but unfortunately Mr and Mrs Whitton was not earning enough to stay in their current house, so they were forced to sell and move. The new area was not much of their liking. The sidewalks were jam-packed with litter and the roads were extremely uneven and unsafe. More importantly to the Whitton family was the neighbourhood. The residence seemed very unfriendly of the family, and whenever they were in the car going through the streets, people often more than not turned their head and stared at Tyson and his parents.
Tyson had a sense that it was because of his ethical background and deeply hoped the people at new school would not act in this way. The fifth day of the week was Tyson's first day at school. That day Tyson was not so much excited about going to school as he was scared and nervous about what the teaches and students might think of him. The minute he got to school he had the unfriendly feeling surrounding him. He dreaded entering his classroom and facing the pupils in his class, but did eventually with his heart pumping faster and faster. The enormous sense of anxiety came upon him.
As soon as he entered everyone's head turned, including the teachers. The whole day for Tyson was unpleasant. Only one person seemed to like him. His name was Jake. No one else in the whole school even talked to him. As soon as the school bell went, Tyson packed his bags and left immediately. While he was walking home, one or so kilometres from school, Tyson suddenly stopped and turned around. He had a deep feeling that he was being followed. All of a sudden, as Tyson turned back, a swollen mass of people teemed forwards like a seething colony of crawling ants. Every member from his class had come for him.
Tyson's eyes bulged out in apprehension. The ring leader stepped forward. "Look you, this is our town and our school and not one of you niggers are gonna mess it up for us. So my advice is, you better get out of here before something really bad comes your way, you got that? " Stunned, Tyson stood frozen unable to speak. The leader became livid and struck a blow to Tyson's stomach. He fell to the ground in throbbing pain and did not get up for a while later. The next morning Tyson lied to his mum, saying that he had injured his leg at school, in order to stay home.
He could not even face going to school knowing something terrible may happen to him. The next day, the final day of the week, Tyson's mum examined him to see if he was lying. Finding out that he was, Mrs Whitton sent Tyson to school even though Tyson was begging not to go in. He could do nothing. He had to go. Today was going to be the longest day of Tyson's life. School was luckily not as bad as he made it out to be. No one said anything to him all day. To Tyson this was good but still, Tyson was as sad as ever.
Tyson stayed back after school to do some extra revision for a test and just to make sure nothing bad happened on the way home. When he had finally finished his revision he left school. It was pitch black outside which still added to the fear of walking home alone. Tyson walked briskly with tensed shoulders, looking left and right every other second for any one trying to follow him. Unexpectedly, a shadow overpowered Tyson and he was grabbed from his jacket and pulled him into an alley. It was extremely dark and damp and a stench could be smelled from a mile away.
Tyson couldn't make out exactly who it was but quickly assumed it was the boys from school. He swallowed more intensely than he had ever done before. A voice was heard. "I told you never to come back. Now you're going to pay. " The voice was deep and vivid. It never leave Tyson's mind. It was them. Tyson rapidly turn and attempted to run but before he could he head a colossal thump. He was hit, hard. He fell to the ground head first grazing his face. He laid there as more and more people came to batter him more. He could not move. All he could do was hope.
Around the corner of the alley, an obscure figure was in the distant watching what was happening. It was Jake, Tyson's only friend. He was so heated by hat was happening he decided to put his fears beside and step forward. Once he did, he regretted it. The ring leader looked up, recognised the face and knew that he could have no one know what he had done. So he left Tyson alone and ran towards Jake. It was so murky that Jake could not really see what was coming towards him. All he could hear were faint footsteps, which were becoming louder and clearer. Abruptly, the leader jump on Jake and started pounding at him with fury.
To make sure the leader of the group was not found out, he quickly thought of a cunning plan to frame Tyson as the one who beat up Jake. He walked back to Tyson, leaned down and looked for something which would be distinguished to Tyson. There was a ring on Tyson's left hand. The group leader screwed it off Tyson's hand with the sleeve of his jumper and placed it near Jakes body. The police was heard faintly in the background. The boys ran off but Tyson was unable to. By the time Tyson was able to just get on his feet, the police were already there. Tyson was taken to the police station and the incident was investigated.
He later realised that Jake was dead and he was a prime suspect. He could not comprehend what had happened. As this was happening, a scientist came into the room and explained that a ring was found near Jakes body and the forensic labs have identified it as Tyson's. He was taken straight to prison but reluctant to go. He screamed and shouted trying to explain how it must have been the boys from the school. But no one believed him. Not even his own mother. The evidence was enough. He was thrown in jail. For Tyson it was just too much. All this has happened in the space of just a week.
From the 21st to the 28th his life has been a living hell. Tyson couldn't take any more of it. As the guards were taking him to the prison, Tyson suddenly broke out and ran as fast as he could, up the stairs and onto the roof. He walks to the edge of the building, knowing this might be the last minutes of his life. As he gets to the edge, he leans forward, seeing what is below. He can not see much as his eyes are heavily battered, but the sound of fast cars let him know it's not going to be a pretty ride. He closes his eyes. As he does, he hears someone behind him. She steps forward.