Unbanization Case Study Essay Sample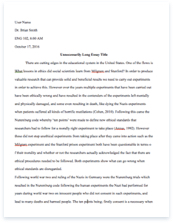 The whole doc is available only for registered users
OPEN DOC
Download Essay
A limited time offer!
Get a custom sample essay written according to your requirements urgent 3h delivery guaranteed
Order Now
Unbanization Case Study Essay Sample
With the development of the society, urbanization has become an international trend in which more and more people seek better opportunities in the cities. Currently, urbanization produces benefits such as economic progress, as well as better employment and business opportunities. However, it also brings social problems to the society which often leads to inequality in the access of resources and amenities. The term, "urbanization" can be defined as the expansion of cities or towns in country areas alongside the immigration of rural dwellers into urban areas. Furthermore, "equality" means a fair and impartial society where everyone is treated based on the same standard. Therefore, this essay will argue that urbanization does not lead to an equitable society. Firstly, housing problem caused by urbanization. Secondly, urbanization process leads to inequality of life quality. Urbanization leads to the housing problem of inequality. In addition, not everyone can have a place to live.
Firstly, urbanization process increases the population density in the cities, which leads to high demand on houses, but the land of housing is limited. According to Buhuag & Urdal (2013, p.2), urbanization stimulates more and more people to leave the rural areas and go to big cities to find jobs, and there is not much outflow of population from big cities. Therefore, the population density in big cities increases significantly during urbanization. Because the land available for building residential properties is limited, large cities may be unable to house these new immigrants. This leads to inequality between people who have places to live and who do not. From this evidence, it is apparent that people have to accept different living conditions. And urbanization leads to scarce land resources. Moreover, the cities have no enough land for building houses.
Furthermore, scarce land is very expansive, because buying land has to pay high ground rent. Therefore, a few housing lead to supply and demand are inequitable in trade of houses. So, many low-income people can not pay for a house for their living. Secondly, urbanization leads to higher population so that the housing prices are escalating, which makes it impossible for households with low income levels to afford houses. According to Bowden(2007, p.9), In China, economy and urbanization grow rapidly. The government has been building 600 new cities, and building more houses in these cities. Because there are 300 million people want to go to cities from rural areas. From this evidence, urbanization leads to population of cities increases. In addition, high population will result in the stress of housing issues.
The housing market will be in short supply, then housing prices rise. However, many citizens come from rural area, and they have on enough ability to pay the high housing prices. So, it is apparent that urbanization does not lead to equal opportunities for housing. In conclusion, urbanization makes it hard for many people to live in big cities due to limited land to build residential properties and higher population leads to the stress of housing demand. In addition, high housing prices make it hard for poor people to afford houses. Secondly, urbanization leads to inequality of people's life quality in the big cities. In addition, different classes are great differences of the life quality. The first reason is that results in different life qualities are that the mechanism of value distribution in the society is not fair. According to Salehi, Enayati & Javadi (2014, p.246), in the modern societies, jobs that involve a lot of intellectual capacity and added value are more likely to generate high economic benefits.
On the other hand, people who work on jobs that with low value added are compensated with much lower salaries. On one hand, many rich people have cars to drive and they can realize their dreams relatively easily. On the other hand, there are still a lot of hard working people who can barely afford enough food to eat. Based on this evidence, urbanization leads to inequitable in social-wealth distribution. Unfair distribution of social resources is unbalanced for different classes, Some people have enough money or resources to get what they want. But some citizens just solve the problem of food and shelter. Furthermore, distribution of inequality affects the quality of people's life seriously. So, urbanization does not lead to equal life qualities because the unequal value distribution mechanism in the society. Another reason is urbanization cannot lead to an equitable society without a sophisticated welfare system in big cities.
According to Baranauskiene (2012, p.15), in many large cities in the world economic prosperity and poverty co-exist, as rich people enjoy the best healthcare system, education opportunities, and use the best facilities. In the meantime, people would be unemployed may have to sleep on the street and cannot find shelters, let alone other luxuries that rich people consume. From this evidence, urbanization creates the welfare of inequality. Welfare is the guarantee of people's life quality. However, the rich can enjoy good social welfares, but poor people just stand exposure deprivation and hunger. It is apparent that urbanization does not guarantee equal life qualities without a proper welfare system that takes care of poor people's basic needs. In conclusion, the urbanization process leads to different levels of life quality enjoyed by different people. Because, unfair distribution of social resources and the inequality of welfare lead to inequality of people's life quality . In conclusion, urbanization leads to higher demand on residential properties but the limited land in large cities does not meet the demand.
Also, urbanization results in higher housing prices so that people with lower income levels cannot afford houses in big cities. Furthermore, urbanization does not lead to equal life qualities because the unequal value distribution mechanism for different jobs and the lack of proper welfare systems make it impossible for different people to enjoy similar levels of life quality. As a result, urbanization does not lead to an equitable society due to inequality in housing and inequality in life quality. In order to mitigate the negative impacts of urbanization, it is recommended that the society builds low cost houses for people with low income levels and establishes good social welfare systems to satisfy the basic needs of different class of people.