Understanding employment responsibility and rights Essay Sample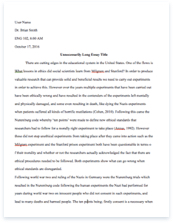 The whole doc is available only for registered users
OPEN DOC
Download Essay
A limited time offer!
Get a custom sample essay written according to your requirements urgent 3h delivery guaranteed
Order Now
Understanding employment responsibility and rights Essay Sample
1.1 Aspects of employment covered by law
Minimum wage
Hours worked (Working time directive (WTD))
Discrimination
Health and safety
Holiday entitlements
Redundancy and dismissal
Training
Disciplinary procedures
Union rights
1.2 Main features of current employment legislation
Employment rights
Equality and discrimination
Health and safety
1.3 Outline why legislation relating to employment exists
UK employment law exists to protect employees and workers against circumstances they may face in their working lives – these are known as 'statutory rights'. Although the protection available to employees and workers differs (generally, employees have greater rights than workers), every person who works for an employer is protected from discrimination in the workplace, has the right to receive the national minimum wage, and to work no more than 48 hours per week unless they wish to. These employee rights apply regardless of whether the employee or worker is temporary, fixed-term or permanent, or how long they have worked for the employer. 1.4 Identify sources and types of information and advice available in relation to employment rights and responsibilities Sources of information and advice can be accessed in person or on-line: Personnel manager
Line Manager
ACAS – Advisory, conciliation and arbitration service
CAB – Citizens advice bureau
Trade unions
Types of information and advice could include:
Equality
Sex discrimination
Race relations
Disability discrimination
National minimum wage act
Employment rights
Health and safety at work
Data protection
Harassment
2.1 Describe the terms and conditions of own contract of employment The main terms and conditions of my contract of employment cover:
Job title
Place of work
Hours of work
Remuneration
Annual and public holidays
Sickness pay and conditions
Grievance procedures
Notice of termination by employer
Notice of termination by employee
Pension and pension scheme
My contract of employment outlines what my employer expects of me and what I can expect from my employer. 2.2 Describe the information shown on my own pay statement
My payslip contains information about my employer and myself; name and employee number; National insurance number and my tax code. Regarding my wages it shows how much basic pay I have earned plus any allowances. It also lists my deductions; tax and National Insurance. Totals are shown for my taxable pay, non-taxable pay and deductions to give my net pay. In addition to the month's information the totals for the current tax year are given.
The National Insurance contribution by my employer is also shown. 2.3 Describe the procedures to follow in event of a grievance If an employee has a grievance that cannot be resolved by their line manager then they should notify the company manager in writing. The manager should then try to resolve the matter within three working days. If the employee is still not satisfied with the outcome of the grievance then they should put it in writing to the companies registered provider who will notify management of the problem and arrange a meeting within five working days. 2.4 Identify the information that must be kept up to date with employer
2.5 Explain agreed ways of working with an employer
Upon commencing employment you are required to read, and sign to say you understand, the company's policies. These policies cover a diverse range of subjects relating to your employment and behaviour in the workplace. Included will be such things as data protection, grievance procedures, discrimination, equality and diversity and health and safety. 3.1 Explain how own role fits within the delivery of the service provider There are two ways the role I fulfil fits within the delivery of the service provider I work for. The first is my basic caring work with the clients; ensuring that their basic needs are met e.g. Assistance with washing, dressing, prompting or giving medication, ensuring they have a clean and safe environment etc. At all times I need to be aware that their social needs are met and they are treated according to all company policies e.g. Equality and diversity etc.
In my role as senior carer I support my line manager and the carers who work for the provider. This will involve me doing service user assessments and reviews. Covering for unanticipated staff absences. To take on new service users until they can be fitted into an established round. To monitor staff performance within the work environment and ensure that service provider policies are adhered to e.g. safe handling techniques, safeguarding, safe handling of medications etc. I am responsible for work shadowing new members of staff or existing members in new situations. I am required to do supervising spot checks (unannounced) and record the outcomes on forms and report to management. I provide support to the care workers and advise on issues relating to any service users they have. I identify any training shortcomings and give appropriate direction. 3.2 Explain the effect of own role on service provision.
The effect of my own role should be that; Service users get high quality provided care. The service user's rights are identified and provided for. Their care needs are correctly assessed and reviewed on a regular basis. That staff are aware of a service users needs and the type or amount of care they need. That staff are trained correctly and any shortfalls are identified. That staff feel supported. That the service provider delivers as good a service as possible. 3.3 Describe how own role links to the wider sector
My role often involves me liaising with other health care professionals. I keep the appropriate agency or person informed of any changes in a service users needs or condition. This puts me in contact with GP's, district nurses, mental health workers, occupational health therapists, physiotherapists, dieticians, emergency services etc. 3.4 Describe the main roles and responsibilities of representative bodies that influence the wider sector There are many bodies that influence social care in the UK:
Government ministers decide policy and set overall budgets. Secretary of State for health; ultimate responsibility for ensuring whole system works to meet the needs of the public Department of health; fund health and care. Make health and social care bodies deliver services according to national priorities. Sets objectives and budgets. Local government; provide social services and commission care packages. Clinical commissioning groups; plan and buy services for local community. Health and wellbeing boards; ensure services work together to meet a communities needs. Local authorities; responsible to protect and improve health and wellbeing. Care quality commission; Regulates health and social care services. Responsible for making sure essential standards of care are met and enforcement of standards. Healthwatch; independent consumer champion. To take local experiences of care and use them to influence national policy. 4.1 Explore different types of occupational opportunities
There are many varied opportunities within adult social care. The most obvious is moving higher up the management ladder. Specialisations are also an option e.g. Dementia, learning difficulties, stroke, palliative or perhaps diabetes. With additional qualifications career paths in nursing, occupational therapy, social worker of social care procurement would also be available. 4.2 Identify sources of information related to a chosen career pathway. Company management
Skills for care
NHS careers
Direct.gov/careers
Colleges
Training organisations
Colleagues
4.3 Identify next steps in own career pathway
Complete level 3 diploma course. Gain trainee manager position. 5.1 Identify occasions where the public have raised concerns within the sector Recent occasions where the public have raised concerns are the murders surrounding the GP Harold Shipman, who has been accredited with murdering 250 of his patients, and the abuse at Winterbourne View care home in Bristol, where patients were effectively tortured by staff. 5.2 Outline different viewpoints around an issue of public concern relevant to the sector The media storm surrounding the Winterbourne revelations was one of shock and outrage. It was revealed that the abuse had been reported, by a worker at the establishment, several times to the care home's management and to the Care Quality Commission.
The frustrated worker eventually turned to investigative journalists at the BBC which exposed the abuse on the Panorama program. The fact that the Care Quality Commission had ignored the repeated warnings shocked Ministers into ordering a review of the organisation. There were calls for the regulator to be disbanded as it was deemed 'not fit for purpose'. Families of the patients that had been abused felt betrayed that they had put their loved ones into what they expected to be a safe and professionally run environment. Mark Goldring, chief executive of learning disability charity Mencap, called for the hospital to be closed down, describing the behaviour of individual members of staff as 'cruel and barbaric' and management as 'either complicit or non-existent'.
5.3 Describe how issues of public concern have altered public views of the sector The public have progressively lost trust in the system, regulators and care companies as each new scandal emerges. The media are very quick to report how care companies, social services and regulators have let the victims down by simply not ensuring standards are being met. There is a widespread public view that abuse is endemic within the care services and high profile cases are just the tip of the iceberg. 5.4 Describe recent changes in service delivery which have affected own area of work The care sector is currently going through a period of great change. These changes have been stimulated by a significant amount of legislation produced by the Government; this is expected to change the way that care is commissioned, provided and inspected, in the future.