Understanding The Principles And Practices Of Assessment Essay Sample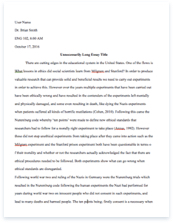 The whole doc is available only for registered users
OPEN DOC
Download Essay
A limited time offer!
Get a custom sample essay written according to your requirements urgent 3h delivery guaranteed
Order Now
Understanding The Principles And Practices Of Assessment Essay Sample
1. Understanding the Principles and Practices of Assessment 1.1. Explain the functions of assessment in learning and development Assessment is a judgment on a learner's performance and knowledge against criteria set by the awarding body. It is used to measure and record a learner's level of knowledge and skills and gives feedback on their performance. It also allows the employer to determine whether the learner is able to meet the requirements of their role by monitoring their development. Assessment can be in the form of formative assessment in tracking learner progress or summative assessment to assess their achievement.
Assessment must be objective and unbiased and is solely a tool to determine the learner's skill and knowledge. Assessment may also involve the learner's employer or other expert within the workplace. 1.2. Define the key concepts and principles of assessment Key concepts and principles includes whether the assessment is: * Fair, which includes making reasonable adjustments to allow the learner to make progress * Reliable, ie judging whether the learner could perform at the same level over a period of time and in a range of circumstance * Valid and relevant to what is being assessed
* Safe and manageable, ie is the assessment being conducted in a safe environment and is it in an appropriate setting, eg away from distractions
* Suitable to the candidate's needs
* Authentic, ie produced by the learner independently with no help from anyone else * Current, to show that the learner's knowledge and skills are up to date * Sufficient to show that the evidence has met all the requirements * Meeting Equality and diversity needs so that learners are treated equally and not disadvantaged in any way * Ethical and shows integrity. The assessment process must be honest, objective, transparent and fair and personal opinions should not affect the outcome of assessment.
1.3. Explain the responsibilities of the assessor
* Planning assessment, including the assessment method, the evidence required, communication and practical arrangements. * To set the assessment task to ensure consistency so that every learner is being treated the same and no-one is advantaged/disadvantaged * Results of assessment should meet the requirements, is the candidate's own work and does not plagiarize other work * Feeding back, including when the outcome is to move forward onto the next assessment objective and also when the assessment objective has to be revisited. Feedback should, ideally, be given in writing and verbally. It should be positive and constructive, specific and detailed. The written feedback gives a record of the assessment decision.
1.4. Identify the regulations and requirements relevant to assessment in own area of practice There may be a number of occupational legislation that could affect a specific assessment but the following will impact on all assessments: * The Equality Act 2010 was set out to protect against discrimination. This is important in assessment to ensure that no-one is treated more or less favourably because of any of the following:
* Age
* Disability
* Gender
* Homosexuality
* Pregnancy
* Race/culture
* Religion
* The Health and Safety at Work Act assesses any risks of harm during assessment. It legislates for the responsibility of employers, employees and others to reduce the risk of harm by: * Identifying hazards
* Deciding who could be harmed and how
* Evaluating the risk and how it can be reduced
* Recording findings and implementing them
As an assessor going into an assessment area, which could, for example, be in a server room, it is my responsibility to ensure that the learner will come to no harm whilst being assessed. * Other legislation specific to my area of expertise also includes the Display Screen Equipment (DSE) Regulations 1992. This sets out to protect those who work with display screens for a prolonged period of time during their working day and specifies that regular breaks should be taken to avoid eyestrain and fatigue. If an assessment is to take place at a display screen, for example a Functional Skills test, adequate provision should be made to comply with the DSE regulations.
2. Understand different types of assessment method
3.5. Compare the strengths and limitations of a range of assessment methods with reference to the needs of individual leaners Assessment Method| Advantage| Disadvantage|
Observation| Cost effective ImmediateAuthentic| Could disrupt business if the assessor is 'in the way'Is only a snapshotCan make the learner nervous and cause additional stress| Discussion| Allows the assessor to explore depth and breadth knowledge and understandingCan provide greater insight into how the learner processes informationHelps create a good working relationships between learner and assessor| Assessor may not feel confident and it may end up as a Q&A sessionLearners may not be responsive| Physical assessment| Can be used in conjunction with other methods, eg discussionCan be assessed away from the workplaceDon't have to be in the same location as the learner| Need to check that the evidence is that of the learner| Witness testimony| Allows the witness to observe what the learner has been involved inWitness will see the learner do a range of tasks over a period of time| The status of the witness – are they qualified in the task being assessedHow the witness records the testimony
Positive feedback may be lackingCan be difficult to get a time commitment from the person completing the witness testimony| Looking at candidate statements| Encourages reflective practice, ie how will they improve in the futureEncourages self-assessmentCan assess away from the workplaceDon't have to be in the same location| Need to check the validity and authenticity of the evidence| Recognising prior learning| Learners don't have to duplicate knowledge and skills they have already learned| Unless clear guidance is given, this could become a full re-assessment and is more time-consuming than an assessment from the start| Assessments in simulated environments| Safe, cost effective, flexible, more closely manageableCan cover areas rarely experienced| ReliabilitySimulation is not always the same as doing a task in a 'real life' situationWould the assessment activity be the same in the real world?| Skills tests| More than one learner could be assessed at a time
Clear instructions about administering the test| Some learners are scared of being tested and this could disadvantage themCan make the learner nervous and cause additional stressCan be time-consuming to set up the testMight disrupt the business| Oral and written questions| Can be used to fill in the gaps from other assessment methodsAssessor can gain clarity where necessaryAssessor can explore the learner's understanding| If questions are not provided, then skills in writing questions is neededReponses need to be moderated and standardisedPuts learners who are not good at writing at a disadvantage| Assignments| Can be presetCan clearly identify areas being assessedEncourages research, analysis and report writing skills| Puts learners who are not good at writing at a disadvantageNeed to be moderated and standardisedTakes time to mark assignmentsNeeds qualified staff to mark assignments| Projects| Can be set as part of a business improvement taskGenerates enthusiasm and interestLearner-ledEncourages research, analysis and report writing skills| Puts learners who are not good at writing at a disadvantageNeed to be moderated and standardisedTakes time to mark projectsProject topics might be limited What if the learners 'fail'?
3. Understand how to plan assessment
4.6. Summarise key factors to consider when planning assessment A sequence of planning for every assessment is as follows:
* Review the assessment criteria
* Make sure the learner is ready to be assessed
* Book the room and equipment if necessary
* Make sure everyone affected is informed of the assessment * Think about what the learner should do to meet the criteria * Agree with the learner what is going to be assessed and how * Make sure the learner is OK to go ahead with the assessment on the day
3.2 Evaluate the benefits of using a holistic approach to assessment Holistic assessment is efficient and cost effective. It can be made up of different assessment methods but can gather information on a range of areas from one assessment activity, eg an observation Assessors need to be very familiar with the assessment criteria so tasks can be identified and other criteria met all at the same time. This can also be a good way of assessing if other events happen during, for example, an observation, when other assessment criteria can be also met. This type of holistic assessment also allows the qualification to develop naturally, with criteria being met sometimes without the learner being aware that they have met them.
3.3 Explain how to plan an holistic approach to assessment It is important when planning a holistic assessment that learners are involved and are aware of the documentation and which criteria they are being assessed against. This may take a lot of planning by the assessor but the beauty of holistic assessment is that additional assessment opportunities may present themselves which meets more criteria, lessening the stress on the learner. The assessor must have an in-depth knowledge of the whole award and of the criteria within it which activities can be planned to meet.
3.4 Summarise the types of risks that may be involved in assessment in own area of responsibility Risks during assessment of ICT PRO could include
* Over assessment – asking for too much evidence
* Health and safety implications – both within the workplace, such as trailing wires, lack of compliance with the DSE regulations, and by causing too much stress to the learner by not fully preparing them for assessment * Unfair bias both for or against the learner
* Risk of plagiarism by the learner
* Pressure to say that the learner has achieved when they have not * Being pressured to rush an assessment, perhaps by an employer. * There is also a risk that learners could see sensitive information which they are not authorised to see * Tutor competence in an ever-changing market
* Learner using unknown software
3.5 Explain how to minimise risks through the planning process * Make sure the learner is aware of what is being assessed and why, and plan for different methods of assessment * Carry out a health and safety assessment of the workplace ensuring the employer's liability insurance is up to date. Make sure that learners understand why they are being assessed, eg because they have shown that they can meet the arranged criteria through knowledge and skills practice. * Make sure that equality and diversity legislation is being adhered to so that no learner is treated any differently to another and, therefore, being disadvantaged or favoured by the assessor. * Make sure that the consequences of plagiarism/cheating is stated clearly to the learner at the beginning of the course. It may result in the learner being withdrawn from the programme. Checking for plagiarism could be achieved by searching for phrases the learner has used in Google or by using preparatory software such as Scanmyessay * Knowing the assessment criteria and remember that quality is more important than quantity * Keeping tutor CPD up to date
3 Understand how to involve learners and others in assessment 4.1 Explain the importance of involving the learner and others in the assessment process * It can be motivating to the learner to be included in the assessment process as they have had input into target/goal setting. They may have carried out some self-assessment and it gives them a sense of responsibility in their own learning and assessment process. Additionally the learner will become familiar with the assessment criteria and how assessment decisions are made, thus enabling them to meet the required standard to achieve. * By involving others in assessment the learner can benefit from a greater range of experience and understanding. Other people involved in assessment could be their work colleagues, line managers or specialist staff * Expert witnesses can be an important part of the assessment process. As an expert, by definition, is highly skilled in the area being assessed, they are best placed to make assessment decisions or to guide the learner to use best practice, for example.
4.2 Summarise types of information that should be made available to learners and others involved in the assessment process Explain why these types of information are necessary:
* Documentation including the standard to be achieved and the assessment criteria used to meet these standards. They should also have access to their assessment plan, giving specific criteria against which they will be assessed. Documentation is important for both the learner and the assessor as it is a written record of the requirements of the course and how these criteria can be met when the learner is assessed. * Policies, including the appeals process if the learner is not happy with a decision that has been made during assessment * Procedures, such as, when they should arrive for the assessment, where it will be held, how they will be assessed etc, which will relieve some of the stress that many learners feel leading up to assessment
* Skills analysis outcomes shows the learner gaps in their knowledge and skills and where their main efforts should be focussed. This is a useful tool for both the learner and assessor in planning learning and assessment in the future. * Other documentation may include learner requirements, for example if they need to prepare anything in advance, if they have any specific needs, what form will the assessment activity take and what evidence will be required. They will also be able to see the assessment decision. This will allow the learner and assessor to be fully prepared ahead of the assessment activity. * Planning documentation and Schemes of Work should be available to the learner to guide them through their qualification, document agreed deadlines/outcomes, aid in planning of their workload
4.3 Explain how peer and self-assessment can be used effectively to promote learner involvement and personal responsibility in the assessment of learning * It develops learner's analytical skills. Peer assessment allows learners to take responsibility for assessing others' work against set criteria and allows them to better understand the specifications and assessment criteria. It can also act as a motivational tool. * Peer and self-assessment allows the learner to reflect on their performance/answers, perhaps comparing their approach to their peers, motivating and encouraging them to learn more deeply and have a deeper understanding rather than just learning the facts. * Self-assessment by the learner allows them to identify where their work has met criteria and, if not, how their work could be improved
4.4 Explain how assessment can be adapted to meet the needs of individual learners * There are a number of ways in which assessment can be adapted to meet individual learners' needs. For example, extra time consideration can be put in place for shift workers or for learners with learning difficulties. Those with visual or hearing impairment can also be given additional time. * Some learners find it difficult, or lack confidence, in writing assignments so a greater use of expert witnesses can be used to prove their competence. * Greater consideration can be made of preferred learning styles, for example for a kinaesthetic learner it would be more advantageous for them to physically show that they can meet criteria, whereas an auditory learner may prefer to talk about how they achieve a criteria. Visual learners could produce a presentation or a step-by-step guide to meet criteria. * By varying the assessment methods, for example oral and written questions, assignments, projects, witness testimony, learners have the most opportunity to providing quality evidence to meet assessment criteria
4 Understand how to make assessment decisions
5.5 Explain how to judge whether evidence is:
* Sufficient
* Authentic
* Current
* In order to judge whether evidence is sufficient it must meet the requirements set out by the awarding body. By setting the right questions to check understanding and proficiency and having a professional discussion with the learner which adds substance to their proof will ensure that their answers are as robust as possible. In order to ensure that the assessment is the candidate's own work, they are asked to sign a document to confirm this. This is often a requirement of the awarding body but my organisation also has an in-house document. Should it be discovered that the work was completed by someone else or that the work was plagiarised, the candidate will likely be withdrawn from the course.
Additionally, a question and answer session could be held so that the learner explains verbally to the assessor what is meant by a particular answer they have given. If the work is their own, they should be able to give reasonable answers. Only through research, or by consulting with other professionals, who may or may not be associated with the learner's work environment, can it be said that working practices have changed around an activity since evidence was produced. To ensure that the learner is aware of these changes, a follow-up question/answer session could be arranged to check their understanding of the new processes and procedures.
5.6 Explain how to ensure that assessment decisions are: * Made against specified criteria
* Valid
* Reliable
* Fair
* In order to make sure that assessment decisions are made against the specified criteria, the assessor should refer to the specifications throughout the assessment process. This ensures that evidence is focussed on a specific element within the criteria. * Accurately measuring, using a method that suits the situation (valid) To ensure that an assessment decision is valid, it is essential that the evidence meets the criteria by using whichever assessment method suits the situation. For example, asking a learner to produce an assignment may not be the best method; having a professional conversation should produce the same results. This method is often less stressful for learners and the assessor is able to direct questions more closely so that the answers fully meet the criteria. Reliability is evidenced by obtaining the same result, ie meeting the set criteria, regardless of who is assessing and when the assessment decision takes place In order to be fair, the assessor must ensure that equality and diversity and individual needs have been considered when the assessment takes place and that the same standard is used for all learners on the course. 5 Understand quality assurance of the assessment process
6.7 Evaluate the importance of quality assurance in the assessment process * Quality assurance ensures that assessment decisions are reliable and promotes consistency. This is evidenced by observation of assessors by the Internal Quality Assurance (IQA) process which is set out in the procedure of the company and is often a requirement of the awarding body. The IQA is able to interview candidates to ensure the assessor has been robust in the assessment process and by internally verifying candidate's assessment products. A system of standardisation is put in place to randomly sample assessors' decision making. These processes are important so that assessors' work complies with company policy and that they can be supported with CPD should their practice be found lacking.
6.8 Summarise quality assurance and standardisation procedures in own area of practice * Internal procedures are in place so that assessors are regularly observed with the learner. As well as internal processes, the IQA must meet the requirements as set out by the awarding body in order to manage assessment so that it consistently meets national standards and the public, therefore, has confidence that these standards are reliably met. As part of the internal quality assurance requirements, the company has set out a policy which all assessors must abide by which includes attending a minimum of 2 standardisation meetings a year and completing the Assessor Continuous Professional Development Record, detailing training programmes, standardisation meetings, professional updates and other activities which contribute an assessors vocational and assessment practice.
* QCF and Awarding Institute guidelines are set down which guide centres in how their IQA should be approached. With regards to City and Guilds, who are the awarding body for the qualification I assess, a set of guidelines are set out which covers four main aspects as follows: * Plan, operate and evaluate internal assessment and quality assurance systems * Support and develop tutors and/or assessors * Monitor and improve the quality of assessment practice * Apply policies, procedures and legalisation to meet external/regulatory requirements
6.9 Summarise the procedures to follow when there are disputes concerning assessment in own area of practice * City and Guilds have an appeals process which is instigated by the completion of the CANEX form. This form is completed with all relevant candidate and centre details and detailed reasons for disputing the examination result. A fee is charged which is refunded if the appeals process is upheld. * Internally, the appeals process is set out in the Employer and Learner Handbooks. This documents the informal, formal and appeals process which should be followed to address any complaint
6 Understand how to manage information relating to assessment 7.10 Explain the importance of following procedures for the management of information relating to assessment Three categories of records and documents which a centre needs to hold are:- 1. Regulatory documents
2. City & Guilds documents and
3. Centre documents and records.
Regulatory documents include
* The NVQ Code of Practice (2006)
* The QCF regulatory arrangements (2008)
* SQA Approved Centre Criteria (2007)
* General Conditions of Recognition (2011)
City & Guilds documents kept indefinitely for reference to policy, practice and requirements include:
* Our Quality Assurance Requirements
* Supporting Customer Excellence Centre Manual
* Approval documentation
* Guidance on Internal Quality Assurance of S/NVQs/VQs/QCF
* JCQ Instructions for Conducting Examinations
* EQA reports/visit planners/action plans
* Learner registration and certification records
* Access to Assessment and Qualifications
* Directory pages/catalogue
* Subject specific updates and guidance
* Ofqual Criteria for Functional Skills qualifications
Centre documents include:
* learner centre enrolment records
* learner database (manual or electronic) to include
* learner name
* date of birth
* unique learner number (when this is established)
* particular assessment requirements
* contact address
* workplace
* Assessor(s) name
* Internal Quality Assurer's name
* date of registration
* learner enrolment number
* qualification title and level
* progress records, including unit accreditation and
* qualification completion dates
* learner examination papers (internally marked)
* Evidence of the arrangements for the conduct of examinations (including on-line examinations).
It is important that assessment centres follow all the above procedures in order to create an audit trail of learner assessment, internal quality assurance and external quality assurance as set out by the awarding body, to ensure that there is a rigorous process by which candidates are awarded a qualification. 7.11 Explain how feedback and questioning contribute to the assessment process * Feedback and questioning can contribute to assessment if they are used in a 'circle of assessment'. For example using a plan, assess, feedback, develop cycle candidates are able to learn even if they have not met the requirements. It helps learners improve if they are given the opportunity to reflect on how they think they did and an action plan is set up with target dates. Questioning also helps authenticate evidence and establish learner depth of knowledge
7 Understand the legal and good practice requirements in relation to assessment 8.12 Explain legal issues, policies and procedures relevant to assessment, including those for confidentiality, health, safety and welfare * Data Protection – the Data Protection Act protects the rights of people about whom data or information is obtained, stored, processed and disclosed. As an assessor you may have access to a large amount of information about the learner and it needs to be kept safe * Child Protection and Safeguarding – The Children Act 2004 and the DfES guidance document: 'Working Together to Safeguard Children' (2006), focuses on safeguarding and promoting children and young people's welfare and can be summarised as:- * protecting children from maltreatment
* preventing impairment of children's health or development * ensuring that children are growing up in circumstances consistent with the provision of safe and effective care, and * undertaking that role so as to enable those children to have optimum life chances and to enter adulthood successfully. * The legal and policy basis for responding to concerns regarding the safeguarding and welfare of vulnerable adults is entirely different from that for children and young people. 'Working Together to Safeguard Children 2006' only applies to children and young people aged up to when they reach the age of 18. Any incident or concerns relating to a young person or adult of 18 years and over, even if still at school, are not covered by Local Safeguarding Children's Boards or their procedures. Government guidance in relation to adults is contained in the document 'No Secrets' and the "Protection of Vulnerable Adults (POVA) guidance. (source: ProfileDT Safeguarding Policy).
* Others – Health and Safety – as an assessor I must ensure that learners aren't exposed to unnecessary risk by identifying any hazards and minimising the risks. Risk could be caused by exposed wires, slippery floors, falling over bags/open draws etc. * Confidentiality – Everyone has a right to expect personal information to be kept confidential. From an assessment point of view I cannot share details of a learner's performance with anyone outside of the assessment process. For example, I can discuss this with an IQA but not with, for example, the finance department * Transparency and integrity – learners need to be kept informed about all aspects of the assessment process and I need to be truthful and honest at all time. Although this is not written in law, it is what is expected of a professional assessor. * Record keeping and secure storage – internal quality assurance and assessment records need to be retained for three years. Consideration needs to be taken about the sensitivity of the records and data protection should be managed. 8.13 Explain the contribution that technology can make to the assessment process
* Technology can play a large part in modern day assessment from recording a professional discussion using a digital voice recorder, providing evidence of competence using a camcorder, to recording results of assessment electronically. Files can be stored centrally on a server which is space-saving and far more secure than traditional paper-based folders. It also aids in sharing information with the learner. 8.14 Evaluate requirements for equality and diversity and, where appropriate, bilingualism in relation to assessment When designing assessment activities I need to take into account the interests, employability needs, and diverse nature of my learners. This is set down in the company Equality and Diversity Policy, in line with the Equality Act (2010), which aims to ensure that no group receives less favourable treatment on the grounds of culture, age, gender, employment status, social class, learning difficulty, disability, race, colour, nationality, national origin, ethnicity, religion, marital status, or sexual orientation.
This could mean, for example, that I offer learners alternative means of achieving outcomes which could include observation or professional discussion for those who find writing a challenge. Another facility we offer is an online virtual learning environment where learners can find resources to help them through their studies at their own pace. If I were to have any bilingual learners, I would speak and write in clear, enunciated, direct statements whilst providing extra help with a dictionary to help them learn IT related terminology and to ensure that they understood the requirements of the assessment.
8.15 Explain the value of reflective practice and continuing professional development in the assessment process Assessors need to keep their knowledge up to date, ensuring they are assessing correctly, keeping up to date with changes from the awarding body and abiding by current best practice. This can be done by reflecting on our own practice to determine what went well and what areas there are for improvement. Attendance at training courses contributes to continuing professional development, as does research on relevant websites or reading related journals. Sharing of experience with colleagues is also a valuable way of promoting best practice and ensuring knowledge is current.