Vadola Community Windshield Survey Essay Sample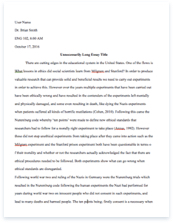 The whole doc is available only for registered users
OPEN DOC
Download Essay
A limited time offer!
Get a custom sample essay written according to your requirements urgent 3h delivery guaranteed
Order Now
Vadola Community Windshield Survey Essay Sample
This study was conducted in the community of Staten Island, a.k.a. Richmond county is one of the five boroughs of New York City. The intention of this survey was to obtain a full assessment through visual observations within the surroundings of the community. There are many variations of the definition of community, recent nursing literature addresses the concept of community by "identifying four defining attributes: people, place, interaction, and common characteristics, interests, or goals. Combining ideas and concepts, in this text, community is seen as a group or collection of locality-based individuals, interacting in social units and sharing common interests, characteristics, values, and/or goals." Maurer and Smith (2009) Staten Island, is located in the southwest part of New York, just across New Jersey, and it is mostly considered a suburban community.
According to the 2012 U.S Census Bureau, Staten Island has a population of 470,467 and the majority of its inhabitants are white of non-Hispanic origin 63.6%, 17.7% are Hispanic, African American 11.6%. Staten Island is separated between the "North shore" and "South Shore." The Northern part of Staten Island is the more urban area, as it becomes closer in proximity to New York City, the Staten Island ferry is located in this area, Here is where you will find more people walking, utilizing public transportation, small side streets such as NYC has and much more activity than the majority of Staten island. The Southern part of Staten Island, which was once made up of primarily farmland, is now mostly suburban.
Community vitality:
The community of Eltingville is what this survey will be primarily focused on. This community is considered to be a predominantly working, middle class neighborhood with people ranging from children, teenagers, young, and older adults. Majority of the population is white, non Hispanic. However according to the NYTimes, "Young Israel of Eltingville, an Orthodox congregation, has been growing rapidly in the last few years and this summer welcomed a new rabbi, Azriel Blumberg, and his family, who moved here from Queens."(Fioravante, 2003.) The town is small with a lot of activity due to a popular train stop and multiple bus stops right outside of the train station. Observed at the transportation stops were young teenagers heading to or from school, working adults in business attire, or Hispanic males and females. Another observation I noticed were the females were seen either dropping off their kids to school, or running errands.
Throughout the week I continued to observe younger adults, who were walking, exercising or on their way to work; Most people seemed to be in a rush, or on a mission to get things done this portrayed an unfriendliness. Although appearing unfriendly, when you would walk into the local Italian deli, bagel store or pharmacy everyone seemed to know eachother and were seen conversing in a friendly manner. During the day a few senior adults were seen in the area carrying some groceries, pushing baby carriages. Many appeared to be in good health, except the fact that some walked with the assistance of walkers or canes. The overall population appeared to be in good health, although some of them either smoked or they seemed to be either overweight or obese. Indicators of social and economic conditions:
The houses in this area are well maintained, mostly single family homes; there are no public housing facilities nor factories in this area; there were a few shopping plazas, a major supermarket and multiple delis and butchers, a few restaurants, a public elementary school, various churches (Lutheran, Catholic, a synagogue, and Muslim); public transportation was readily available along the main streets for people to commute. Every house seemed to have a car in the driveway as well as on the street, not many fore sale signs or abandoned homes. A few immigrant laborers were seen gathering in groups near the main streets waiting for transportation, and or job offers. Health resources:
There are several private medical and dental offices, a couple of well-known pharmacies, and a few urgent care centers; there are no nursing homes or rehab centers in the town but they are nearby. Among the medical facilities were mental health centers, chiropractors, Radiology center, dermatologists. Many of the offices were old houses made into an office, which makes it appear more personal, and contributes to better quality care. There was also a large YMCA in the center of the town with workout facility, swimming pool, playground, track and a preschool; which appeared to be busy at various times of the day. Next to the YMCA was an additional building, which is a drug counseling facility. It is free to those whom seek treatment for their addiction. Environmental conditions related to health:
The roads and streets seemed to be well maintained, with only a few potholes on the main roads, there numerous traffic lights, signals and crosswalks; there is a large park with a beach area, where families meet to enjoy relaxation and quality time with their kids, friends and loved ones. Although a pretty clean and safe town I do have to note that the old Fresh Kills landfill is nearby, and although it closed several years ago, it still represents a serious health hazard for the islanders. They are rebuilding part of the land to turn into a large park and recreational area, construction can be seen there on a daily basis, however I can't help to be disturbed by the fact that this is known to be a hazardous area and can not see me allowing my family to play there. Social functioning:
Neighbors are seen outside their homes chatting and offering a helping hand. Families were seen socializing with each one another, attending local churches, as well as the local synagogue, children were playing on the residential streets under a watchful eye of their parents or grandparents; there was a sense of pride noted among the residents, and people from different ethnic backgrounds were seen interacting with each other without discrimination. Attitude toward healthcare:
The area seemed to have several health resources available throughout the community. Majority are family doctors, which have probably been involved in the community for years. The general population of the community appears to be healthy, and concerned about their health. I believe the availability of the YMCA within the direct community contributes greatly to the health of the people within the community. It is a convenient asset to the neighborhood, schooling, daycare, sports and recreation. I do not recall observing many obese people, a lot of physical activity was observed, whether it were walking their pets, playing with children, working in the yard, etc. Although, I do recall seeing quite a bit of smokers, especially in the shopping centers, which is a major health concern for many reasons.
There are not any bars located in the area therefore, not many alcoholics observed. Conclusion: The community observed seemed to have well educated, middle class members, many appeared to be concerned with their health. Although, there is always room for education, most people do not understand the actual long term affects of certain medical conditions and how to maintain health. Therefor, regardless of appearance, it is crucial to further address any problems, and to educate the public regarding health maintenance and disease management, in order to prevent disease and maintain optimal health.
References:
Richmond County Quick Facts from the US Census Bureau: Retrieved from: http://quickfacts.census.gov/qfd/states/36/36085.html Fioravante, J. (2003, november 16). If you're thinking of living in/eltingville; trees, lawns and ocean in staten island. The New York Times. Retrieved from http://www.nytimes.com/2003/11/16/realestate/if-you-re-thinking-living-eltingville-trees-lawns-ocean-staten-island.html?pagewanted=all&src=pm Nies, M. A., & McEwen, M. (2011). Community/Public health nursing: Promoting the health of populations (5th ed.). St. Louis, MO: Saunders/Elsevier.