Virtual Teams Essay Sample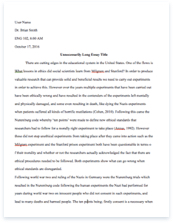 The whole doc is available only for registered users
OPEN DOC
Pages:
Word count: 1089
Category: team
Download Essay
A limited time offer!
Get a custom sample essay written according to your requirements urgent 3h delivery guaranteed
Order Now
Virtual Teams Essay Sample
            Virtual team is a group of individuals who work a cross boundaries in the organisation structure and also works across time and space.   They are usually committed to working towards a common purpose and their performance goals depend on each other.  They also have the same approach to work and share ideas for which they hold themselves responsible.  Virtual teams enables companies and organisations to employ and retain people of highest quality regardless of their geographical location.  These people communicate to each other using electronic means and they may not meet.  Some of the members of virtual team usually works at home and others works in the office but are usually located in different geographical locations.
            The are different types of virtual teams depending on the goals of the constituent members.  These types are as follows.
Management Teams: These are constituent members o an organisation on an institution who work together on a daily basis as they deliver their day-to-day duties.
Emergency/Action Teams: These are a group of member who act promptly incase their is an emergency situation.
Service provides team: Provide organizational and customer support services in the organisation.
Production Teams: They usually perform the day-to-day functions in the organisation.
Product development teams: They usually develop project customers.
Networked Teams: This consists of members who are working together primarily to achieve a common goal.
Parallel Teams: They work together in improving a certain process or system.
There are various benefits of virtual teams in that the employees of the virtual team do not really have to go to there is no need to offer them offices.  It will also help reduce employees traveling expenses.  Since most of the employees are not invested in traveling, then there is less congestion and reduces the rate of air pollution workers working virtual teams always deliver more because they are more flexible and those who are physically handicapped can work with less stress.  Virtual teams usually reduces organizational cost and also allows members of two are more organisations to exchange ideas.  It also enables people from different parts of the would to work on a common project.
      There are various ways of ensuring that virtual team perform to the required standards.  Business plan should be developed which will entail the purpose for the virtual team, its targeted goals and the future prospects for the team.   The progress of the virtual team should be critically monitored by ensuring that the time-table is developed and set to ensure that each and every member does not miss a discussion forum.
      Each and every idea concerning a given project should be considered as belonging to each and every member.  Members who are actively involved in discussion forums concerning certain project should be identified in order to primarily support in the projects goals so that each and every one of them will know what they are expected of them.  This is certained by establishing meeting with all the members involved and laying down all the important issues and goals.     (Oakley, 1998 ,p.20)
      In order for the virtual teams to successfully function well, there should be enough resources to buy and operate communication system and other equipments, which can enable members, exchange ideas and conduct discussion forums. Standards should be set on how each and every member should perform and deliver.  The members short comings and in ability to deliver should always be used as learning lessons for future projects.  The members should establish a working metric to enable them measure their performance, all goats, which are to be achieved, should be written in paper so as to refer to them.  All the measurements and estimates be done by those who really can do it accurately i.e. team members with a more than average ability.
Team communication amongst the members should be encouraged in order to allow team members to monitor the progress each and every project.  Communication can also allow members to get to know each other and therefore can arrange face-to-face meeting.  Reward schemes can also be used as one way of ensuring that there's higher performance between members of a virtual team members should also be trained on how to work and communicate with people from different regions.  Standards should be set on how to handle the important ones.  The important issues should be given first priority and should be treated with all the seriousness it deserves.  The members spirit should be that if teamwork, assisting one another and respecting each other's dignity.  Culture and origin.  Virtual members should demonstrate a high performance standards, behave well while associating with other members and should also be able to use the current technology  perfectly.  All the leaders of the team and their fellow members should always show competition while working in virtual environment.     (EOM,  & Lee, 1999,  p.40)
      Though virtual teams is seen as a good way to working with various employees from different parts of the world, many challenges are bound to face them for example lack of team spirit might really tamper the development of a company.  The way members associate with other members from different part of the world is a sensitive issue, which might negatively affect virtual teams. (Kerber, & Buone 2004, p.34)
      Interpersonal trust of other virtual members is becoming hard and difficult in achieving virtual environment.  Lack of team building in virtual team might affect negatively the progress of the members.  Each and every team should ensure they use upto date technology while communicating or carrying out dry actively involving the two teams.  Lack of unsuccessful virtual teams. (Grosse, 2002, p.123)
      There is a great potential for improved performance in organizations who optimize their virtual workplaces.  This is because there is less contacts between employees and therefore the productivity will increase.
References
      Business Edge (2006). Team-building key for virtual workplace, Retrieved June 20,2006 form the World Wide Web: http://www.businessedge.ca/artcle.cfm.
     Oakley, J. (1998). Journal of Leadership Studies. Leadership Process in Virtual Teams and Organisation, Vol. 5
     E O M, S. & Leee, C (1999). SAM Advances Management Journal. Virtual Teams: An Information Age Opportunity for Mobilizing Hidden Manpower, Vol 64.
     Kerber, K; & Buone, A (2004) SAM Advanced Management Journal. Leadership Challenges in Global Virtual Teams: Lessons from the Field, Vol 69.
     Grosse, C. (2002). Business Communication Quarterly.  Managing Communication Within Virtual Intercultural Teams. Vol 65