Vision of Leadership Essay Sample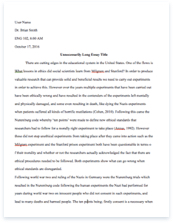 The whole doc is available only for registered users
OPEN DOC
Download Essay
A limited time offer!
Get a custom sample essay written according to your requirements urgent 3h delivery guaranteed
Order Now
Vision of Leadership Essay Sample
The future is unknown. To be a leader is to have a vision, and lead your followers towards the future you seek. Some leaders have had power struggles, boosted egos, and with those leaders they fall hard. Being a leader is to become your follower. Those you lead should never be 'under' you, nor should they ever have to complete a task that you, yourself will not do. There are many important factors that pertain to being a leader, but of these, a vision and a goal are most valuable.
A vision is said to be, "The first step in setting goals and priorities is to personally develop what the organization should look like at some point in the future." (Leadership) No matter the life one leads, or their vision is for themselves or others, the vision must always be readable. Each company has a vision of where they want to stand. This vision trickles down the chain of commands, and leaders of stores, departments, etc. are to believe in the vision and trickle the vision one step further to their followers.
Once the leader understands the vision and believes in the big picture, it is their job to have the employees follow suite. Making one's followers a part of the big picture creates a better atmosphere because everyone works better if they feel they are a part of something. A vision may just be a picture in the future for leaders to seek, but it is the beginning of something bigger. "Having a clear vision of the end state we are trying to achieve before we take action to reach our goals is the key factor in accomplishing any goals that we set." (Berkeley) Within the article "Leading and Leadership" there is said to be four parts of the goal creating process for the vision: goal difficulty, goal specificity, feedback, and participation of goal setting. All four characteristics are valuable within the process of carrying out the goals at hand. Goal difficulty can make or break your employees. Each leader needs to learn their followers at a work level and personal level to fully understand their capabilities.
The more difficult the more hardships, however, the more difficult the bigger pay-off. Creating goals that are too challenging for the employees can drain their motivation, and break their confidence. (Leadership) If the vision is plausible, there are steps that are to be taken to get there, and each step should be broken down into feasible yet challenging goals to help keep the team motivated. With motivation creates achievement. The next part of the goal making process is goal specificity. This creates the main goal to be broken into smaller parts for employees to take part of. The more specific the goal, the easier it is to relay them in understandable measures. "When given specific goals, employees tend to perform higher. Telling them to do their best or giving no guidance increases ambiguity about what is expected. Employees need a set goal or model in order to display the correct behavior." (Leadership) Sometimes a leader will lose focus, especially when there are new employees on board. Even I have forgotten when there are new employees and have given those tasks without any explanations.
This can cause some people to lose interest in their new position, or lack motivation because they have no idea what job needs to specifically be done, or in that matter have any idea how to achieve the task. Feedback plays a huge part within obtaining goals. When certain tasks are done, a leader should follow-up. By doing such a leader can find the time management within the task that was taken, what were the positives, and find the negatives that can be achieved in a better manner next time around. With feedback in a positive and uplifting tone will encourage the employee to do better, and keep them believing in the vision that will be achieved in time. (Leadership) Last but not least for goal setting is participation in goal setting. After the vision is created and certain tasks are already completed, the employee is now part of the big picture. Once this vital part happens, each employee and leader can grow and take the initiative to move to the next project together.
Participation creates a work ethic that is beyond expectations at first. Each person, leader or follower, wants to be appreciated, and wants recognition. Once everyone is on the same page and has learned the main goal to obtain, each participant will end up setting higher goals, and achieve the belief of being a part of something. (Leadership) Becoming a follower is easy, we all have done it, but becoming a leader is as simple as realizing that every person already is a leader, we just need to get out of our heads and take the initiative. By creating a vision and then sharing this vision with employees will create an atmosphere where people will be a part of something as simple as straightening out the aisles at a retail store. The greater picture is always greater when everyone is obtaining the goal together. "You will be able to see forward movement in what might otherwise feel like a long, pointless grind." (Berkeley) There is no need for a 'pointless grind' if we are all in this together, and this is the main point leaders need to acknowledge.
References
Berkeley (n.d.). Goal-Setting: Developing a Vision & Goals for Your Career Plan | Human Resources at UC
Berkeley. Human Resources at UC Berkeley |. Retrieved February 1, 2013, from
http://hrweb.berkeley.edu/learning/career-development/goal-setting/career-plan-vision Leadership. (2010, April 20). Colocation | Broadband Wireless | Dedicated Servers | Web Design &
Development | DSL | Web Hosting | Infinity Internet. Retrieved February 1, 2013, from
http://www.nwlink.com/~donclark/leader/leadled.html