Visit Florida Essay Sample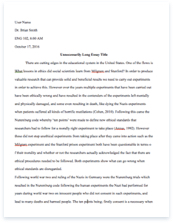 The whole doc is available only for registered users
OPEN DOC
Download Essay
A limited time offer!
Get a custom sample essay written according to your requirements urgent 3h delivery guaranteed
Order Now
Visit Florida Essay Sample
As a tourist destination, Florida has many strong assets. First, it offers a variety of attractions that caters to everyone. Below is a list of attractions available for people with different interests: • Cultural Events – festivals, fairs, carnivals
• Cultural Places – antiques, art galleries, art centers, missions • Family & Friends – amusement and theme parks, malls, markets, shops, sightseeing tours and cruises, aquariums, zoos, wildlife sanctuaries • Historical Places – memorials, monuments, museums • Nature – beaches, gardens, lakes, keys, nature trails, scenic drives, state and national parks • Sport – sport events and venues
Second, Florida offers a mild climate all year round. Florida's weather can be categorized as either warm or hot. During winter period, the temperature ranges from the middle 60s to the middle 70s during the day. During summer period, the temperature ranges from the middle 80s to the middle 90s during the day. Florida's mild climate makes it an ideal place for outdoor activities. Third, Florida's geographic location offers many opportunities for outdoor activities. Florida has about 1,000 miles of coastlines for the beach lovers. Florida also has many lakes for the camping enthusiasts. Last, Florida's geographic location (Gulf of Mexico on the west and Atlantic Ocean on the east) makes it an ideal docking place for cruise ships going to the Caribbean and Mexico. Fourth, Florida is easily accessible by car, airplanes, and boats. Florida has three major interstate highways (I-10, I-95, and I-70) and five major international airports (Fort Lauderdale, Miami, Orlando, Tampa, and St. Petersburg-Clearwater). Furthermore, Florida has many restaurants and lodgings to make the visitors stay comfortable and convenient. Weakness
Florida's main weakness comes in the way people perceived the state. Some people perceived Florida as being unsafe, old and familiar, and expensive. According to the ranking (in terms of crime) of America's safest and worst cities, not a single city from Florida made the top 25 safest cities in America. However, three of Florida's cities made the top 25 worst cities list: #9 Tampa, #20 West Palm Beach, and #21 Miami (www.morganquitmo.com/safcity.htm). Florida also suffers from the perception as being old and familiar. Studies show that visitors from Canada are declining. Canada is one of top three origin markets for international visitors in year 2002 (www.visitflorida.org). In 1992, Florida welcomed 2.46 million Canadian visitors; in 1998, the number of Canadian visitors decreased to 1.72 million (Smith, 2000). One of the reasons for the decrease in numbers is that more Canadians are looking for a vacation destination that is more exotic, like Cancun – Mexico. These Canadian visitors are also attracted to Texas, Arizona, Louisiana, Las Vegas, Caribbean, and Mexico which aggressively market themselves through affordable all-inclusive vacation. Although Canadian visitors are only 2% of the total number of visitors in year 2002 (www.visitflorida.org), their average length of stay is about 21 nights (compared to about 5 nights for domestic visitors). Florida should definitely promote themselves more aggressively to the Canadian market in order to boost their tourism revenue. Opportunity
There are some opportunities that Florida should consider in order to boost their number of visitors. To reduce the fear of terrorism, Florida should promote themselves as a familiar destination. Terrorism raises our feeling of uncertainties. Going to a familiar place may alleviate most of these uncertain feelings. Florida should also take advantage of their large spanish-speaking population by promoting themselves more to the international visitors from Latin America. Florida can advertise themselves as a place where these visitors can feel at home. Threat
Florida's tourism industry can be threatened by hurricanes, terrorism, and crimes. Florida is located in a territory where hurricanes and tornadoes frequently occur. The outcomes of hurricanes or tornadoes are usually flooding and massive property destruction. Another threat to Florida's tourism industry is the act of terrorism, in particular by Al Queda. The event of "September 11th" had instilled a lot of fear in the minds of potential visitors. As a result, many of them choose to not take vacations or go to destinations much closer to their homes.
As mentioned, three of Florida's cities are ranked in the top 25 worst cities in America. As every state in America, Florida has its share of problems with crimes and drug dealings. Florida needs to make sure that these problems do not negatively influence the consumers' perception of Florida. Competition Analysis
Direct Competition
Florida's direct competition comes from other vacation destinations. Studies show that the top origin markets for air visitors in year 2002 are New York, California, and Illinois (www.visitflorida.org). For this market segment, Florida's competition would come from mainly Hawaii and California. Both Hawaii and California offers similar features as Florida (e.g., beaches, mild climate, cultural centers, amusement parks, etc.). Mexico and Caribbean are also strong source of competition for this segment. For non-air visitors, the top origin markets are Georgia, Alabama, and Ohio. For this market segment, Florida's competition would come mainly from South Carolinas, Louisiana, Tennessee, Pennsylvania, and New York. Driving distance is a bigger factor in determining the attractiveness of these destinations. Indirect Competition
Florida's indirect competition comes from things that would discourage people from spending their extra income on vacations. Things like buying a new car, upgrading their house, or buying major appliances. Consumer Analysis
In year 2002, 75.6 million visitors came to Florida (www.visitflorida.org). These visitors can be broken down to the following segments: • 92% domestic visitors
• 6% overseas visitors
• 2% Canadian visitors
48% of the total visitors came by air (most of which are from New York, California, and Illinois). Since visitors in this market segment have to travel greater distance to reach Florida, most of them tend not to hold back on their spending. On the average, air visitors will spend about $174.60 per day (compared to $94.00 per day for non-air visitors).
The non-air visitors comprise 52% of the total visitors. They came by car, RV, train, bus, or other. Most of the non-air visitors are from Georgia, Alabama, and Ohio. Since most of these non-air visitors come from a place that is not too far away from Florida, they tend to be more frugal in their spending ($94.00 in spending per day). Long distance visitors often have to deal with the "now or never" urgency in their spending, whereas short distance visitors do not have to deal with such "urgency" in their spending. They feel that they can always come back to Florida in the near future.
The top three reasons for visiting Florida are vacationing, visiting relatives/friends, and doing business. Since vacationing is top reason for visiting Florida, it is no surprise that the top three activities for these visitors are shopping, going to a theme/amusement park, and visiting the beaches. Company Analysis
VISIT FLORIDA, also know as Florida Tourism Industry Marketing Corporation (FTIMC), was created by the Florida Commission on Tourism in 1996. VISIT FLORIDA is in charge of the general strategy and financial oversight for Florida's tourism industry. VISIT FLORIDA receives some of its budget form the "designated share (15.75 percent) of the state's $2.00 per day rental car surcharge" (www.visitflorida.org). The rest of the funds come from VISIT FLORIDA's industry Partners, strategic alliances, cooperative advertsing ventures, promotional media equivalency and merchandising of FLA USA branded products.
To promote Florida, VISIT FLORIDA does direct mass media marketing (e.g., brochures, TV advertisement, posters, etc.), attends travel shows worldwide, and works with travel writers and broadcasters. To ensure effective promotions, VISIT FLORIDA compiles visitors' facts and conducts surveys. Most of the information they obtain come from their five Official Florida Welcome Centers at I-10 in Pensacola, I-75 in Jennings, I-95 in Yulee, U.S. 231 in Campbelton, and Tallahassee.
Considering the fact that 48% of Florida's visitors arrive by air transportation, VISIT FLORIDA should consider adding more "Welcome Centers" in major airports. Furthermore, they should work together with the many local "Welcome Centers" to make sure that the same message is being promoted to the consumers.
Reference
1. www.morganquitmo.com/safcity.htm
2. Smith, G. (2000, January 31). Pinning for Lost Canadians: Florida battles a stale image, aggressive rivals and a dollar difference. Maclean's (p. 65). 3. www.visitflorida.org
4. Bringing business back (2002, April). Association Management (v54 i4 pS25(1)) 5. Florida (2003 Edition). AAA Tour Book. AAA Publishing, Heathrow, FL.