Visiting a Homeless Shelter Essay Sample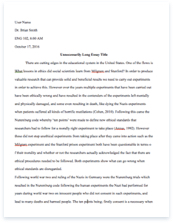 The whole doc is available only for registered users
OPEN DOC
Download Essay
A limited time offer!
Get a custom sample essay written according to your requirements urgent 3h delivery guaranteed
Order Now
Visiting a Homeless Shelter Essay Sample
When I'm out with my friends, weather we are picking up fast food, or stopping at a red light, and I see a what I assume to be a homeless person asking for change, I'm usually the person that will give them any lose change or singles that I have. Many of my friends hate that I do this, but someone some how I empathize with those people. So naturally when I was asked to do something that I've never done before, I chose to visit a homeless shelter.
I chose this because although I hand over money to people, I do this and go back to my normal life. I never have in my 22 years of life taken the time out to actually have a conversation with a homeless person. I've never taken the time to get their story. So this is what I chose to do. I got one of my friends and we headed to a near by shelter.
I admit, on the way there, I felt uneasy. I didn't know what to expect but I would go through with this.  As we entered the shelter, most of the people there seemed standoffish. I figured it was how we were dressed. We did do go dressed flashy by any means but I knew we appeared different. After walking around for a while, and handing out basic toiletries, most of the African Americans came to us; they felt as though they could identify with us most, because of the pigment of our skin.
I had several conversations with the homeless people. Most people were homeless because they had some form of addiction, which led them to making bad decisions. Some of them were homeless because they had been arrested and they had nowhere to go at the end of their jail term. A few people were homeless because they had been laid off from their jobs, which resulted in them losing their houses. It was emotional having the homeless telling me their life stories and giving me advice on things not to do in life. I was heart broken when I saw someone picking up a penny from the floor. Every penny counts for the homeless and this made me think of the change I get and I do not really care about it since I put it aside.
While there for the couple of hours that we were, we took part in chores. I was responsible for the housekeeping, which included doing the job I detest the most. I had to clean the bathrooms and showers. I then went to work at the front desk. This was my first direct interaction with the homeless. My job was to collect and pack bags and put them onto shelves. Also, I had to check the homeless people's personal belongings for dangerous objects like knives and anything that could be used to harm other people. The homeless people had to go through a scanning machine to detect if they had items they had hid. A lot of the people were really nice and would speak to me politely. However, I also encountered some homeless people who were mean and seemed bored all the time. I then discovered that the mean people were the chronically homeless who were sick and tired of doing the same things.
While working, my friend and I had some of the homeless folks giving us candy and cookies. Honestly, I did not want to have any but people felt offended when I refused to take their offers, so I ended up taking everything I was given. During meals people would make sure not to throw away food, so if they were something they did not like, they would walk around offering people their leftovers. It was touching how the homeless people always shared the little they had, and they referred to each other as brothers.
The most difficult thing was encountering two boys who were my age but stayed at the shelter. It made me realize how fortunate I am to be able to have a place to stay. The boys would come get lunch then go back to school and they would return for dinner and a place to sleep.
I have to admit that I entered the shelter I felt uneasy, although I encountered them everyday on the streets. Maybe it was the fact that I was in their environment. However, I am glad I managed to have an experience of a lifetime, and ever since this experience, I have been able to appreciate everything I have.
The leaning theory I believe best described my learning was the humanistic theory.
Humanistic psychology is a psychological perspective that emphasizes the study of the whole person. Humanistic psychologists look at human behavior through the eyes of the observer, but through the eyes of the person doing the behaving. Humanistic psychologists believe that an individual's behavior is connected to his inner feelings and self-image.
Humanistic psychologists study how people are influenced by their self-perceptions and the personal meanings attached to their experiences. They consider conscious choices, responses to internal needs, and current circumstances to be important in shaping human behavior. I believe that this was the learning I experienced because; I at one point was almost homeless. I could see myself in these people so it was natural for me to give! It was honestly self-gratifying to visit the shelter, and I wouldn't hesitate to do it again.