W.E.B. DuBois Essay Sample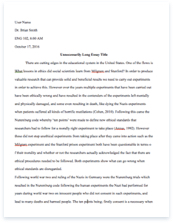 The whole doc is available only for registered users
OPEN DOC
Download Essay
A limited time offer!
Get a custom sample essay written according to your requirements urgent 3h delivery guaranteed
Order Now
W.E.B. DuBois Essay Sample
W.E.B. Du Bois spent most of his career focusing on race relations and he defined the problem of the color line. For most of his life he believed in integration, but towards the end of his life he began to focus on Black Nationalism after he became discouraged with the lack of progress in race relations (Allan, 2013). Du Bois was an author, a poet, civil-rights activist, Pan-Africanist, a sociologist, and he was known for many other trades that he spent his time doing throughout his life. He graduated valedictorian from high school then earned his bachelor's degree of arts from Fisk University in Nashville, Tennessee. Then he attended Harvard University and got his bachelor of arts cum laude, and then he pursued graduate studies in history and economics at the University of Berlin. One of his biggest contributions would be founding the National Association for the Advancement of Colored People. Du Bois achieved many things throughout his life and left a mark on the social sciences and in race relations, but was not satisfied with the way things in society were when his life was ending.
W.E.B. Du Bois was an important role model of his time for young African Americans and one of the key civil rights leaders of his time. His literary contributions have played a role for other civil rights leaders and been a template for society to look at as blueprints for improving racial relations. A key contribution of his was the "Philadelphia Negro" that was published in 1899. The way he conducted his research was what made the book popular and it showed how life was for African Americans in the 7th Ward. He studied the daily lives of African Americans and began to classify the black community into four major classes; Black Aristocracy, Black working class, Black working poor, and the Submerged tenth (Harrison, 2013).
Du Bois's most famous book was "Souls of Black Folk" because this book was one of the first books written by a social scientist to analyze the situation of African Americans in the early 20th century. This was the book where he declared the problem of the 20th century is the problem of the color line. Du Bois went on to discuss the "Talented Tenth" where he felt like the most talented African Americans should be educated and they should be the role models for the other 90% of the race. Along with his contributions in literature he
also contributed to sociology with his concepts and ideas. A few of his ideas include the double consciousness where some people are required to live a double existence. Du Bois discussed what he called a veil that measured social distance between the people. These were just a few contributions he made during his life to the field of sociology.
The comparisons between Du Bois and Karl Marx is shown one way through the way Du Bois felt like the African American population was separated into different classes, just like Karl Marx classified society as a whole. Du Bois compared the slave owners of the United States to the bourgeois of Marx's time. Like Karl Marx, Du Bois felt that class is a key factor in determining an individual's status in society. Another theory of Du Bois that is related to a Marx theory is his theory of double consciousness compared to Marx's idea of class consciousness. The double consciousness explained how African Americans feel as though they have to live the life of an African and an American. They feel like they have two cultures, two histories, and two identities to categorize themselves as. This related to how the proletariat created a consciousness in Marxist theory. A key difference between the two theorists is that Marx left out race, for the most part, in his research and sociological works, whereas Du Bois focused mainly on race. Du Bois took many of Marx's theories and showed how they could be used to study race and showed how race plays a key role in society and determining different classes.
Durkheim defined social facts as outside restrictions that consists of ways of thinking and feeling external to the individual. The social facts influence how people live and go about their daily lives. Du Bois felt that race played the same role and that race is a key factor in determining people's status and role in society. Du Bois learned a lot from the teachings of Max Weber and learned from him the importance of doing a thorough socioeconomic history as part of his research. Weber used power, wealth, and prestige to determine people's status in society and Du Bois studied that with his works at the 7th Ward and in his studies of the African American race. Du Bois learned a lot from Weber and used his theories and teachings, along as Marx's theories, in his studies to further advance the field of sociology and include race in future studies.
W.E.B. Du Bois played a key role in sociology as well as in the African American race. He differed from other civil rights activists in how he thought the African American race should strive to make advancements. Booker T. Washington felt like African Americans should focus on getting jobs whereas Du Bois said that that talented tenth should be educated and become role models for the rest of the race. He had many influences on his works, but he also created a new area of study for future sociologists. Du Bois was very influential and left his mark on the field of sociology and the African American race in general.
Works Cited
Allan, Kenneth. Explorations in Classical Sociological Theory: Seeing the Social World. Thousand Oaks: Pine Forge, 2005. Print.
Harrison, Daniel. Lecture. 2013.
"NAACP History: W.E.B. Dubois." NAACP. N.p., n.d. Web. 05 Dec. 2013. .
"W.E.B. DuBois: Picking Up Where Marx Left Off." Yahoo Contributor Network. N.p., n.d. Web. 07 Dec. 2013. .