Wace Group's To Scaling A Business Essay Sample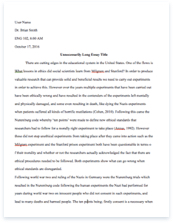 The whole doc is available only for registered users
OPEN DOC
Download Essay
A limited time offer!
Get a custom sample essay written according to your requirements urgent 3h delivery guaranteed
Order Now
Wace Group's To Scaling A Business Essay Sample
M&S was highly specific about the quality of paper, size of paper, cuts as well as delivery schedule. Though quality standards and technical skills were forte of Wace Group, yet some of the major changes that the company had to accompany in its order schedule, capacity schedule and delivery schedule. Most importantly were of important concern which on one hand can pose risks to the company whereas on the other hand, successful completion of the same order will help Wace Group in getting a new esteemed customer like M&S thus increasing its brand value. Here are some of the major risks involved: First, capacity planning, Wace Group's order book is already full for the next two months which means that in order to fulfill this order, the company would need to enhance its capabilities which is possible either by overtime of employees or recruitment of new employees. While the former needs compliance of the employees as well, the latter needs proper recruitment of new employees with certain qualities beforehand.
In this dissatisfaction and rage amongst the employees can be possible threat as well as the skills of the new employees will also remain to be a major concern. Second, immediate scaling up, Wace group is quite aggressive or confidence about the order from M&S as we can see from the conversation of them. Successful completion of the same will scale up the orders to the company and it is very much possible that other big companies will also become interested in Wace Group.
This would require the company to scale up its operations immediately, and it would cause the company to face other risks. Third, declining of orders, if the company won't be able to scale up its operations then going by its standards towards M&S's order, such as late delivery and bad quality of products etc., Wace Group may decline large orders from other big companies which it won't be able to accommodate by any of the possible ways. This will lead to loss of probable and profitable customers and opportunities, and the reputation of Wace Group may be negatively affected.
Fourth, managing quality and creativity standards, creativity and quality being the forte of Wace Group are the most important reasons behind the order from M&S. If there are some similar orders in the future, then in order to complete the orders and deliver the products on time, Wace Group may find it difficult to manage both the pillars. On the other hand, here are some major rewards involved: First, employee motivation, by completing the order from M&S on time will reward Wace Group with a better profit margin thus making the company capable enough to reward its employees in form of bonuses and incentives. This will help in motivating the employees thus curbing down attrition if any. Second, more profitable clients, the completion of M&S order on time will send a positive message about Wace Group in the industry thus attracting more of such bigger companies like M&S thus rewarding Wace with better and classified orders. Also, it will help to increase the company revenue in the long run.
3. The company should accept the order from M&S. Following were some of the major concerns related to the order from M&S and the plans of Wace Group to tackle the same. For the company, the average orders of print runs were 8000 whereas M&S group was asking to process a single order of 600000 sheets with a specific smaller size and five variants. This specificity of the order was a challenge for the Wace Group, but they were highly positive about the completion of order with proper quality standards for managing director, technical director and planning manager in Wace Group.
Next, Wace Group was used to schedule the delivery over several weeks, however, M&S was highly peculiar about single time delivery as they also wanted to preserve their reputation in the market. In order to complete this order from M&S, Wace Group was planning to ask its employees to do overtime on Saturdays and Sundays and was sure about order completion on time. Also, the company was planning to make the employees work for two eight hour shifts in printing, packaging and binding sections.
Moreover, Wace group has been on the top because of its esteemed efforts towards quality compliance which involved checks at start as well as end of the process, also, the company used to send out only high quality and high specification products. Importantly, as the demands from M&S was a great opportunity for Wace Group to take place in the big retailer market in the future, so they would make 200% attention about this project in order to gain trust from M&S and other big retailers. Thus, it means the probability of having problems about M&S would be significantly decreased, and M&S would be impressed with the quality standards of the company. Lastly, the company was also thinking of outsourcing die cutting process as it was not possible to do die cutting as well as embossing at the same time to complete the order on time, it proves that Wace Group was strategizing to complete such huge order with specific demands on time.
4. In order to grow as a market leader, Wace Group needs such orders as the one from M&S which is why Wace Burgess should accept this order. But in order to continue the same streak, the company would require certain capabilities as well as it would need to change and streamline its existing processes. Some of such practices are as followed. For improvement in workforce design, Wace Burgess can go for making slight changes in the way of employee's work. The management at Wace Group can incorporate the options of overtime and extra shifts with proper incentives. The company may also have staffs on contract who can be employed part time whenever more works are required to be done.
For outsourcing some of the functions, i.e. outsource less important functions which do not require more specific skills and transportation costs, just as the company outsourced die-cutting in the case of orders from M&S, Wace Group is recommended to has permanent partners for outsourcing similar functions which will enable the company to pursue more orders like the one from M&S. For incentives planning, in an industry which needs specific skills and expertise, attracting and retaining top talent is always a concern. Wace group should plan for awarding the employees with proper incentives in case of profits if any. This can be in the form of rewards, performance based bonuses or any such plan which can motivate the employees to perform much better, and also help the company in winning top talent across all domains.