Was the War Measures Act necessary for the October Crisis? Essay Sample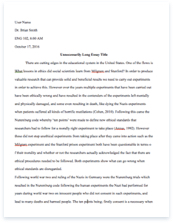 Pages: 5
Word count: 1,269
Rewriting Possibility: 99%

(excellent)

Category: crisis
Get Full Essay
Get access to this section to get all help you need with your essay and educational issues.
Get Access
Introduction of TOPIC
There were many events leading to the October crisis, some may say that the decisions taken by the Front de Liberation du Quebec (FLQ) were rational, others not. But any hostage situation when lives are being threatened should be stopped by any means necessary. The War Measures act requested by Premier of Quebec Robert Bourassa, directed by Pierre Trudeau and applied by the Governor General of Canada Roland Michener was a very necessary step to take due to the previous acts of terrorism and threats by the FLQ, prior to October 1970.
The October Crisis occurred in October 1970, when two government officials were kidnapped by the FLQ in the province of Quebec. The first kidnapping occurred on October 5th. The victim was British Trade Commissioner James Richard Cross, who was taken shortly after he was leaving work on his way to his car. The second kidnapping was shortly after, on October 10th, when the FLQ kidnapped the Minister of Labour and Vice Premier of Quebec Pierre Laporte, while he was playing football with his nephew. This kidnapping occurred after a meeting with Laporte discussing the threats of the FLQ; after he denied the demands he was quickly taken. The group that took him were the Chenier Cell, a division of the FLQ who were responsible for this and many other robberies in Quebec. The War Measures act was called in on October 16th, after many rally's supporting the FLQ took place and it was requested. The act was fully supported by all 3 opposing parties.
Violent crimes are nothing new to the FLQ, and with past bombings across all of Quebec, constant threats of human lives and violent attacks, the war measures act was needed. From 1963 to 1970 the FLQ has detonated over 95 bombs, causing a high number of injuries and millions of dollars worth of damages. Very many of these were 'mailbox attacks,' in English speaking towns. One member of the FLQ was quoted saying, "We got no where with words maybe someone up there in Ottawa will listen to exploding bombs." When interviewed and questioned upon their actions. These bombings occurred particularly the city of Westmount, which was an Anglophone city. Other bombings occurred in areas such as the Montreal City Hall, many railway tracks, army installations, and Royal Canadian Mounted Police recruitment offices. One attack at the recruitment office claimed their first target, 65-year-old Wildred O'Neil. He was a war veteran, and was only one month away from retirement when the explosive detonated and ended his life.
These attacks continued, as recently as February 13th 1969, less the two years before the October Crisis, the FLQ set of their largest and most devastating explosive, a powerful bomb that ripped through the Montreal stock exchange. This explosion caused massive destruction, estimated in the millions of dollars, and seriously injured 27 people. Showin
g that they had no regard for human life, the FLQ was known as a terrorist organization. Another act
of destruction occurred only 13 months before the two kidnappings, when the FLQ personally went into the private home of Montreal Mayor Jean Deapeau. During this break and enter, they carefully planted a bomb in the toilet at his house, so inspectors would not find it after doing a thorough search of the house. There were no injuries at the time of the explosive, but it could have easily ended the life of not only the mayor, but also his entire family.
Even after acts of terrorism like this, the province of Quebec and Montreal police were left powerless, as they needed warrants to make any searches of suspected members, which often took months and were ineffective. Even if one argues the War Measures Act was not necessary because of only the two kidnappings, surely the events leading to that would change ones mind. These attacks were carried out by the 6th wave of the FLQ, and were the most violent in means of carrying their message across. This group called themselves the 'Liberation Cell.' Many of the finances were also granted from other violent crimes, such as many infamous bank robberies. The leaders of this branch of the FLQ included Louise Lanctt(Louise Cossette-Trudel), Francis Simard, Bernard Lortie, Jacques Lanct�t, Paul Rose, Marc Carbonneau, Yves Langlois (aka Pierre Seguin) and Nigel Barry Hamer.
11.1 Jacques Lanctt 1.2 Paul Rose 1.3 Francis Simmard 1.4 Benard Lortie
The Front de Liberation du Quebec released a manifesto letter to parlement, requesting the release of detained and convicted known terrorists, $500,000 in gold, broadcast and publication of the FLQ manifesto, and an aircraft to take the kidnappers to Cuba. The government complied directly after with one of the requests, and read the manifesto, broadcasted to the nation in French. Even after this, the FLQ ruthlessly murdered British trade commissioner Pierre Laporte. Taking ones life, particularly a Member of Parliament and great importance, can be seen as an act of war itself. Local and provincial authorities could also do nothing to stop these attacks, as they did not know where the hostages were located, and needed a warrant to find out.
The War Measures Act allows citizens under suspicion of involvement regarding a terrorist activity to be arrested without a warrant or explanation, and held in custody for up to 3 days without reason. The act resulted in 497 people getting arrested, 62 of those were charged and 32 of them without bail. Perhaps if the FLQ did not murder Pierre Laporte the War Measures Act would not be invoked, but if a murder goes un-noticed, after the victim is kidnapped from his own home, then the actions will only escalate. Furthermore, it would also seem irresponsible for the government to simply hand over half a million dollars worth of gold to a terrorist organization, without stopping them in anyway. After one hostage taken by a terrorist organization is kidnapped and murdered 7 days later, to the minute, it would only seem logic to invoke an act attempting to save another life, who was also kidnapped by the same terrorist organization. It was also recorded that in both Francophone and Anglophone communities 9 out of 10 citizens supported the War Measures Act, as recorded after the murder of Pierre Laporte.
The Front de Liberation du Quebec not only posed a threat to the final living hostage James Richard Cross, but also to Canadian citizens due to their extremely violent past, and noted weapons and explosives. During the kidnapping of Pierre Laporte, 4 men came. It was seen that 3 of them had assault rifles, and third with a revolver. Due to these known facts, death's caused by mailbox bombings, and the explosion in the Montreal stock exchange, the FLQ is clearly a threat to general public, as much as they are towards the British Trade Commissioner. The mission of any military and armed police force is to protect the public and citizens of Canada from any threat or danger regarding their lives or safety; therefore it seems only appropriate to have soldiers on the streets of a terrorist known zone.
Due to all the reasons stated above, which include a very violent history of attacks, ending a hostages life in only one week and endangering the general public, it was obviously very needed that Pierre Trudeau intact the War Measures Act to protect any threat to Canada's safety and power as a country, and handled the situation appropriately.