Website Critique on Australia Bright Education Migration's Essay Sample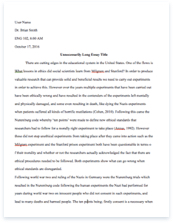 Pages: 10
Word count: 2,730
Rewriting Possibility: 99%

(excellent)

Category: australia
Get Full Essay
Get access to this section to get all help you need with your essay and educational issues.
Get Access
Introduction of TOPIC
International education is a popular industry. This is particularly the case in Australia where education has a two pronged profitability. That is, (1) foreign students can take advantage of the top notch education Australian universities offer, for them to later return to their respective countries and, with their world class diplomas, gain an advantage in local corporate competitions e.g. employment or (2) the aspiring migrants could use education in Australia as a stepping stone towards Australian migration. For the latter, not only do they gain years of required residency in Australia, they also gain accreditation for their skills through the certificate courses that they may take.
            Australia Bright Education Migration Centre, Inc. takes advantage of this versatile industry. An individual aspiring to migrate has an option to hire the services of these consultants or go through the whole migration process by themselves. Interpreting migration rules and regulations is a tricky feat as consultancies claim. Hence, some individuals who independently go through with the migration end up misinterpreting the rules thus causing delays. Worse, some end up consuming their time and resources without being able to migrate at the end.
This demand for in-depth migration knowledge is addressed by Australia Bright through its supply of accredited migration agents. The staff analyzes the clients' case and accordingly interprets the migration rules and checklist to find ways of increasing points to hit the target to be able to migrate. The service holistically covers the consultation, processing of papers (e.g. Visa), and even assistance with social adjustments upon reaching the host country.
            Needless to say, it employs a B2C marketing as it directly targets the clientele.
The company offers services that are to be transacted in person. With that, the charge is not readily available online, it is only provided upon consultation with them in their office. (Migration costs are usually expensive, personal explanation of the breakdown lessens the likelihood of hasty disinterest)
TARGET MARKET
            As it implies on its services tabs, the company caters to two markets. It largely targets the middle class skilled workers for migration and marginally offers foreign education per se to affluent families. Parents who would like to send their kids to study abroad for the sake of high standard of education per se could be classified as the economic elites, because international education is very expensive and average families would opt for local alternatives.
As most other countries like Philippines and India are third world economies, economic elites compose a very small percentage of their countries' population thus signals a menial demand. Logically, the company channels its efforts to target their other market, the middle class skilled workers. It is likely that their target age is within 18-45 as it is the allowable age for skilled migration in Australia. Although it seems that they are most likely zeroing in on the younger adults e.g. 20-30s.
            In terms of migration, the younger you are, the more points you get. However, teens (13-19) generally do not delve on these long term life options. Conversely, people on their midlife commonly have already established their lives and have gotten accustomed to a working-for-survival lifestyle and are most likely hesitant to uproot themselves from their long established social connections.
The young adults, on the other hand are the most aggressive ones who are still looking for better opportunities. They are the ones who still have some sense of idealism that they deserve more for their hard work – more than what minimal advancement they are getting from their work in a third world economy.
BRANDING
            Australian migration consultancy is not one of its kind. There are lots of other companies which offer the same services and claim the same expertise. Several lines on the website however highlight that the company gives sincerity and friendliness towards its clients. Given that the service itself is not unique, it tries to identify its distinction through how it delivers what it sells, that is gift wrapped in warmth and honesty.
Consultancy is a long term, transaction-based business, herein, a friendly staff extends the client's comfort zone, which is more appealing for a customer who would be transacting such business with them for several months. More so, emphasizing honesty in this line of business is important, leading people on that they have a chance is a sure shot at getting bad mouthed to other possible clients.
OFF LINE Marketing
            As per their reply through my email queries, among their offline marketing methods are broadsheet ad placements, school visits, exhibits and seminars. Broadsheet ad placements are used given that their targets are the middle class employees and such groups usually comprise the newspaper readership. School visits and building rapport with the schools furthers the company's intent of a sincere and direct interaction with possible clients. The same goes for the exhibit-seminars which not only provides informative presentations, it also gives the clients direct and ready access to the consultants.
ON LINE
Australia Bright uses www.bright99.com.au as its online identity.
Lay out.
(+) the bright colors add vibrancy which reinforces their claim of having a friendly aura.
(+/-) the site map is too minimal with sub categories. It can be interpreted as the company's goal to be concise and direct to the point since its target is the on-the-go crowd. However, it could be analyzed on a consequent effect rather. Its targets are the young adults who tend to be more probing (Dotson). The online visitor likely is browsing around your site because he/she is trying to make an informed choice. With so little information available, your probin
g visitor might just find your site uninformative thus driving potential clients away (Reid).
style="text-align: justify;">(+/-) the website has the national anthem imbedded into it, typically, distractions such as these drives prospects away (Reid). However, in my case, I was simultaneously opening several tabs, then there was the Australian national anthem which distracted me, I tried to find which site was it and realized it was the Australian Bright webpage. It distracted me from browsing the current page I was looking at and then it drew me towards their site. It is a good thing that the music off button is readily available otherwise a client would typically just close the window or tab.
Content.
(+) it has a promos page on large tab which showcases the company's upcoming activities and the posters and flyers associated with it. It also has a short write up, which addresses the typical sentiments of its market and how that event seeks target those sentiments (Doty). This could in turn engage the web surfer to gain interest about knowing more about the event (Dotson).
(-) there are only two highlights on the promotions page, it would be best for the company to still put links about previous events to imply how active the company is and was (Reid).
(+) It also has a consultation page which acts more like a pre-consultation page (cursory). Herein, people get the chance to fill out a form to get an overview of their chances in migrating to Australia. It is a no commitment form meaning the client does not agree to any terms yet and is simply filling out the form to get a sketch of his or her probabilities.
It suggests such option instead of providing raw migration information which is subject to inaccurate interpretation from the clients end. Aside from which, this is also another means to utilize web applications to engage the possible clients. This way, the possible client may fill out the form despite not being certain yet as to actually pursuing migration, and as they leave their required contact details, the company's agents can go ahead and contact and persuade or encourage the initially apprehensive possible client (Mohammed et. al.).
(-) it is however more advisable to have a downloadable editable PDF version of the form as well. Filling out a form may take time as it is quite long. The prospective client may need to simply do it at home during his/her leisure time. Research says that the internet access is dependent on education, affluence and age. Not everybody in its target has an internet at home. This spells exclusion of some of its targets.
(-) the form is also quite long. Although the all fields may be necessary, a person only has a short span of attention especially when he/she is not yet fully committed to it (Reid).
(+) it has videos that present the company which is a more interesting way of presenting the company rather than plain texts. The video testimonial is also quite interesting as it shows how Australia Bright acted as a knight in shining armor to another company's client in distress.
(-) the longer video however has a tendency to make people not want to finish it. Sites and scenes are what you'll see for the first 6-7 minutes, by the time it reaches the informative and substantive part, the viewer's attention span has already lapsed (Kodinz).
(-) however, it has an unnecessary tab dedicated for the videos alone. Every tab has a price tag attached to it. The videos could have simply been integrated in the "about us" tab since the videos showcases the company no less, the tab could have been used for something more useful
(-) with that said, Australia Bright could have placed a forum or a live chat/inquiry feature on the said tab. Making people share what is on their mind makes the website more interactive and engaging.
(-) an interactive flash of Australia's map (with informative animations in the said map, e.g. Talking opera house giving a guided tour around the virtual Sydney)  would also have drawn interest and likewise provided furthest knowledge to the customer in terms of knowing where he would migrate.
(-) the website barely has pictures of the office. An office picture is important for companies engaging in the migration or oversees work since illegal recruiters are said to be rampant in third world countries like the Philippines. A picture of the office indicates permanence and says we are not running away with your money. This adds credibility and a perception of transparency to the company.
(+) Another important point to consider is how it composes its write ups (Doty). It follows a pattern on focusing on you, the customer, and what you want and what you need and later presents 'me,' the company, saying how helpful I could be to you, and leaves you with a message of how the company can help you, make what you want/need happen. It centers more on the client's needs rather than what the company sells. In a nutshell, the write ups focuses on you and later introduces you to me with an emphasis on me being all about you.
Online Presence
(+) although Australia Bright does not pay for a pay per click Facebook advertising, it was able to makes use of this vastly used social network. An image of its poster was tagged to several people and was of course seen on the 2nd degree friends' news feed. The first comment on the said image was a link to the company's website, with an invite of checking it out to know more about job opportunities and scholarships in Australia (Cohn, Nobles).
(-) beyond that, the company is a ghost in terms of online presence, it could not be seen. If you type migration, study or education in Australia, the site does not get a hit on Google, even in the distant results (Duncan).
(-) when you get a hit on search engines, the description of the site focuses more about it being an umbrella company this and that and not about the what the company can do for that person reading the description (Klein, Duncan).
(-) it also does not link to other websites which could have been a good trafficking opportunity (Venkata).
INTERNET MARKETING STRATEGY ANALYSIS
Australia Bright Migration lacks a lot of features of an interactive and fully utilized site. It seems that the purpose of the website is simply to have online identity, a site, to which its staff can direct its prospective clients. It is simply used as a reference page (Lee). The site is not geared towards independently attracting lurkers or web browsers. For a small scale industry such as Australia Bright, it would be best to cling to web titans such as Google and Facebook and ride their popularity (Cohn).
However, the company must keep in mind that identifying and zeroing in on your primary target is crucial as a dispersed marketing effort is a waste of resources. Considering that its primary target market falls in the usual-web-users bracket, it would be more profitable for the company to redirect the traffic towards its site (Venkata). Among which are through search engine optimization and other online presence enhancers. Beyond such, the site, at best could use interactive applications to make the traffic stay and browse further and be later translated into customers then of course, profits (Mohammed et. al).
References
Cohn, M. Grow Your Business With Social Media. Retrieved April 6, 2010  from CompuKol Connections website: mpukol.com/blogs/compukol/grow-your-business-with-social-media/
Dotson, L. 10 Psychological Desires To Insert Into Your Ad. New Journal Articles.R etrieved from http://www.newjournalarticles.org/10_Psychological_Desires_To_Insert_Into_Your_Ad,18472/
Doty, J. (2010 , April 6). Using Your Own Words. Retrieved April 6, 2010  from Plain Conversations Website: http://www.planeconversations.com/2010/04/06/using-your-own-words.
Duncan, A. Search Engine Optimization – A Must.  New Journal Articles.Retrieved from http://www.newjournalarticles.org/Search_Engine_Optimization__A_Must,18477/
Klein, J. Online Marketing Donts.  New Journal Articles.Retrieved from ttp://www.newjournalarticles.org/Online_Marketing_Donts,11308/
Kodinz (2009, October 30). Internet Marketing In A Nutshell. Retrieved April 6, 2010 from Marketing Journals Website: http://marketingjournal.biz/category/marketing-general/
Lee, O. (2001). Internet Marketing Research: Theory and Practice. Hershey, PA: Idea Group Publishing.
Mohammed, R.,  Fisher, R.,  Jaworski, B. and Cahill, A. (2001). MP Internet Marketing: Building Advantage in a Networked Economy. New York, NY: McGraw-Hill.  
Nobles, R.  Per-Clicks . . . One Way to Boost Traffic to Your Web Site.  New Journal Articles.Retrieved from http://www.newjournalarticles.org/PayPerClicks____One_Way_to_Boost_Traffic_to_Y,11287/
Reid, S. Top 10 Marketing Pitfalls. New Journal Articles. Retrieved from http://www.newjournalarticles.org/Top_10_Marketing_Pitfalls,11302/
Venkata, R. TEN answers that turn Your visitor in to Your Customer. New Journal Articles.Retrieved from http://www.newjournalarticles.org/TEN_answers_that_turn_Your_visitor_in_to_Your_Cust,18487/