Welfare requirements and guidance of the relevant early year Essay Sample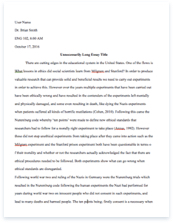 The whole doc is available only for registered users
OPEN DOC
Download Essay
A limited time offer!
Get a custom sample essay written according to your requirements urgent 3h delivery guaranteed
Order Now
Welfare requirements and guidance of the relevant early year Essay Sample
An explanation of the welfare requirements and guidance of the relevant early year's framework, including an explanation of the lines of reporting and responsibility within the work setting.
All necessary steps should be taken to ensure you safeguard and promote children and young people's welfare. Suitable staff should be subject to the correct vetting procedures, training levels, qualifications. Documentation should be held correctly under the Data Protection Act 1998 and the Freedom of Information Act 2000. Lines of reporting and responsibility should be clear, with an organisational structure in place. Practitioners should promote equality of opportunities and anti-discriminate behaviour.
Good health should be promoted for all children within our care and to take appropriate steps to prevent the spread of infection and to take the appropriate action when children and young people in our care become ill, this was to enable the stop of cross infection. Staffing levels should be appropriate to the number of children within our care and that adequate training is provided to all staff both paid and voluntary. The environment for children should be safe and age appropriate with the necessary risk assessments carried out by an appointed person.
All policies and procedures should be up to date, with either an annual review or when the law is updated. All staff should be notified when policies and procedures are updated or amended.
As a practitioner you should always be aware of the nutritional needs for children and plan healthy meals and snacks, sometimes having to give advice to parents were a child is not eating properly. This could be portion sizes, unhealthy food or general information regarding a healthy and nutritious diet.
Routines are important for children especially in the terms of sleep and rest. Routines should also be flexible depending on the learning speed for each child. Outdoor play for all ages is also important. This is where planning and organising of settings systems can provide each child with fun.