Well being definition Essay Sample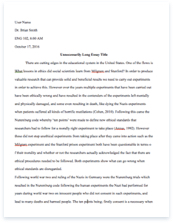 The whole doc is available only for registered users
OPEN DOC
Download Essay
A limited time offer!
Get a custom sample essay written according to your requirements urgent 3h delivery guaranteed
Order Now
Well being definition Essay Sample
Well-being has been a topic of growing interest in recent years, however Thomas (2009, cited in Dodge, et al., 2012, p. 222) found that well-being is 'intangible, difficult to define and even harder to measure'. The term has multiple meanings and definitions in relation to different concepts, leading Seedhouse (1995) to determine that an overall concept of well-being would be an empty notion (Manning-Morton, 2014). Therefore it would appear that there is a socio-cultural element to how well-being is thought of and experienced in every-day life (Manning-Morton, 2014). Because well-being is thought of as a social construct, the meaning of well-being varies – it is a 'primary cultural judgement' (Ereaut and Whiting, 2008, p. ). Nevertheless, as a general definition, it refers to the quality of people's lives (Good Childhood Report 2017).
There are multiple discourses of well-being (Ereaut and Whiting, 2008), but this essay will initially focus upon the Subjective and Objective viewpoint: Subjective well-being considers life satisfaction and the positive and negative emotions experienced within the child's life and children demonstrating high levels of both life satisfactions and psychological well-being are considered to be 'flourishing' (The Children's Society, 2017).
However, using subjective views can be taken in varying contexts, and very young children are often not capable of engaging in abstract concepts initially – they may be easily swayed, and may only think of what is making them happy in that instant, as opposed to thinking about their life overall (Manning-Morton, 2014). These are subjective indicators within the micro-system (Bronfenbrenner, 1979) of the child. Objective factors – things that influence the child's well-being that are not within their control – within the child's meso, exo and macrosystems, as described by Bronfenbrenner (1979), can negatively impact on a child's well-being.
The lack of material possessions and consumerism constitutes to low self-esteem (Layard and Dunn, 2009, cited in Manning-Morton, 2014), which has a knock on effect on the esteem of the community also. Having expensive possessions is an indication of success and children may feel it is necessary to have a particular toy or certain clothing in order to fit in and the lack of these items leads to a negative effect on the well-being of the child (Manning-Morton, 2014).
McAuley and Rose (2010) defined the influences upon child well-being to be:
• The United Nations Conference on the Rights of the Child's (UNCRC, 1989) view that 'the primary consideration in all actions concerning children must be in their best interests and their views must be taken into account. (Bradshaw, 2011).
• Childhood should be treated as an individual stage in life, not just a precursor to adulthood. Therefore the well-being of the child is considered as opposed to their well-becoming as adults.
• The ecological perspective – the child's home life, friendships, education, wealth and their community all play a part in the well-being of the child.
Resilience is a term often used to describe children and young people who have successful emotional or developmental outcomes despite experiencing hardship or disadvantage earlier in their life (Joslyn, 2016). It is expected that, if children do not display resilience during these times, the child could possibly suffer from a range of problems, such as mental health issues, educational difficulties or adopt a negative lifestyle (Joslyn, 2016). Masten et al. (1990, cited in Joslyn, 2016, p. 4) feel that 'resilience is a process and not a fixed quality' and therefore resilience can be influenced by experiences, trauma or interactions (Joslyn, 2016). Gilligan (2009, p. 7) states that people gain resilience in two ways; 'through their genes and through subsequent social experience'.
Children who exhibit resilience are likely to have a supportive and protective network to help 'buffer' them against setbacks (Masten and Cotsworth, 1998, cited in Gilligan, 2009). Gilligan (1997) suggested six domains that can help a child to be resilient:
• A secure base – a place where the child feels they belong and can feel safe.
• Social competencies – Socially competent children can engage with others around them and are able to assess situations.
• positive values such as optimism, honesty and responsibility help the child to adopt positive behaviour and encourage conflict resolution skills as well as critical thinking.
• talent and interests are good for self-esteem.
• friendships are a form of positive relationships and often help to boulster the child against life events that may dent their resilience and lastly,
• education – Gaining academic skills, positive friendships with peers, an opportunity to further develop their social competence and positive relationships with adults other than in their immediate family.
Gilligan (1997, cited in Joslyn, 2016) feels a combination of the above domains are necessary for the child to grow in resilience. There are risk factors and protective factors which culminate in affecting a child's resilience. West and Farrington (1973, cited in Joslyn, 2016) found that risk factors, such as low family income or low educational achievement could cause children to have a poor start to their adult life. Luthar and Zigler (1991) however, do not agree that the greater risk factor and a lack of resilience are necessarily connected and they describe gender as having a part in certain life events leading to lack of resilience (Joslyn, 2016). On the other hand, protective factors such as a child's character and the characters of those around them can help to build resilience (Yates et al., 2003, cited in Joslyn, 2016). This essay will now consider